Court Roll
Court roll of manor court of Whitehall, 27 April 1525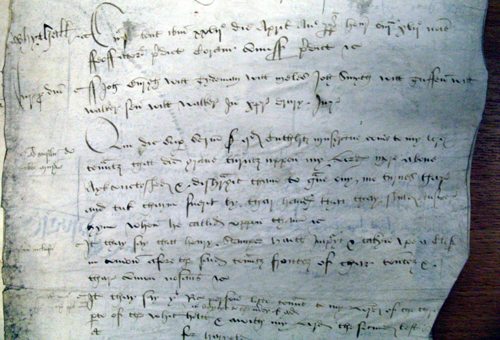 Source: Cumbria Record Office, Whitehaven, D/Lec/299/1/1/22: court roll, Percy manors, Cumberland, 1525
Transcript and translation:
Whythall

Curia tent' ibidem xxviio die Aprilis Anno regni regis Henrici viiivi
xviio nomine Feoffatorum predictorum Coram comiss' predict'

[Whitehall
Court held there 27 April in 17th year of reign of King Henry VIII in the name of the said feoffees before the said commissioner]
Jur' pro domini

Joh' Burgh, Will' Tydeman, Will' Meles, Joh' Smith, Will' Tuffen,
Will' Walker sen', Will' Walker jun', Xpr [Christopher] Drury, jurata

[Jury for the lord
8 men named, sworn]
Qui dicunt super sacrum quod Cuthbert Musgrave come to my lordes tennauntz that did grave turves uppon my Lordes more above Ayktoncloshed & dishringit tham to grave ony mo turves thare and tuk thaym sueret by thar handes that thay shuld answer hym when he callid uppon tham.
[Who say upon their oaths that Cuthbert Musgrave came to my lord's tenants that did grave [i.e. dig] turves upon my lord's moor above Aikton close head and 'distrained' [i.e. impeded, presumably meaning 'forbade'] them to grave any more turves there and took surety of them by their hands that they should answer him when he called upon them]
Item thay say that Henry Stamper haitt improvit & takyn upe a Closse in comon afore the said tennauntz frontez of thar ten[emen]tes & thar comon nosans.
[Also they say that Henry Stamper has improved and taken up an enclosure in the common in front of the tenants' tenements and it is a common nuisance to them.]
Item thay say that Ric' Person late tennaunt to my Lord of the third parte of the Whit hall is <departyt to the mercy of god> & awith my Lord the second best b[east] a [blank] for haryeld
[Also they say that Richard Pearson, late tenant to my lord of a third part of Whitehall has died and owes my lord the second best beast, [namely] a...for his heriot]
Commentary:
Whitehall, near Aspatria, was a small manor which was in the hands of the earl of Northumberland in the fifteenth century. The brief record of the court at Whitehall consists of:
the preamble: giving the date of the court and recording in whose name, and before whom, it was held,
the names of the jury: in this case a jury of eight men was sworn (notice that they are described as being sworn 'for the lord'),
presentments: the three presentments here concern:

a dispute between the lord of Whitehall and Cuthbert Musgrave, lord of the neighbouring manor of Crookdake. It probably centred on a disputed manorial boundary over the moorland between Whitehall and Crookdake: Musgrave had interfered with the tenants of Whitehall digging turf on the moor;
an illegal intake, which is described as a 'common nuisance';
the heriot owed by one of the tenants who had died.
This is an early case of presentments being recorded in the vernacular: the use of English in court rolls spread across the 16th century, particularly from the 1540s.
Follow this link for further advice on how to interpret the various elements of a typical manor court book and/or court roll, including the preamble, jury, call list and general court business: Interpreting the record of a manor court.