Extracts from court books and rolls: orders
Orders made at Bootle court baron and 'bierley', 12 October 1739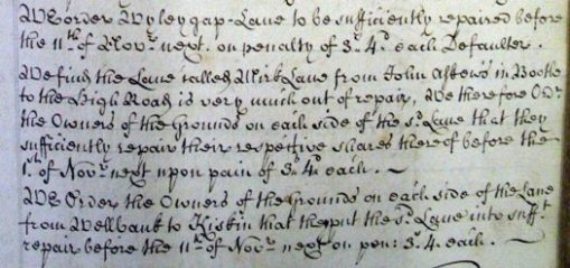 Source: Cumbria Record Office, Carlisle, D/Lons/W8/12/25
with the kind permission of the Trustees of the Lowther Estate
Transcript:
We order Wyleygap-Lane to be sufficiently repaired before the 11th of November next, on penalty of 3s 4d each Defaulter.
We find the Lane called Mirk Lane from John Askew's in Bootle to the High Road is very much out of repair. We therefore Order the Owners of the Grounds on each side of the said Lane that they sufficiently repair their respective shares thereof before the 1st of November next upon pain of 3s 4d each
We Order the Owners of the Grounds on each side of the Lane from Wellbank to Kiskin that they put the said Lane into sufficient repair before the 11th of November next on pen: 3s 4d each.
Commentary:
The business of the court baron at Bootle, near Millom, in the autumn of 1739 consisted entirely of matters relating to rights of way. After a presentment concerning a disputed sheep drift through the 'summer pasture closes', which the jury attempted to settle by making an order, they turned their attention to the upkeep of lanes in the manor. Though the Highways Act of 1555 had made parishes responsible for the upkeep of roads, many manor courts continued to make orders for the repair and maintenance of some roads, at least. It would be interesting to know whether Bootle parish or township appointed a surveyor of highways and, if so, how his responsibilities intersected with the work of the manor court.