Elements of court books and rolls: pleas
1. Pleas at Solport court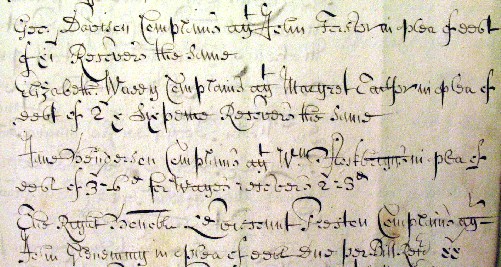 Source: Cumbria Record Office, Carlisle, D/GN/1/15 (Solport court book, 1696-1732)
Transcript:
Geo. Davison complains ag[ains]t John Forster in plea of debt of xis. Recovers the same
Elizabeth Waddy complains ag[ains]t Margret Tailfor in plea of debt of 2s & sixpence. Recovers the same
Jane Henderson complains ag[ains]t Wm. Askbriggs in plea of debt of 3s-6d for wages. recovers 2s-3d
The Right Hono[ra]ble L[or]d Viscount Preston complains ag[ains]t John Glendining in plea of debt due per bill. Rec[overs] xxs.
Commentary:
A court baron had the power to hear civil cases arising from disputes between tenants, where the damages claimed were under 40 shillings. These pleas (or 'plaints' as they were sometimes termed in the vernacular) mainly consisted of cases of debt and trespass, though the courts also had the right to hear cases of breach of covenant and 'detinue' (the withholding of goods rather than money).
These four pleas from north Cumberland are typical of the role of the manor court as 'small claims court'.  As here, little detail is usually given of the cause of the claim, but we learn that Jane Henderson's claim was for wages (perhaps as a servant to William Askbriggs), whereas Lord Preston, the lord of the manor, was owed money by 'bill', in other words in a formally recorded transaction.
2. Pleas at Casterton court, 13 November [1649?]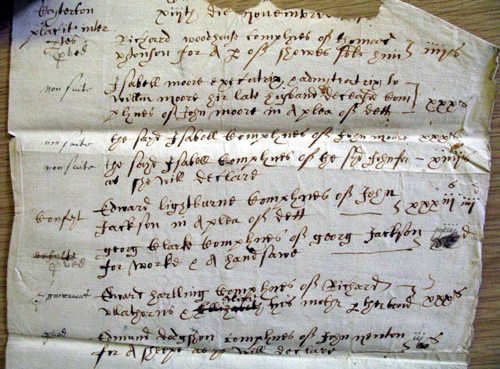 Source: Cumbria Record Office, Kendal, WD/CW, Casterton court verdicts, 1642-1685
Transcript:
Casterton
xiiith die Novembris...
placita inter partes
proved
Richard Woodhouse complynes of Thomas Ustonson for a par of showes sold him

iiiis

non suite
Isabell Moore executrix & admytratrix to William Moore hir late husband deceased complynes of John Moore in a plea of dett

xxxs

non suite
the sayd Isabell complynes of John Moore

xxxs

non suite
the sayd Isabell complynes of the sayd John for as she will declare

xiiiis

Confest
Edward Lightburne complynes of John Jackson in a plea of dett

xxxiiis iiiid

proved [changed from 'defaulte']
Georg Clarke complynes of Georg Jackson for worke & a hand sawe

xiiiid [changed from 'xxd']

Ignoramus
Edward Harlling complynes of Richard Ullathorns & Alice [changed from 'Elizabeth'] his mother per ther bond

xxxs

proved
Edmund Dodgshon complynes of John Newton for a sheepe as he will declare

iiis [changed from 'vs']
Commentary:
In this example, the original verdict sheet from the sitting of the court baron, we learn rather more about the pleas than is often the case: transactions include shoes, sheep and a hand saw; money is owed for wages; Isabell Moore, acting as executrix of her husband's will, apparently intended to use the court to gather in debts. The results of the cases have been entered at the time of the court sitting in the left margin: 'proved' indicates that the jury agreed with the plaintiff; 'confest' is self-explanatory; 'non suite' means that the plaintiff did not appear to pursue her claim; 'ignoramus' ('we do not know') presumably means that the jury could not decide. Note how, in George Clarke's case, a change in the sum originally claimed (from 20 pence to 14 pence) was accompanied by a change in the verdict from 'default' to 'proved'. Until 1733 pleas were entered in Latin, except, as here, during the Interregnum.