Extracts from Court Books and Rolls: Preamble
Preamble to the record of the 'Court Baron and Bierley' of Millom, 1740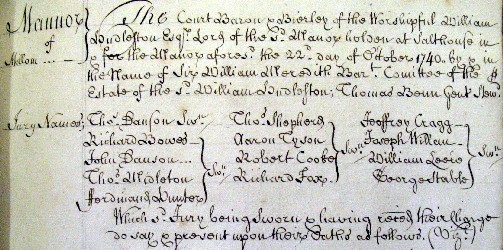 Source: Cumbria Record Office, Carlisle, D/Lons/W8/12/25,
with the kind permission of the Trustees of the Lowther Estate
Transcript:
Mannor of Millom.
The Court Baron & Bierley of the Worshipful William Hudleston Esqr Lord of the s[ai]d Manor holden at Salthouse in & for the Manor afores[ai]d the 22d day of October 1740 by & in the name of Sir William Meredith Bart Comittee of the Estate of the s[ai]d William Hudleston; Thomas Benn Gent Stew[ar]d.
Commentary:
The preamble at the beginning of the entry recording the business of a particular sitting of a manor court spells out:
the name of the manor: usually, as here, written in the margin;
the type of court: in this case a court baron and 'bierley' (a variant of byrlaw court), in other words a local manorial court without leet jurisdiction;
the name of the lord of the manor: in this case William Hudleston (1699-1745), the last in the male line of that family as lords of Millom.  However, his estates had been 'committed' to his father-in-law, Sir William Meredith, so the court was being held in his name;
when and where the court was held: in this case at Salthouse (half a mile from Millom Castle) on 22 October 1740; and
the name of the steward, who presided over the court: in this case Thomas Benn.
See The Jury for a commentary on the jury list which follows the preamble in this record.