Stewards' Papers
1. Stewards' papers: warrant for timber, Eskdale, 1719
Source: Cumbria Record Office, Whitehaven, D/Lec/265/389
Commentary:
Numerous administrative papers were generated by manorial administration. Many, such as this example, were ephemeral and rarely survive. This is a warrant signed by William Coles, the steward of the Percy estates in west Cumberland, ordering a manorial bailiff to mark out some trees for use by two tenants. The two tenants, Nicholas Nicholson and Nicholas Hunter, had probably petitioned the lord (see example of petition) for timber, as all timber on these manors belonged to the lord, even when it was growing on tenants' farms. Edward Relfe seems to have acted as bailiff of both Eskdale and Beckermet, which were usually treated as separate manors; the designation 'Eskdale & Beckermet' is unusual.
2. Stewards' papers: precept for manor court of Derwentfells, 1744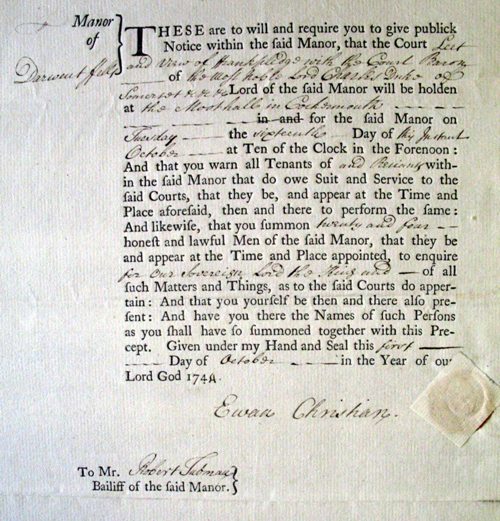 Source: Cumbria Record Office, Whitehaven, D/Lec box 85
Commentary:
In advance of the sitting of a court, the presiding officer, the steward, ordered the lord's local officer in the manor, the bailiff, to 'warn the court', i.e. to give notice of the court to tenants owing suit. In this example, the bailiff is also required to summon (and presumably select) the jury. By the 18th century on the extensive Percy estates in west Cumberland, which comprised numerous separate manors, this printed form was used. Ewan Christian (d.1754) of Unerigg, near Durham, the steward signing this precept, was a member of the local gentry. Robert Tubman, the bailiff of Derwentfells, was a Cockermouth merchant (and also Christian's uncle by marriage), illustrating the prominent role of a close-knit local elite in manorial administration.
< Gallery