Introducing our Student Call Team!
Our Call Team are 30 Lancaster students with a range of degree majors and backgrounds. They talk to our alumni and friends to give information about the University and encourage them to support various University-wide projects, including the College 1000 and our Defying Dementia Campaign.
We want to make a difference
The Friends Programme is a long-term fundraising initiative which has been going since 2001. Its aim is to raise funds from our alumni and friends to support the University. Our call team is just one aspect of the fundraising activities here at Lancaster University. Our student callers are enthusiastic and dedicated students who truly want to make a difference to our University.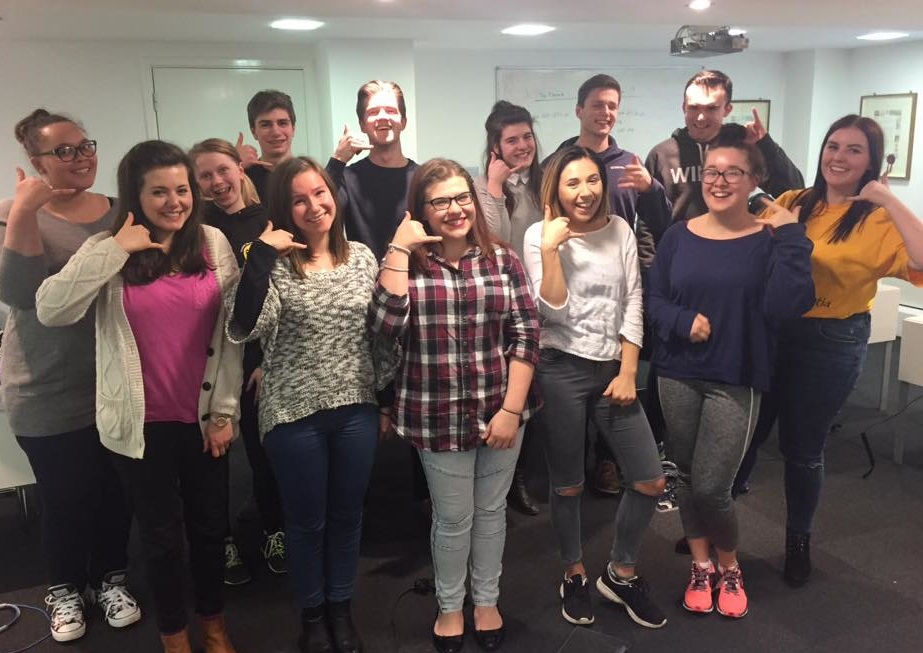 About us
Our team really look forward to speaking with you and if you would like to be called, please contact James March. We operate call shifts October-November, Late January-March, Late-April-Early May and one week in June. We call our alumni and friends in the United Kingdom and the United States of America. If you would like to be called and live in a different country, please contact us here.
The number our students call from is 01524 510782.
Sarah Jane - Student Caller
Why did you become a member of the call team?
I wanted to become a member of the call team because I am a self-confessed college keeno. I love Lancaster University and the collegiate structure. I feel perfectly at home here and becoming a member of the fundraising team meant I could talk to past students and ask them about their experiences whilst studying here. Additionally, the opportunity allowed me to become part of a vital fundraising movement, raising money for scholarships and societies on campus and allowing students of all backgrounds to have a similar experience as myself. Furthermore, we help to fund ground-breaking medical research, it was an opportunity to help the University and our community in a way in which I could not before, and I was not going to pass it up.
What is it like speaking to Alumni?
I love chatting to former students and hearing positive stories about how studying at Lancaster was an enjoyable and constructive part of their lives. Sometimes, hearing some less positive memories about the University can also help because it is constantly trying to improve and the alumni's input plays a critical role in our growth and development. I also like hearing about alumni who are still involved with the University: once a student, forever a member of our ever expanding family.
Why would you encourage people to donate to Lancaster University?
I believe everyone should be allowed an education, be it academic or creative, and Lancaster University offers both. Moreover, donations benefit more than current students. Donations can be put towards vital research that the University is doing, including: research into skin cancer and raising funds for the Defying Dementia campaign. If you could help even one person, why wouldn't you? Every donation, big or small counts, we would love you to be a part of our efforts to better not only the university but the world. Tadi - Psychology Student and Student Caller
Why did you become a member of the Call Team?
I became a member of the College 1000 team after a friend recommended me to join a team where we could help fundraise for the University, by speaking to alumni. When I found out that the money raised actually benefits us as students directly, I wanted to be involved in helping other students, whilst having the chance to speak to many different people from a wide scope of backgrounds. When I found out about many of the different causes we support such as Defying Dementia, I knew this was something I wanted to be a part of!
What is it like speaking to Alumni?
At first I was really nervous about speaking to Alumni, however now, I find it amazing hearing everyone's stories about university, and how Lancaster University has benefitted them in their lives. I often just love to laugh and hear funny anecdotes about people's flatmates and times in societies. It's also wonderful to hear how people's journeys change, and though they started on one path, life led them to another.
Why would you encourage people to donate to Lancaster University?
I would encourage alumni to donate to Lancaster University as it is a fantastic opportunity to give back to a place which helped them in their career, but it's also a fantastic opportunity to support students who are here now. The many causes that Lancaster supports not only impacts students but the life of others in Lancaster and around the world. It's an amazing chance for people to give a little, but impact so many lives through donating.
Frequently Asked Questions
By Post
Development and Alumni Relations
C Floor
University House
Lancaster University
Bailrigg, Lancaster
LA1 4YW
United Kingdom
By Phone
+44 (0)1524 594109
We're here Monday to Friday 9am - 5pm
Fundraising Promise
Lancaster University is committed to ensuring that our fundraising is legal, open, honest and respectful.
View our Fundraising Promise and Formal Complaints Process.