Information for Students
If you are a current student in Graduate College you can find useful information by visiting the pages below.
Useful information
Want to find out how to get here? Read our travel advice and find out other important information such as your postal address, and tips on how to get on with your housemates. Useful Information.
Support and wellbeing
Lancaster University has a range of support services for students. As a College, we also offer additional support to students, via our Accommodation Team, College Manager, and our College Wellbeing Officer – all of whom are based near the Porters' Lodge and can be contacted directly. Find out more about support and wellbeing.
The Buddy Programme
Each year we run the 'Buddy Programme' for new students, inviting our current students to be paired up with a newly arriving International student to help them settle in. It's great experience and also contributes 10 points towards the Lancaster Award. Find out more about the Buddy Programme.
Finance
We offer a range of grants and bursaries to help students during their studies. These include travel grants and hardship funds. Find out more about finance and funding.
Staff
Read about members of the Graduate College, from our Principal and Dean to the College Manager, Wellbeing Officer and Accommodation Team. Find out more about college staff...
Lancaster City Centre - Shopping Map
We have put together a map of the city centre with useful shops highlighted.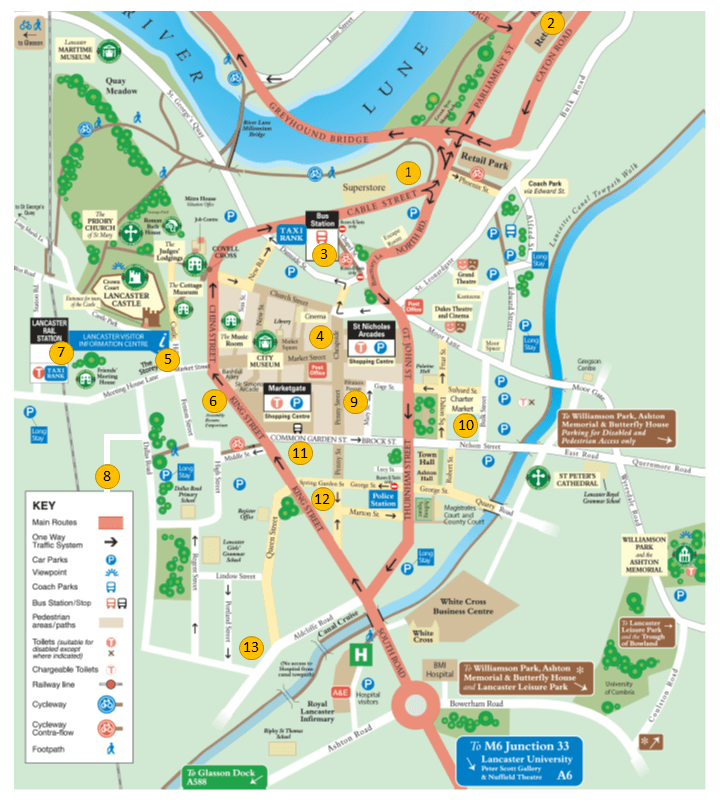 Lancaster City Centre
Key to Places
1) Sainsbury's - Cable Street, Lancaster, LA1 1HH.
Supermarket where you can buy groceries and household items. Visit Sainsbury's website
2) Lidl - Kingsway Retail Park, Kingsway, Lancaster LA1 1BS
Slightly out of the city centre, but still easy to access. A supermarket offering competitive prices for groceries and household items. Visit Lidl's website
3) Lancaster Bus Station - Damside Street, Lancaster LA1 1HH.
Local and National buses run from here to many local destinations including the University, Preston, Morecambe, Heysham, the Lake District, and further afield via National Express coaches.
4) Vue Cinema – Church Street, Lancaster, LA1 1LP.
Lancaster's main cinema, showing major new releases. Visit the Vue website
5) The Storey Institute - Meeting House Lane, LA1 1TH
Where you can find dedicated postgraduate study space and the Print Room Café/Bar. Visit the Storey's website
6) Assembly Rooms – Assembly Rooms Emporium, King Street, Lancaster, LA1 1JN.
A collection of stalls offering vintage clothing, handmade, and unusual items. Visit the Assembly Rooms' Facebook Page
7) Lancaster Railway Station - Station Road, LA1 5NL
Here you can catch trains to destinations all over the UK. Buses run direct to the railway station from the university.
8) Maje Stores - 39 Blades Street, Lancaster, LA1 1TT.
A store specialising in Halal foods, vegetables, and spices for cooking.
9) Wilkinson's - 17-21 Penny Street Lancaster, LA1 1UA.
A general store where you can buy kitchen and homewares, bedding, toiletries, stationery, and more. Visit Willko's Website
10) Lancaster Charter Market at Dalton Square - opposite Lancaster Town Hall, LA1 1PJ.
on Wednesdays and Saturdays. Visit the Charter Market website
11) K F Oriental Food Store - Common Garden Street, LA1 1XD
Supermarket selling delicious food, drinks and treats from China, the Philippines, Korea, Japan, Thailand, Malaysia, Taiwan, Vietnam, Indonesia and Singapore. Full House Noodle Bar & Restaurant is upstairs. Visit KF's Facebook page
12) Single Step - 78a Penny Street, Lancaster, LA1 1XN
Wholefoods and fairtrade store and a great place to buy staples such as rice, flour, dried fruit, lentils etc by weight. Visit Single Step's webpage
Whale Tail Café is upstairs - serving vegetarian and vegan food.
13) ALDI - 48 Aldcliffe Road, LA1 1UJ
A supermarket offering competitive prices for groceries and household items. Visit Aldi's website