The inaugural Art Beats Festival goes live!
---
Art Beats 2024
A new creative collaboration between LICA and Sunway University Art School, has opened its virtual doors to an exhibition of works from artists from across the world.
Featuring 62 pieces by artists from 13 different countries the festival features both an online and physical exhibition of works from art, theatre, music and film disciplines.
Staff and students at the entrance of Batu Caves, Malaysia.
Students, staff and alumni from Lancaster University, Sunway University and partner universities were invited to submit works to the festival that are on display on the Art Beats exhibition website until 20th August. Select works from the festival will be showcased at an in-person exhibition at Sunway University from the 19th-20th August.
In the days leading to the exhibition students from Lancaster have had the chance to take in sights around Sunway before joining fellow Sunway University students in a series of workshops in film production, lectures and feedback sessions.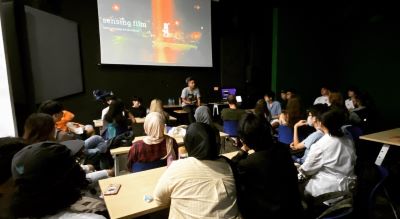 Lancaster and Sunway students taking part in a film workshop at Sunway University

Festival co-founder, Dr Maryam Ghorbankarimi, Lancaster University Director of Film Studies, said: "This festival is about creating opportunities for student artists, creating international connections, and showcasing work on a global level. It has been wonderful to see engagement from not just current students, but staff and alumni too, and from around the world!
The festival has been a fantastic opportunity to showcase both Lancaster and Sunway University's wonderful art schools nationally and internationally and I look forward to welcoming Sunway students and colleagues to Lancaster next year for Art Beats 2024."
Professor Mayco A. Santaella, Associate Dean (International) Sunway University School of Arts and festival co-founder said: "Art Beats provides students the opportunity to develop their practice and knowledge, enhancing their employability and offering a much-coveted experience. It also sees the collaboration between Sunway University and Lancaster University take new steps forward with arts in the spotlight.
"Staff and students have taken a lot away from the experience and we look forward to Art Beats continuing for years to come."
You can follow the festival live on the Art Beats Instagram account all week and see the online show on the online exhibition website.
The partnership between Lancaster and Sunway University is now in its 17th and comes alongside a series of recent events held between the two universities. This project was made possible with support from the Global Advancement Fund.
Back to News