Welcome
At Lancaster, we believe that all young people with the desire and ability should have the opportunity to study at university, regardless of background or barriers. We are firmly committed to equality of opportunity, making sure that the student body at Lancaster is reflective of the diverse and talented community we serve. We support our students on an 'upwards journey of social mobility,' giving young people access to a world-class education and opportunities to become highly skilled, global citizens.
Activities for Schools and Colleges
We hold various events for schools and college groups, as well as individuals. Year 9 STEM Challenge Day
Our annual STEM Challenge Day enables year 9 students to share their enthusiasm for subjects across science, technology, engineering and maths whilst meeting our world-leading academics. Competing on behalf of your school in a range of fun and interactive challenges, your pupils will have an amazing day and could even win a range of prizes. The challenges vary each year, but students have previously been challenged to design bottle rockets, make iodine clocks and create musical instruments from fruit. Year 10 Science Inspiration Day
Inspiration Days give year 10 pupils the opportunity to visit a highly-ranked, research intensive university and take part in a series of activities designed to both challenge and inspire. All activities are delivered by our highly-trained current students, giving your pupils the chance to hear first-hand about the academic, social, sporting and cultural opportunities available at university. Year 12 STEM Taster Day
Our annual STEM Taster Day is aimed at year 12 students who are pursuing a STEM-related subject at degree level. Spending a day at our campus, the Taster Day will equip them with a greater knowledge of your favourite subjects at higher education and provide an insight into university life, helping you to make better informed choices about what you would like to study when it comes to applying to university.
STEM Taster Day Year 12 Summer Schools
Our Summer Schools programme offers a range of exciting opportunities for year 12 students to experience university and prepare for future study in higher education.
Summer Schools Research in a Box
Featuring an amazing array of equipment, resources and activity plans, Research in a Box allows you to bring university style learning and research to life in your classroom.
Subject-Specific Events
There are a range of opportunities for students, schools and colleges to find out more about our subjects.
Access to Medicine
Access to Medicine helps students in years 10-12 to discover medicine as a possible future career and supports them to apply to medical school in the future. They will discover what it's like to learn at Lancaster Medical School and receive expert advice and guidance about how to make a successful medical application. If they successfully complete all aspects of the programme, they may be offered a guaranteed interview should they choose to apply to Lancaster Medical School in the future.
Access to Medicine
Biology Experience Days
Our Division of Biomedical and Life Sciences provides events for schools and colleges for biology, biochemistry and biomedical science. Hands-on opportunities such as Taster Days and Biology Experience Days are delivered in conjunction with the Faculty of Science and Technology. We additionally offer talks in schools on a range of topics from cancer to microbiology and provide materials for teachers such as the very popular 'Parasites in a Box'.
Sports and Exercise Science Tasters
Through our new Sports and Exercise Science programme, one of the only UK courses based within a Medical School, we offer interactive taster sessions for students, visiting schools and colleges to deliver content that aligns to your curriculum such as making sports drinks. We can also offer taster sessions and experience days on campus within our Human Performance Laboratory, where students can perform physiological and biomechanical testing to learn about responses to exercise.
School and College Visits
If you'd like a representative from the Faculty of Health and Medicine or Lancaster Medical School to visit your school or college, please get in touch.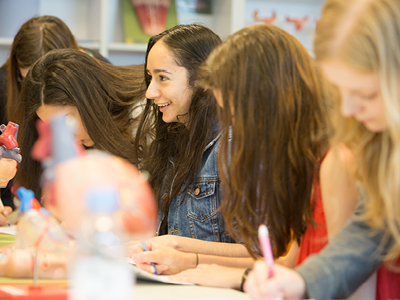 School Visits from Lancaster Medical School
Lancaster Medical School delivers a range of activities aimed at students in years 10-13. Topics can include the differences between medical schools and how to decide on a shortlist; what it's like to study medicine; why applicants need work experience and tips on how to get it; and Lancaster Medical School admissions processes. We also offer workshops to introduce Problem Based Learning for years 10-13 and to prepare for the Biomedical Admissions Test (BMAT) for years 12-13.
If you'd like a representative from Lancaster Medical School to visit your school or college, please contact us on medicine@lancaster.ac.uk.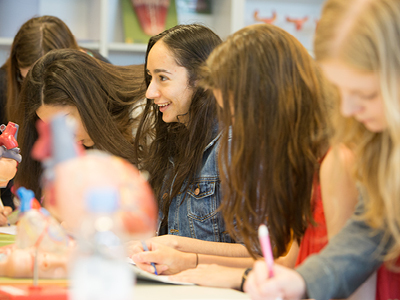 School Visits from the Faculty
We deliver a range of activities is designed to inspire and engage students in medicine and the biosciences.
To find out more about how we can work with you, contact the Health and Medicine faculty office on fhm@lancaster.ac.uk.