About our projects
All MEng students participate in industrial projects during your third and fourth years. These are real-life company problems which, while non-business critical, could still afford the companies involved meaningful time and progress.
Our excellent links with industry mean that we can source challenging and constructive projects which are mutually beneficial to the companies and students involved.
Pennine Pods
Pennine Pods Ltd is a small Cumbrian-based company that design and manufacture glamping pods. The company can design and manufacture pods in a range of styles and construct them from a unique composite sandwich structure of fibreglass-backed foam.
The Challenge
The company were confident in their products, but because of the unique combination of materials, there was no engineering qualification of the structural integrity or thermal insulation properties of the composite material. Pennine Pods Ltd needed to better understand the performance of the material by way of scientific instrumentation and measurement. The company needed expertise in mechanical simulation and physical testing to provide them with data that could be used to demonstrate the performance of their pods to potential customers.
The Solution
A team of four fourth-year MEng students took on the challenge as part of a two-week project within the module – Leadership in Technology, a core module for all MEng schemes of study. We split the project into two separate work packages – one for the thermal analysis and the second one to investigate strength analysis. Each work package was then sub-divided into simulations/modelling and physical/empirical testing. This approach meshes with the Conceive, Design, Implement, Operate (CDIO) international education framework, adopted by the Engineering Department.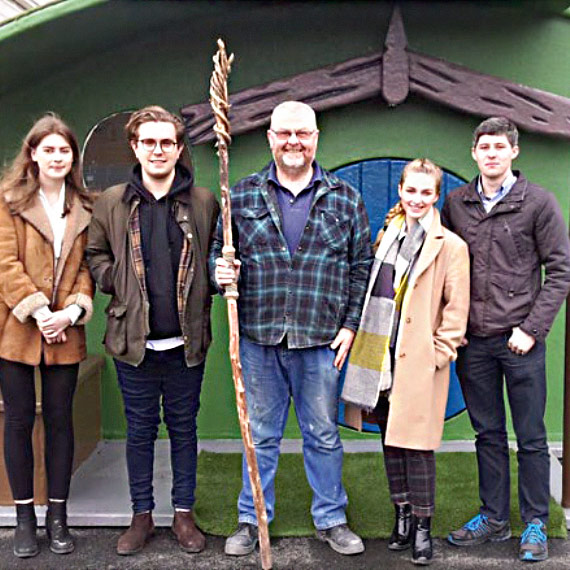 NHS
Royal Preston Hospital is a teaching hospital which provides a full range of district general hospital services, several specialist regional services, and the major trauma centre for Lancashire and South Cumbria. The hospital has around 700 beds, operating theatre complex, outpatient suites, and education facilities.
The Challenge
The hospital environment can be extremely chaotic. However, it is of the utmost importance that patients, particularly in critical care and other high dependency wards, experience good quality sleep. Royal Preston Hospital was researching how adequate rest on the ward affects patient recovery. Their staff measured ambient noise in decibels with a traffic light system used to indicate high levels (bad) and low levels (good). Collating this data over several points of 24 hours to identify patterns.
They demonstrated that reductions in noise levels could improve sleep and reduce the incidence of delirium and therefore, the overall length of stay of patients. Devices that give traffic light indications for noise levels and other parameters already exist, prompting ward staff to change behaviours. Royal Preston Hospital wanted a similar system that warns when light levels are too high when patients are trying to rest. This system could help contribute to quality sleep and therefore, to recovery.
The Solution
A team of four third-year MEng Engineering students developed a potential solution in just over two weeks. They started by developing a product specification with hospital staff, outlining and agreeing on objectives. The group then conducted assessments of the different technologies, reviewing criteria such as cost, sensitivity, durability, and integration into the ward environment.
They undertook mind-mapping exercises and then developed system concepts illustrating their ideas and shared them with NHS staff to gather feedback. Following this, they developed the prototype, including designs for software and hardware, and tested it at the University. Based on feedback and testing, they produced a final system which included housing, electronics and fully-configurable software.