Augmented Humanity: Does the Human Enhance the Machine or the Machine Enhance the Human?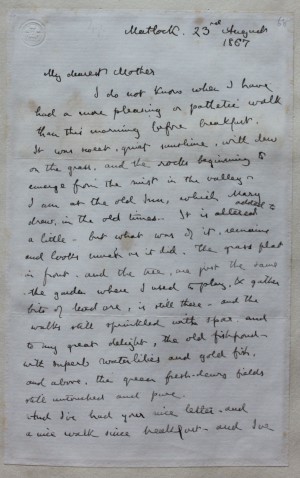 This Research Fellowship project explored how digital humanities research can create knowledge that has value for both the humanities and the natural sciences.
Dr Robert Smail investigated how the scientific observations contained in Ruskin's letters written from his home, Brantwood, in the Lake District, can assist modern ecologists in constructing more complete records of the environmental history of Britain. The project also explored how computer machine learning can establish new forms of engagement with The Ruskin Whitehouse Collection.
Image: Letter from John Ruskin to Margaret Ruskin, 23 August 1867 (© The Ruskin, Lancaster University), digitised as part of this project.
Research Projects & Exhibitions Under Development
If one of these projects sparks your interest, or you would like to support us, contact us on the-ruskin@lancaster.ac.uk