Universal Histories and Universal Museums: A Transnational Comparison
‌Arts and Humanities Research Council and LABEX, Research Grants
Project Leads: Professor Sandra Kemp (AHRC) and Professor Hervé Inglebert (LABEX)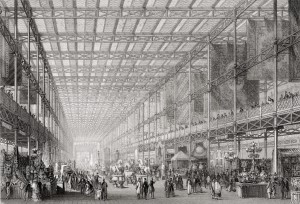 This project is now in its second phase, following successful completion of the first phase funded by the AHRC and LABEX in 2020.
The project compares the histories of the selection and display of collections in the 'encyclopaedic museums' created in 19th century Europe. It debates the challenges posed by the imperial and Eurocentric values underpinning such collections for interpretation and display today. How can digitisation of such collections provide gateways to multiple perspective and the reconfiguration of holdings?
For more information, see the universal histories project site.
Image: Interior of The Great Exhibition of the Works of Industry of all Nations in Hyde Park, London, England, 1851 (Alamy Stock Photo ID BYEATN)
Research Projects & Exhibitions Under Development
If one of these projects sparks your interest, or you would like to support us, contact us on the-ruskin@lancaster.ac.uk