Ruskin's Gardens
In partnership with Ruskin Advisory Board member, Guild of St George Director and Ruskinland Project Director, Jenny Robbins. With the support of the Lancashire Gardens Trust Audrey Dawson Award. In collaboration with our communities.
Project Leads
Professor Sandra Kemp and Dr Chris Donaldson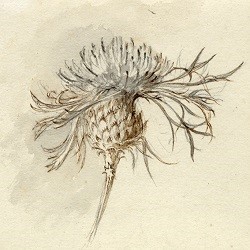 We are exploring how to use the green space around The Ruskin to create new ways for visitors and researchers to engage with Ruskin's art and ideas. Under development during Covid-19, this project acknowledges the pandemic through a scheme digitally crowd-sourced in lockdown, A Living Archive.
Our plans include sensory, medicinal and experimental gardens. We are at the proto-type stage of three temporary structures, including a multi-purpose 'shelter' which could operate as an outdoor classroom, sitting space or growing frame.
Jenny Robbins writes, 'the gardens must be sustainable, working in partnership with users and the local community, creating a space that is "beautiful, peaceful and fruitful." Drawing on Ruskin's ideas and making them relevant for today, with an eye to how the garden will change as the structures weather and the plants grow. We will reimagine the entrance causeway as an accessible part of the garden, encouraging people to cross and explore inside The Ruskin.'
This project draws on the gardens Ruskin created at Brantwood, his house and estate on Coniston Water in the Lake District, during the last 28 years of his life. Supported by the Lancashire Gardens Trust, two Lancaster University placement students are researching Ruskin's ideas about landscape design and the radical experiments in land management and horticulture Ruskin began at Brantwood.
To find out more about the gardens at Brantwood today, reimagined by Sally Beamish over more than 20 years, explore photographs taken by Bethan Pettitt, Brantwood's head gardener from January 2020, visit the news and star article.
Image: John Ruskin, Perennial Cornflower (© The Ruskin, Lancaster University)
Research Projects & Exhibitions Under Development
If one of these projects sparks your interest, or you would like to support us, contact us on the-ruskin@lancaster.ac.uk