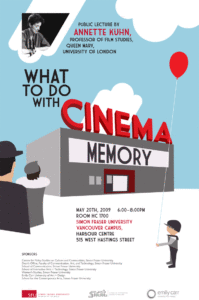 Conference:
'What to do with cinema memory', Simon Fraser University, Vancouver 2009.
Publications:
Kuhn, A. (2009). 'Film Stars in 1930s Britain: A Case Study in Modernity and Femininity', in Tytti Soila (ed.), Stellar Encounters: Stardom in Popular European Cinema. John Libbey.
Toffell, Gil (2009), ''Come See, and Hear, the Mother Tongue!' Yiddish Cinema in Interwar London', Screen, 50(3).