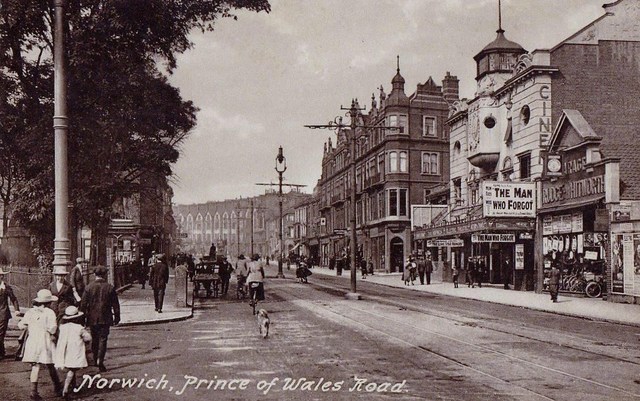 In the 1930s as today, the predominantly rural counties of Suffolk and Norfolk in East Anglia featured a variety of settlement patterns, including market towns, ports, and seaside resorts, as well as villages of various sizes. The region's most significant industries were agriculture, horticulture, and fishing. In the heyday of cinemagoing the cities of Ipswich (Suffolk) and Norwich (Norfolk) boasted, respectively, fourteen and nineteen cinemas. Cinemagoing was popular, too, in sizeable East Anglian seaside resorts and ports like Great Yarmouth (seven cinemas) and Lowestoft (eleven cinemas) as well as in smaller coastal towns such as Gorleston-on-Sea (three cinemas) and Wells next the Sea (two cinemas). Most inland towns also supported cinemas–Cinema Culture in 1930s Britain interviewees mention going to the pictures in Beccles (two cinemas) and Stowmarket (three cinemas), for example.
 Most of our East Anglian informants learned about CCINTB via announcements and articles in media outlets across the region during Summer 1995. Thirteen newspapers ran the story,[1]  some of them carrying endorsement by Stephen Peart, well known in the area as the author of The Picture House in East Anglia. There were also talk show appearances and features publicising the project on BBC Radio Suffolk and BBC Radio Norfolk in July, August, and September. Readers and listeners born before 1925 who were cinemagoers during the 1930s were invited to contact the CCINTB office—either directly or via Mr Peart—if interested in taking part in the project.
From these contacts twenty-one core informants were identified, with years of birth ranging from 1905 to 1923 (selection was based roughly on national 1930s social class demographics and gender balance of cinemagoers). Of the twenty-one, all of whom kindly agreed to be interviewed, thirteen were based in Suffolk and eight in Norfolk; fourteen members of the group were female and seven male; fourteen were occupationally working class in the 1930s and seven middle class. Thirty prospective participants who were not in the core informants group took part in CCINTB's postal questionnaire survey.
Research Fellow Valentina Bold made three visits to East Anglia to conduct interviews. During the first, which took place between 9 and 30 October 1995, she interviewed all twenty-one core informants, returning in November to conduct follow-up interviews. The late Spring of 1996 saw a final tour of all three non-Glasgow fieldwork locations, undertaken with a view to 'mopping up' any outstanding interviews: during a flying visit to Norfolk in early May Ms Bold caught up with a married couple she had previously been unable to meet for a second interview. All of the East Anglia core informants were therefore interviewed twice.
Some distinctive tastes and preferences emerge from these interviews. Ginger Rogers and, to a lesser extent, Fred Astaire were the most prominent in interviewees' memories of 1930s stars; also favoured were the British stars Charles Laughton (The Private Life of Henry VIII) and the 'ladylike' Madeleine Carroll.  Other affectionately remembered film personalities include Deanna Durbin and Bette Davis. Popular, too, are music-hall artistes who appeared in British films–Jack Hulbert and Cicely Courtneidge and George Formby (remembered for keeping a boat on the Norfolk Broads) are often mentioned.
One of the reasons for choosing East Anglia as a fieldwork location was to seek some insight into the nature and place of cinemagoing in rural life during the interwar years. Here we find no memories of 'a picture house on every street corner'; and this was a time when very few people indeed owned cars. Not surprisingly, then, going to the pictures is remembered by our East Anglians as involving rather more of an effort than in the urban and suburban areas that we looked at–part of a day out that might also involve a football match, say, or an evening's dancing.  Informants recall walking for up to an hour, cycling up to twenty miles, or travelling by bus or train to visit distant cinemas. Men and women alike remember putting considerable energy into dressing up to go to the pictures, copying the styles of the stars with, for women, Ginger Rogers remembered as a role model. And in a rural variation on the urban 'jam jar' memory-motif, rabbit skins are remembered as entrance fee for one Norwich cinema.[2]  Although none of the informants recollect travelling cinema shows, some information on this topic was volunteered after the core interviews were completed.[3]
Interviewees
---
East Anglia Memorabilia and Links
Listing of East Anglian cinemas
Jean Gowing's 1937 diary
Jean Gowing's film listing
Jean Gowing's scrapbook
Doreen Lyell's scrapbooks
Peggy Kent's photographs
The Last Show (1961) A record of the last show at 'The Norvic' Cinema, Prince of Wales Road, Norwich (East Anglian Film Archive website)
Cinema Story (1961) On cinemas located in the smaller towns in the region that were either undergoing restoration work or facing threats of closure (East Anglian Film Archive website)
Behind Your Back (1950) Silent footage of projecting films at the Regent, Norwich (East Anglian Film Archive website)
Publications related to 1930s cinemagoing in East Anglia:
Blagrove, A. (2017). 'Cinema City: a Medieval Movie House.' IAMHIST Blog. 2021. https://iamhist.net/?s=Blagrove
Elgood, D. (1978). City Cinemas, 1903-1978: a brief history of cinema in Norwich. Norwich, Norfolk and Norwich Film Theatre Ltd.
Hornsey, B. (1993). Ninety Years of Cinema in Lowestoft. Birmingham, Mercia Cinema Society.
Hornsey, B. (1993). Ninety Years of Cinema in Great Yarmouth: Also Listing Gorleston. Mercia Cinema Society.
Hornsey, B. (1995). Ninety Years of Cinema in Norwich: An Essay Celebrating the Cinemas. Mercia Cinema Society.
Hornsey, B. (2001). Norwich Revisited: An Essay Celebrating the Cinemas. Mercia Cinema Society.
Kuhn, A. (1999). 'Memories of cinema-going in the 1930s.' Journal of Popular British Cinema no 2: 100-120.
Peart, S. (1980). The Picture House in East Anglia. Lavenham, Suffolk, Terence Dalton Ltd, 1980.
---
Notes
[1]
Bury Free Press, East Anglian Daily Times, Evening Star (Ipswich), West Norfolk Mercury, Lowestoft Journal, Norwich Mercury, Great Yarmouth Mercury, Diss Mercury, Wymondham and Attleborough Mercury, Eastern Daily Press, Evening News (Norwich), Norwich Advertiser, Eastern Evening News.
[2]
On the incidence and cultural significance of 'jam jar stories', see Annette Kuhn,
An Everyday Magic
, Chapter 3.
[3]
Valentina Bold interviews
John Watson
using telephone answering machine, 20 February 1996.