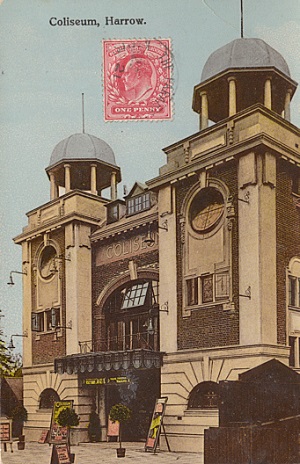 Situated to the North West of London, Harrow underwent considerable growth during the 1930s, becoming transformed from a semi-rural area to a prosperous metropolitan suburb boasting several new supercinemas. "On the eve of the First World war the Harrow area was still a predominantly rural part of the County of Middlesex", notes local historian Arthur Dark. "By 1930, however, the Harrow area was simply an extension of the suburban edge of Metropolitan London." Census records show that the population of the area more than doubled between 1921 and 1931.[1]
Until the 1930s Harrow boasted just a handful of cinemas, among them the Broadway, which opened in 1910, with its near neighbour the Electric Cinema (aka Coliseum) following in 1920; the Elite Picture House in Harrow-on-the-Hill (later The Cosy) opened in the same year. By Autumn 1937, however, when the opening ceremony of the Harrow Granada took place–attended by film personalities (and local residents) Jessie Matthews and Sonnie Hale—close to a dozen brand-new cinemas had been built in the area, most of them sporting the highly fashionable Art Deco 'moderne' style—and making Harrow a glamorous destination for the suburban cinemagoer.[2] Fittingly, the smart suburb—so close both to London as well as to many of the film studios that surrounded the capital–was also home to a number of stage and screen celebrities.
Although one local newspaper published a call for participants (a notice appeared in the 'Harrow and Northeastern Informer' in April 1995), Cinema Culture in 1930s Britain's Harrow informants were to all intents and purposes recruited through local history societies, friendship groups, facilities for the elderly, and the like. This, in tandem with the social composition of the area, produced a relatively high proportion of middle-class participants (and CCINTB's only upper middle-class interviewee): of the eighteen Harrow core informants eight were occupationally working class, three were working class/lower middle class, six middle class, and one upper middle class. The group comprises eleven women and seven men, with years of birth ranging between 1897 and 1926. Not surprisingly given the area's recent growth, only eight of the eighteen had lived in Harrow during the 1930s, meaning that informants' early cinemagoing memories often relate to places outside Harrow: more than forty of the fifty-eight cinemas mentioned by Harrow informants were located in other parts of London.
Interview fieldwork in Harrow took place between 3 and 27 July 1995, with Research Fellow Valentina Bold returning in the last week of November to conduct follow-up interviews and making a brief final visit in April 1996. While noting that the Harrow informants tended to require more prompting and more persistence in establishing rapport than those in the other locations, Ms Bold succeeded in interviewing all but two of the core participants (a married couple) at least twice, with one informant taking part in no fewer than four interviews. Some distinctive patterns of cinemagoing emerge from these conversations: notably that with good public transport provision, including Underground lines, making it easy to travel some distance to go and see a film, a number of informants recall excursions from Harrow to cinemas in London's West End, as well as right across the Harrow area itself.
Unlike CCINTB's other places, however, no consensus emerges in Harrow as to favourite stars; though recurrent mention is made of Clark Gable, Ronald Colman, Astaire and Rogers, Laurel and Hardy, Bette Davis, and Deanna Durbin. Madeleine Carroll appears to have cross-class appeal in Harrow; while Edward G. Robinson is admired in particular by working-class informants.
---
Interviews involving seventeen of the Harrow core informants have so far been transcribed and audio-synced. These are listed below, with links to informants' home pages.
Interviewees
---
Harrow Memorabilia and Links
Listing of Harrow cinemas
Listing of cinemas outside Harrow
Granada Theatre, Harrow (cinematreasures.org site)
Clipping of opening of the Granada Theatre (CM-20-001RP001)
'50 Golden Years Granada Harrow' pamphlet (HS-98-002PM001)
Postcard of the Harrow Coliseum (VB-96-002PC012)
'Harrow's Cinemas through the eyes of wartime diaries' (headstonemanor.org site)
The Elite, the Cosy and the Cosy Bus (research blog post by Annette Kuhn)
---
Notes
[1] Arthur Dark, From Rural Middlesex to London Borough: The Growth and Development of Harrow Illustrated with Maps. Harrow, London Borough of Harrow, 1981: 23; see also A.A. Jackson, Semi-detached London: Suburban Development, Life and Transport, 1900-39. London, George Allen and Unwin, 1973.
[2] Brian Hornsey, Ninety Years of Cinema in Harrow. Stamford, Lincs, Fuchsiaprint, 1997.