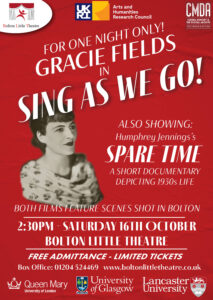 As part of its dissemination activities, CMDA organised an event to screen two classics of British cinema, Sing As We Go! and Spare Time, at Bolton Little Theatre.
The 1934 feature Sing As We Go! Stars Lancashire-born Gracie Fields and includes scenes shot in Bolton and Blackpool. In true Saturday matinee style, the feature film was preceded by a short, Humphrey Jennings's Spare Time. Inspired by Mass Observation and its 'Worktown' project, Jennings's 1939 documentary looks at the leisure activities of coal, steel and cotton communities across Britain, with footage from Sheffield, Manchester and Pontypridd as well as Bolton.
More details on the event can be found in Annette's blog.
Video of Event Presentation
This is a video of the slideshow used to accompany the CMDA introductory talk which contains some audio clips from Bolton interviewees. Best viewed full-screen.