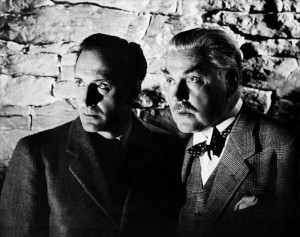 Film screenshot (Universal Pictures), Public domain, via Wikimedia Commons
Ada Bellis came into contact with Cinema Culture in 1930s Britain through her membership of the Westhoughton History Society (WHS), and was among the twenty-two individuals living in the Greater Manchester area who were interviewed for the project as core informants during 1995. One of four children, Miss Bellis was born in Bolton in 1909 and had always lived in Bolton. Her parents had migrated to the area from North Wales before she was born; her mother was a housewife and her father had contracted a lung disease while employed in a local colliery that forced him to stop work. Miss Bellis left school at fourteen and took a job as a weaver; she later worked as a library assistant. She was interviewed along with four other WHS members on 9 May 1995, and again at her home in Westhoughton on 30 May 1995.
In her first interview, Miss Bellis and other WHS members share memories of the town's two cinemas, one of which began life as a roller skating rink, and they proceed to consider Bolton's various 'classes' of cinema and the types of programming on offer. The high-profile activities of the local Watch Committee with regard to Sunday opening of cinemas and regulating and certificating films are debated. The cinema billboards advertising the week's films that graced shop fronts in town --and the free tickets shopkeepers received in return--are remembered. A general feeling is expressed that films seemed to take a very long time to reach Bolton after their general release. Early picturegoing memories are highlighted: projector breakdowns, attendants failing to keep rowdy audiences in order, disinfectant sprays. The mighty organ at Bolton's supercinema is remembered, as are the double seats for courting couples in another local picture house, and the cheap seats behind the cinema screen in yet another. In her second, solo, interview, Miss Bellis talks about the two cinemas in Westhoughton, about her mother's enjoyment of cinemagoing, and about the Saturday 'penny rush'. She went to the pictures once a week, she recalls, usually with her brother; and notes that although she had no particular favourites among film stars she did enjoy the Sherlock Holmes films and listened to songs by local celebrity Gracie Fields on gramophone records. She tells of an acquaintance meeting the Manchester-born actor Robert Donat and of another who met Jack Buchanan when the actor was performing in live theatre in Bolton.
Audio-synced interview (1 of 2)
Interview transcript
|
Listing of cinemas, films and stars mentioned
Audio-synced interview (2 of 2)
Interview transcript
|
Listing of cinemas, films and stars mentioned
---