Arthur Orrell (AO-95-175)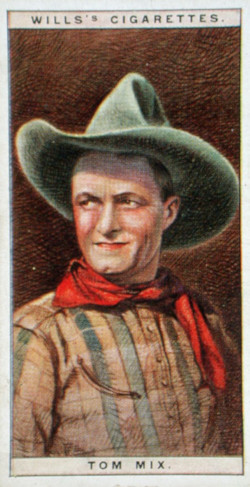 Tom Mix Cigarette Card
© Wills (now Imperial Brands PLC). Reproduced courtesy of Bill Douglas Cinema Museum
In Spring 1995, Arthur Orrell was contacted by Cinema Culture in 1930s Britain via the Bolton WEA (Workers' Educational Association) Local History Study Group, and joined the twenty-two individuals living in the Greater Manchester area who were interviewed for the project as core informants later that year. Mr Orrell was born in Bolton in 1920, one of two children. His father worked in the cotton industry as a mule spinner and his mother was a housewife: in the early years of their marriage, the couple worked in the cotton mills of Western Massachusetts, USA for several years before returning to Bolton to raise their family. After leaving school at fourteen, Mr Orrell worked a series of jobs, mostly involving clothing and footwear, before moving south at sixteen to join a youth employment scheme; his subsequent work was mainly in the field of electrical engineering. His interviews, conducted al fresco in Manchester city centre, took place on 12 May and 9 June 1995. In 2000, Mr Orrell took part in CCINTB's Tarzan questionnaire survey.
The wide-ranging first interview, which took place outside Manchester's Tourist Information Centre, touches on Mr Orrell's earliest cinemagoing memories and the range and diversity of the often short-lived cinemas in Bolton at the time. He describes the clatter of clogs on cinemas' wooden floors, live musical accompaniment to silent films, and singsongs. He recalls the names of his favourite stars of film westerns, and talks about some of his other childhood leisure pursuits, including Sunday School treats, playground games, and collecting cigarette cards. He remembers the Saturday night queues of his adolescent years, when he went to the pictures two or three times a week, and the double seats provided for courting couples in some cinemas. He notes his film preferences and favourite stars (over seventy stars — favourites and others — are mentioned in the course of the interview) and is voluble on the topic of Lancastrian film personalities--such as Gracie Fields, whose 1934 vehicle
Sing As We Go!
includes scenes that were filmed close to his home. He offers anecdotes about film shoots that he witnessed: one in North Wales involving British star Stewart Granger, and another--involving Richard Attenborough--at a school where he was working. Perusal of Mr Orrell's collection of articles and clippings from local newspapers prompts further discussion of performers, writers, and other creatives from Bolton and nearby; and the interview draws to a close with memories of cinemas Mr Orrell went to when he was working in London. Before the start of his second interview, conducted on a bench at Manchester Piccadilly station, Mr Orrell guided the interviewer on a walking tour of the city centre. Conversation throughout is facilitated by the collection of film star cigarette cards he has brought along. He explains how he came by the cards as a boy--this often involved approaching random strangers as they were opening new cigarette packets. He talks about the stars featured on the cards, mentions some of the earliest films he remembers and the cinemas where he saw them, and once again reflects on the number and variety of cinemas in Bolton. He refers to the organs installed in upscale cinemas, noting that there were several famous cinema organists called Reginald. He enjoyed comedy and slapstick in films, he says, identifies several male dramatic actors that he liked, and insists that he avoided 'women's films'. He names a number of celebrities, including Buffalo Bill, who visited Bolton, and mentions some Hollywood films that were shot in scenic UK locations. Conversation then turns to amusing scenes from WC Fields and Harold Lloyd films, gossip and scandal about film stars' lives, and 'gentleman' actors in British postwar films.
---
Documents, Memorabilia and Related Links
Bolton home page
Scan of letter (AO-95-175PL003)
|
Transcript
Scan of Tarzan Questionnaire (AO-95-175TQ001)
The Queen's Picture House, Bolton
(cinematreasures.org site)
Rare footage of Buffalo Bill
(YouTube)
Harry Lauder in "Safety Last" skyscraper scene (1923)
(YouTube)
Cinema on 'every street corner'
(article from theboltonnews.co.uk)
Publications related to 1930s cinemagoing in Bolton:
Jones, J. (2019). 'These Intimate Little Places': Cinema-Going and Public Emotion in Bolton, 1930-1954, Cultural and Social History, 16:4, 451-466, DOI: 10.1080/14780038.2019.1609801
Richards, J. (1994). Cinemagoing in Worktown: regional film audiences in 1930s Britain, Historical Journal of Film, Radio and Television, 14:2, 147-166, DOI: 10.1080/01439689400260131