Mickie Rivers (MR-95-210) and Leonard Rivers (LR-95-210)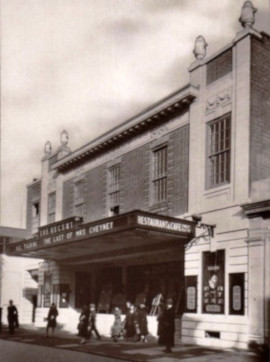 Opening week Regent Theatre, Ipswich (1929). Uploaded by Mike_Blakemore. Creative Commons (Attribution) License via cinematreasures.org
After Mickie Rivers responded to a call in the East Anglian press for volunteers to take part in Cinema Culture in 1930s Britain, she and her husband, Leonard, joined the twenty-one individuals, couples and groups living in that region who were interviewed during the last months of 1995. Mrs Rivers was born in Ipswich, Suffolk in 1923. She left school at the age of fourteen and went to work in the Post Office, later taking up office work with the local District Council. At the time of the interview she was busy at home caring for her housebound husband. Leonard Rivers was born in 1920 in the Suffolk village of Creeting St Mary. On leaving school at fourteen he worked for a while at a gentleman's outfitters before moving to the ICI Paints Division at Stowmarket. The Rivers were interviewed on 11 October and 8 November 1995 at their home in Needham Market, Suffolk.
In their first interview they recollect their earliest cinema visits. Mrs Rivers grew up in a religious household where cinema was regarded as sinful--but both she and her mother managed to make (separate) secret visits, and after the age of sixteen or seventeen she went to the pictures regularly with a friend. Mr Rivers offers a vivid memory of a film that he saw as a child:
The Wrecker
(1933)--and refers to it again in the second interview. Among the couple's favourite stars was Anna Neagle, who came to Ipswich in 1937 to open the new Ritz cinema. They name and describe a dozen or so other cinemas in Ipswich, and also recall going to cinemas in Maidstone, Kent when Mr Rivers was in the Army, and to a picture house in Beccles that boasted double seats for courting couples. They describe a typical 1930s cinema programme, talk enthusiastically about the Wurlitzer cinema organ, mention their liking for musicals (Astaire and Rogers were favourites, and Mr Rivers was a fan of Deanna Durbin), and their dislike of gangster films. Mrs Rivers describes the feeling of 'being there' on the screen whilst watching a film--"I used to live it"--an experience totally different from watching films on TV. She explains a little about her youth--how she was taken away from grammar school because the family couldn't afford the uniform--and about her current life as her husband's carer, and her craftwork and hobbies. During the second interview various stars are named and discussed, among them Charles Boyer, a particular favourite with Mrs Rivers, who liked his "dark brown, velvet voice". The conversation ranges over actors' voices, diction and regional accents; the basis on which films were chosen (their stars rather than their stories); glamorous male stars; and how the outbreak of WW2 affected cinemas and picturegoing. Mrs Rivers remembers the cinema newsreels showing troops and, with her husband away on war service, her acute awareness that the soldiers' locations were never revealed. Mr Rivers was involved in the Dunkirk evacuation, and his wife recalls her anxiety during the long wait for news of him. Poring over a 1930s film annual, the couple chat about stars and films, and Mrs Rivers recalls the feelings of longing inspired by the lovely clothes in films. She had few clothes herself, she says, and made do by repurposing jumble sale garments and making things for herself and her children out of fabric remnants. She again refers to the feeling of being caught up in the world of the film, while remaining fully aware of the artifice. She talks about her household duties as a child; about the sweets you could buy for a halfpenny (old money); and about the contrast between the privations of home and the luxury of the cinema, which "made you feel you were queen". She and her husband don't go out any more, she says, and she misses getting spruced up to go to the pictures.
---