William Pickess (WP-95-217) and Hazel Pickess (HP-95-217)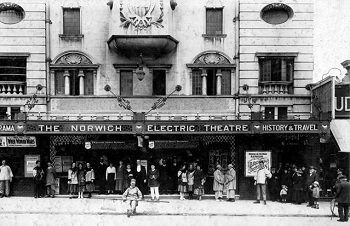 The Norwich Electric Theatre (uploaded by Granola) Creative Commons (Attribution) License via cinematreasures.org.
In August 1995, Bill (William) Pickess answered a call in the East Anglian press for volunteers to take part in Cinema Culture in 1930s Britain, and he and his wife Hazel joined the twenty-one individuals, couples and groups living in that region who were interviewed for Cinema Culture in 1930s Britain as core informants. One of four children, Mr Pickess was born in Lowestoft, Suffolk in 1916 and, aside from war service, had lived in the town all his life. On leaving school at the age of fourteen, he took a job as a warehouseman, and his later occupations included work in a bakery, managing a grocery shop, and running a chandlery. Also a native of Lowestoft, Mrs Pickess was born in 1918, one of three children. Her first job on leaving school at fourteen was as an upholsterer with the Eastern Counties bus company; she later worked as a machinist and as a housewife. The Pickesses' parents were employed in the same two key local industries: both their fathers were fishermen, and until marrying their mothers worked in Morton's food cannery factory. William and Hazel Pickess were interviewed together at their home in Lowestoft on 19 October and 14 November 1995.
Film lovers for much of their lives, the Pickesses note in their first interview that they went to the cinema two or three times a week in their youth, recalling the names, locations and distinctive characteristics of the local cinemas they frequented. They share memories of being schoolchildren during the 1923 teachers' strike, and talk about how they started courting as thirteen-year-olds--and how this involved frequent visits to the cinema: "Used to sit in the front row. And we used to keep looking at one another." They offer details of ticket prices for different seats, and remember the first talking picture shown in Lowestoft; while Mrs Pickess's second prize in the 1936 Miss Lowestoft competition is mentioned several times. They loved musicals, read film magazines avidly, and kept up to date with forthcoming releases. They went to dances regularly, liked big band music, and knew by heart the lyrics of songs from the musicals they enjoyed; Mr Pickess plays a tape of songs by his favourite star, Dick Powell. Looking through their 'Daily Mirror' film book, acquired in the 1930s, the couple share gossip about the stars--over forty film personalities, including many stars of British films, are named in the course of the interview. The conversation turns to memories of Lowestoft before and during the war: dances and confetti fights on the Pier; the Scots girls who travelled to East Anglia every year to gut the herring; the local fishing industry during World War Two; and Lowestoft as a holiday destination, past and present. In their second interview the couple look through two film annuals from the 1930s brought along by the interviewer, and talk a little about the distinctive qualities of some of their favourite stars. A look at part of their video about MGM Studios (which they loan to the interviewer) prompts further conversation about stars (during the interview around fifty are named--and often discussed in some detail). Cinema, they stress, was so important to them because it was the main entertainment available at the time. Mr Pickess expands on his deep and enduring admiration for Dick Powell: "I get a lump in my throat. it's a funny sensation really" , while both are eloquent about their feelings for, and pleasure in, films and stars ("You modelled yourself on them, you know"), and about how they felt when watching films ("You were glued on the screen"). Discussion turns to Lowestoft's cinemas during the war and to the bombing of the town, while Mr Pickess remembers going to open-air cinemas in Egypt during his war service. The interview closes on an elegiac note, with further recollections of how they first met--their courtship, going to dances in rural villages, and their pleasure in entertainments like dance bands and the local carnival.
---