Facilities
Lancaster Environment Centre, Rothamsted Research and the Centre for Ecology & Hydrology all provide excellent facilities for research. Together, as the Graduate School for the Environment, we offer you a wonderful range of opportunities.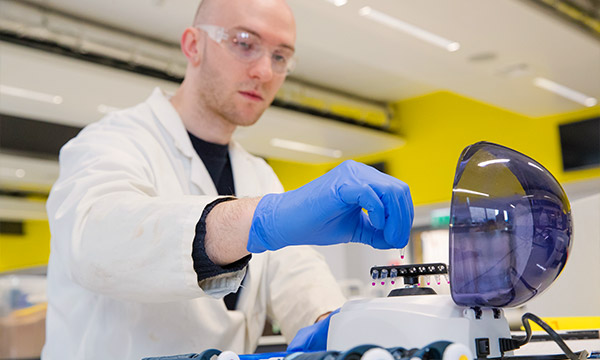 Laboratories
As a student at the Graduate School for the Environment, you may find yourself taking advantage of several laboratory facilities at Lancaster Environment Centre. There are our £4.4 million Teaching Labs, for example, as well as specialist facilities for Environmental Chemistry, Noble Gas, and Plant and Soil Ecology.
At Rothamsted Research, there are world-leading laboratories for Bioimaging and Cereal Transformation, and another purpose-built complex for the study of Plant and Microbial Metabolomics, where 'post-genomic' researchers are using metabolomics analysis to help build a more comprehensive understanding of gene function and physiology.
The Centre for Ecology & Hydrology has its Centralised Analytical Chemistry Laboratories in Lancaster, where specialist work is conducted into metals, nutrients, organics and stable isotopes. There are also separate Analytical Chemistry Laboratories in Bangor and Wallingford, as well as a Gamma facility for the study of radioecology.
Research Facilities
There are no fewer than fifteen purpose-built glasshouse modules at Lancaster Environment Centre, where you can pursue a wide range of ecological and plant science research. We also have a total of sixteen controlled environment plant growth rooms and chambers at our Lancaster site, and a further four solar domes based at the Hazelrigg Weather Station.
Through Rothamsted Research, you can take advantage of over 1,000 square metres of glasshouse space and other controlled environments for plant growth, all run by our Horticultural and Controlled Environment Services Department. We also have an extraordinary insectary, where researchers can rear and study a wide range of insect species.
Researchers working in collaboration with the Centre for Ecology & Hydrology can use facilities such as the Solardomes and Ozone Field Release System in Bangor and the controlled conditions of the GroDome in Wallingford. They can also conduct research into shallow lake ecosystems at our Aquatic Mesocosm Facility, and take advantage of the array of Terrestrial and Freshwater System facilities we run on behalf of NERC, which include a Biomolecular Analysis Facility, a Life Sciences Mass Spectrometry Facility, and a Facility for Environmental Nanoscience Analysis and Characterisation.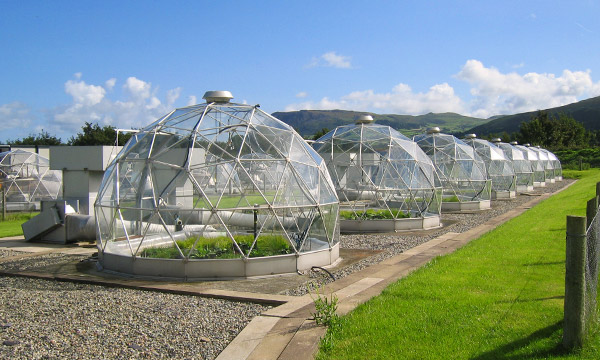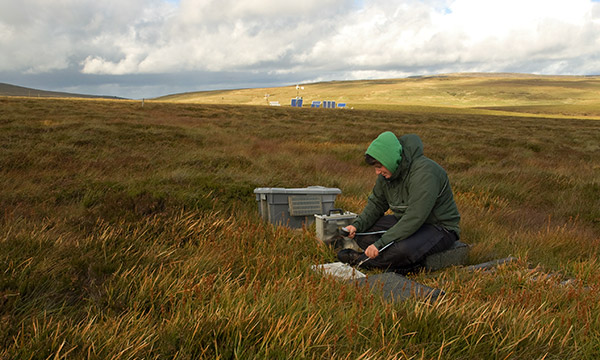 Field Sites
Through Lancaster Environment Centre, you could find yourself working at a range of catchment science sites across England and Wales – with the facility in the River Eden Valley situated not far to the north of the city. Our students also have access to Hazelrigg Weather Station, which lies within easy reach of the campus, or they can travel much further afield to the tropical forests of the Amazon and Borneo.
Fieldwork has always been at the heart of the science conducted at Rothamsted Research. Today you can access a total of 700 hectares of experimental land, including our research arable farm in Harpenden and grazing livestock farm at North Wyke which includes the North Wyke Farm Platform, where three independent 25-hectare farms allow you to test hypotheses and technologies related to grazing livestock systems at a working farm level.
The Centre for Ecology & Hydrology also boasts an impressive array of fieldwork opportunities. We run a vast network of monitoring sites across the UK, looking at animal taxa, soils, vegetation, water, air chemistry, and meteorology. Some of our more notable sites include Wallingford Meteorological Station, Whim Bog, where we conduct long-term nitrogen experiments, Plynlimon where we monitor the headwaters of the River Severn and Auchencorth Moss where we run an atmospheric observatory.
Cutting-Edge Technologies
On campus at the Lancaster Environment Centre, you can be trained to use a range of equipment, such as our Stable Isotope Ratio Mass Spectrometer Facility, our X-ray CT Scanner, the Magnetometer at Hazelrigg Weather Station, and our LI-COR Portable Photosynthesis System, which has the capacity to measure plant gas exchange with exceptional speed and precision.
At Rothamsted Research, scientists have access to equipment such as the world's first Field Scanalyzer, a drone for monitoring variation in crop performance, and Radar Entomology instrumentation for looking into insect movement and spatial ecology.
The many research facilities connected to the Centre for Ecology & Hydrology are host to a broad array of specialist equipment, from spectrophotometers to germanium detectors, and auto-titrators to solid phase extraction workstations. We are also establishing the COSMOS network to provide near real-time soil moisture data for use in a variety of applications.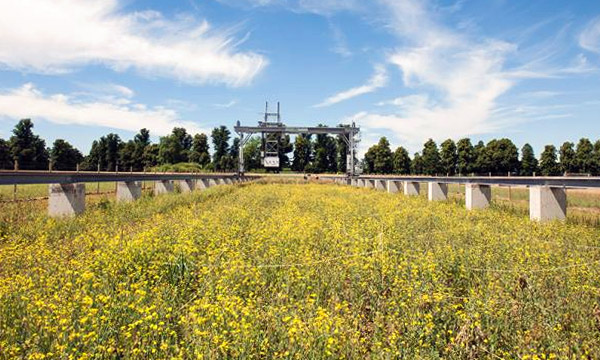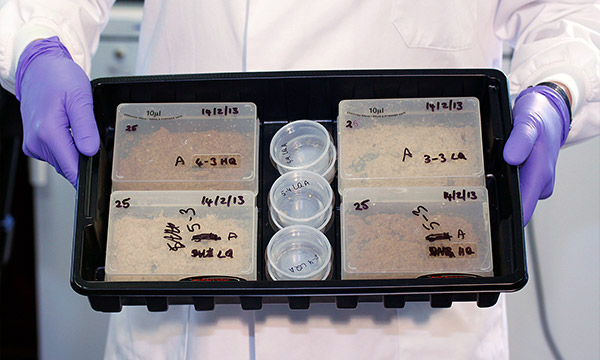 Rich Data Resources
Students and researchers at Lancaster Environment Centre have access to extensive in-house environmental monitoring and spatial databases, together with subscriptions to large national and international data repositories. Dedicated support staff with expertise in GIS, statistics, modelling, information technology and programming underpin our research and a host of courses are available to provide specialist training in all aspects of data acquisition, processing and analysis.
As the longest-established agricultural research station in the world, Rothamsted Research boasts an unparalleled archive of data from its ongoing Long-Term Experiments. We are also pioneers in the use of statistical methods to analyse this kind of data and we continue to offer that capability to our students via our specialist Statistics Department, our Bioinformatics Group, and the series of mathematical models that we have devised such as Rothlime, the Rothamsted Carbon Model, and MOTOR – a system designed to describe the transformations of organic carbon and nitrogen in soil.
Data gathering is one of the key activities of the Centre for Ecology & Hydrology. We boast an array of unique, long-term, national-scale data that underpin the research projects conducted by many of our postgraduates. To make the process of interrogating our data easier, we have created interfaces such as the CEH Environmental Information Platform, the Biological Records Centre, the Environmental Change Network and the National River Flow Archive. To see the full range of data we hold, you can access our CEH Data Catalogue.