Facilities
Our wide range of research interests demands an equally wide range of facilities and equipment. These enable integrated studies of terrestrial, aquatic and atmospheric systems, using chemical, biochemical, physical and biological analysis.
Teaching Labs
Our new £4.4 million teaching laboratories have bench space for 216 students and are shared between the Lancaster Environment Centre and the Division of Biomedical and Life Sciences. The flexible design means that up to four classes can be taught at one time in the two laboratories, with up to 12 students clustered around double benches, having access to monitor screens and speakers which are controlled from four teaching stations.
Ancillary facilities will include cold store rooms, a plant growth room, preparation rooms, a muffle furnace room, 12 fume cupboards, storage space and office space for technical staff. Lockers will be provided in a circulation area so students can follow best practice and leave their coats and bags outside the labs.
The laboratories are used mainly for undergraduate teaching and project work, with some master's level work also taking place there.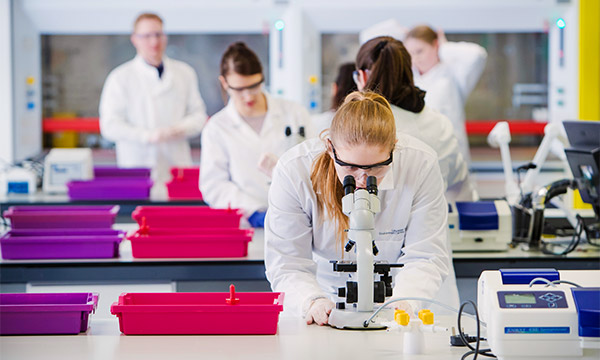 Research Glasshouses
Our 15 purpose-build glasshouse modules provide flexible growth facilities dedicated to our wide range of plant science and ecological research. The glasshouses provide control of temperature (all are heated and three are three fully air-conditioned), LED-lighting to supplement daylight and extend day length, defined irrigation, and a range of containment options.
Our glasshouse facility is fully integrated with our plant science laboratories and is used for everything from detailed studies of leaf and root physiology through to taking crops such as tomatoes and wheat to harvest.
They also support undergraduate and Master's projects, and student practical classes.
Contact: Maureen Harrison
Hazelrigg Weather Station
Daily weather observations have been made at Lancaster University since 1966 providing a continuous, very high-quality record. This record is included in world climate reports and in the analysis of long terms trends by the World Meteorological Organisation.
Hazelrigg is the UK Meteorological Office Climatological Station Number 7236. Every morning at 0900 GMT measurements are made by Lancaster Environment Centre (LEC) staff and student volunteers and the data are passed on to Meteorological Office. Measurements from the automatic weather station are averaged every 10 minutes and can be seen via Hazelrigg Automated Meteorology Measurements.
Data from Hazelrigg can be accessed through the Archived Meteorology Data of daily and automated measurements from the site. These data are used in many undergraduate and postgraduate projects and by LEC researchers and those collaborating with them.
Hazelrigg is 1 km northeast of the University campus and 10 km east of the Irish Sea coast. Its prevailing south-westerly wind makes it good for the study of marine aerosol and trace gases. It is also used as a semi-rural site to monitor trace levels of Persistent Organic Pollutants.
The site also houses other facilities available for use by LEC staff and students and those working with them including:
a controlled glasshouse facility in four solar domes allowing the study of plant diversity and its effect on global climate change
A 3 axis fluxgate magnetometer operated by the Space Plasma Environment and Radio Science group from Lancaster University's Physics Department as part of the Sub-Auroral Magnetometer Network (SAMNET). It continuously records natural variations in the Earth's magnetic field caused by the solar wind interacting with Magnetosphere-Ionosphere system. Data from the magnetometer is used for AuroraWatch UK, which alerts subscribers by email or Twitter to times when aurora may be visible from the UK
Lancaster University's 100 m 2 MW wind turbine which generates up to 17 percent of the University's electricity and is used as a field study site for students.
Location
National Grid Reference: SD3493 4579
Postcode: LA2 0PL
Altitude: 94.1 metres above sea level
Latitude: 54 degrees 1' 50" North
Longitude: 2 degrees 46' 30" West
Contact: Dr James Heath or Dr Brian Davison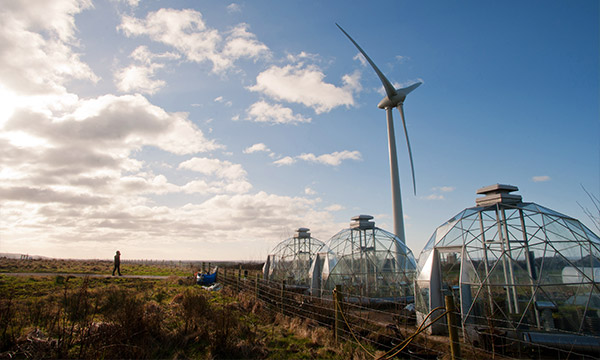 Centre for Biophotonics
This is a cutting-edge interdisciplinary facility combining cell biology laboratories next to imaging technologies. The latter range from more conventional electron (scanning and transmission) and confocal microscopy systems to two ATR-FTIR microscopes, an FTIR microscope and a Raman microscope.
The facility has extensive expertise in the application of such spectrochemical approaches to lending novel insights into biological questions ranging from toxicological effects in target cell populations to environmental sciences to bio-monitoring for diagnostic or screening purposes in humans.
Consequently, there are a range of ongoing projects into nanotoxicology, effects in amphibian or fish populations, plant biology, screening for diagnostic biomarkers and fundamental cell biology.
The group includes a mix of analytical chemists to biologists to computational experts. These activities are contributing significantly to the emerging field of biospectroscopy, which has applications in a diverse number of fields.
The major advantage of the Centre for Biophotonics is that it combines preparation space and tissue culture for biological experiments in close proximity to novel biophysical imaging technologies. The group collaborates with many groups nationally and worldwide.
This equipment is also used for postgraduate and undergraduate projects.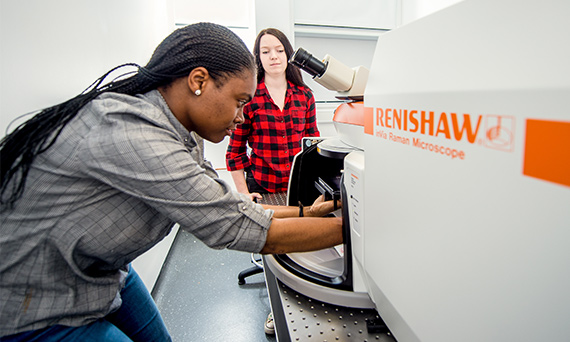 Environmental Chemistry Laboratories
Our chemistry laboratories have amongst the best analytical facilities in the world for environmental organic chemistry research. The primary research focus is the quantification of trace levels of persistent organic chemicals in environmental samples.
These include air, water, soil and sediment, as well as waste samples and biota. We have a range of sample preparation laboratories, including a positive pressure, filtered air 'clean room' to allow sample handling for ultra-trace analysis. We also have state-of-the-art liquid and gas chromatography/mass spectrometry instrumentation, including:
High-resolution magnetic sector GC-MS for trace analysis of environmental samples
A range of dedicated benchtop GC-MS systems for a range of compound classes
Single-quadrupole and ion-trap LC-MS systems used for analysis of polar contaminants
Triple-quadrupole LC-MS system used for very low-level analysis of polar contaminants
All these facilities are used in a range of research projects, contract research as well as for Master's taught modules and projects.
Contact: Dr Andrew Sweetman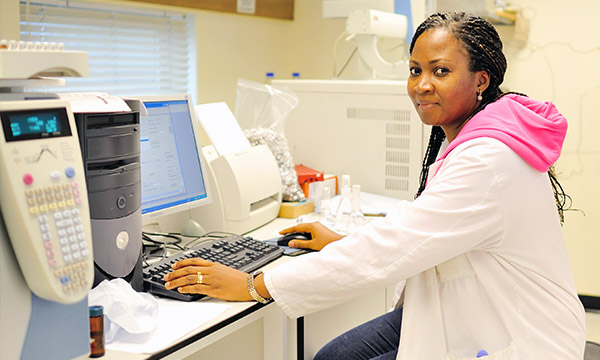 Soils and Ecosystem Ecology Research Laboratory
The Soils and Ecosystem Ecology Research Laboratory is equipped with all the necessary equipment and machines for studying plant-soil interactions and soil biogeochemistry.
The laboratory supports the research of up to seven Professors and Lecturers, approximately 50 research staff and students, as well as undergraduate and master's projects. The group focuses upon plant-soil interactions, soil and ecosystem biogeochemistry, macronutrient cycles and greenhouse gas emissions.
In addition to basic laboratory facilities, equipment and techniques available in the lab include analysis of:
Carbon, Nitrogen and Phosphate
phospholipid fatty acid (PLFA) and enzyme assays
raw fibre analysis
plant and soil respiration
greenhouse gas analysis
soil density fractionation
The lab also has a range of field equipment including infra-red gas analysers, soil moisture meters and soil respiration and photosynthesis chambers.
Group Lead: Professor Nick OstleLaboratory Manager: Dr Annette Ryan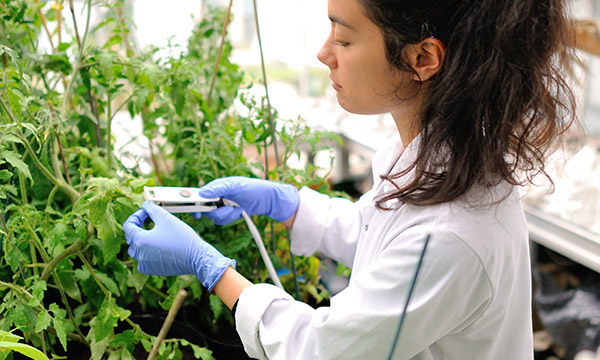 Controlled Environment Plant Growth Rooms
Our suite of ten walk-in growth rooms and six high-specification growth chambers (Snijder Scientific Microclima 1750) provide a range of controlled environments.
Detailed investigation of plants and many other organisms require that experiments are performed in precisely controlled environmental conditions, for example, temperature, day length, light intensity, humidity etc.
This facility supports not only our plant science and ecological research, but are also used extensively for undergraduate and Master's projects, and student practical classes.
Contact: Maureen Harrison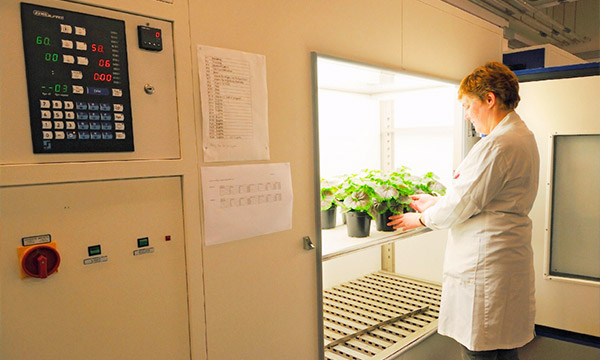 Stable Isotope Ratio Mass Spectrometer Facility
The stable isotope facility operates alongside the Centre for Ecology and Hydrology where we share expertise and resources to deliver high-quality isotopic data and pioneer novel techniques.
Our goal is to use the capability of the facility to address unique fields of environmental research, fulfilling the cutting edge analytical needs of the university and beyond.
The analytical capabilities of the facility include stable isotope analysis of carbon, nitrogen, sulphur and hydrogen in solid materials by combustion, high-temperature oxygen pyrolysis, and liquid injection by the elemental analyser. Carbonate and dissolved inorganic carbon are analysed by continuous flow, and we host dedicated facilities for compound-specific isotope analysis. The facility also hosts multi-collector capability for analysis of carbon isotopologues.
The analysis is undertaken across a broad spectrum of research projects and funding sources but is also available for use by external academic customers and commercial clients.
Contact: Dr Peter Wynn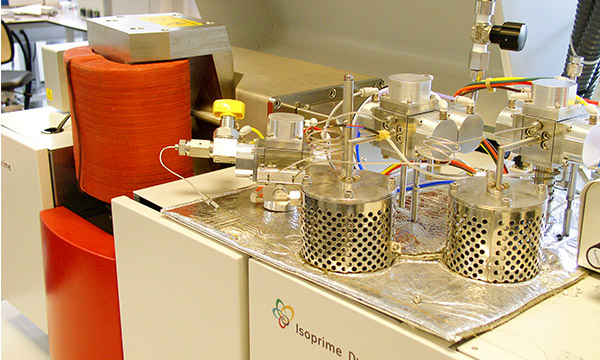 LI-COR Portable Photosynthesis System
The LI-COR LI-6400XT Portable Photosynthesis System is a state-of-the-art piece of equipment for measuring plant gas exchange(transpiration and photosynthesis). The LI-COR presents multiple advantages for researchers, including its accuracy and precision for gas exchange measurements, its huge range of functions, and its quick measurement time.
The LI-COR is also a portable and very durable piece of equipment, which can be used both within the laboratory and greenhouse environment, but also easily transferable to field sites worldwide.
This equipment is widely used in plant research projects and for teaching, as well as for postgraduate and undergraduate projects.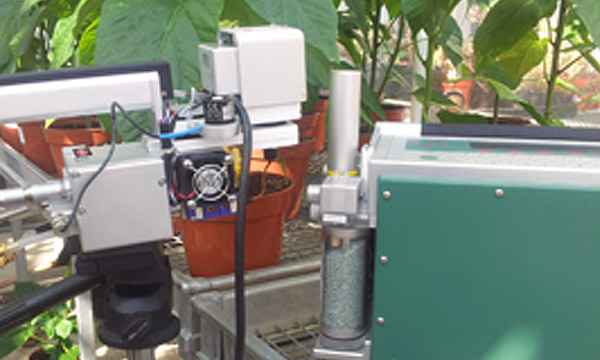 Noble Gas Laboratory
The Lancaster noble gas laboratory will be the only lab in the UK with magnetic sector instrumentation focused specifically on environmental applications of noble gases.
The laboratory will provide a high sensitivity analysis of noble gases (He,Ne,Ar,Kr and Xe) in a range of sample types. Our new multicollector noble gas instrument will be connected to dedicated ultra-high vacuum gas extraction systems including a furnace and crushers as well as fluid preparation facilities. This will enable high precision, high sensitivity analysis of solids (rocks), liquids (water, oil) and gases (CO2,CH4).
We also anticipate the acquisition of a lower precision single collector MAP-215 which will be dedicated to groundwater dating and other water studies
This laboratory provides specialist services to University staff, external academic customers and commercial clients in the oil and gas industries.
Equipment:
Isotopx NGX (delivery Feb 2014)
MAP-215 (acquisition early 2014)
X-Ray CT Scanner
X-ray CT (Computerised Tomography) creates 3D or 2D images of an object through X-ray attenuation. The non-invasive technique, widely used in medicine, is now commonly used for investigating and characterising materials in other fields.
Our system is a Xtek CT 160Xi scanner, which is capable of up to 5-micron resolution and can image objects (with a lower resolution) up to 75 mm diameter and 150 mm in length.
Our scanner is mainly used for the characterisation of soil and rock samples to help understand the physical structures that control fluid and gas transport processes in these porous media.
As well as being used for Lancaster University research it can be accessed by external researchers and organisations.
Contact: Professor Andrew Binley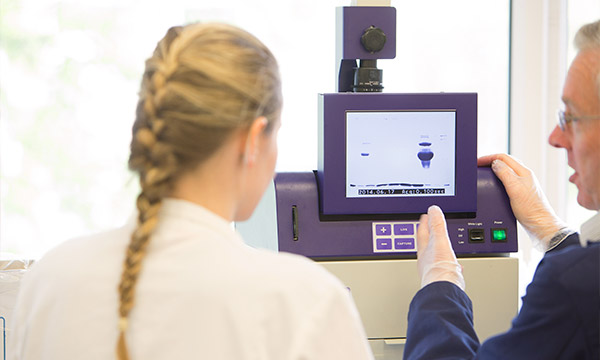 Numerical Modelling
We develop and run a variety of custom-built computer models to simulate environmental processes, predict the transformation and fate of pollutants, and explore the global climate system.
These atmospheric and hydrological models permit detailed investigation of the physical and biogeochemical processes operating in the environment, allowing interpretation of observational data from field sites on larger spatial and temporal scales and more critical evaluation of our fundamental scientific understanding.
These models provide insight into the environmental fate of pollutants and into the processes driving environmental change, providing a firmer foundation for policy decisions affecting air quality, the climate system, and our responses to natural hazards or flooding.
Our numerical models are generally run on our in-house computational facilities in the department, on the University's high-end computing cluster, or on national and international supercomputing facilities.
Numerical simulation and data analysis are important scientific skills that complement practical field and lab-based activities. Many of our undergraduate, master's and research students make use of our modelling tools in their dissertation and thesis projects.
Contact: Dr Oliver Wild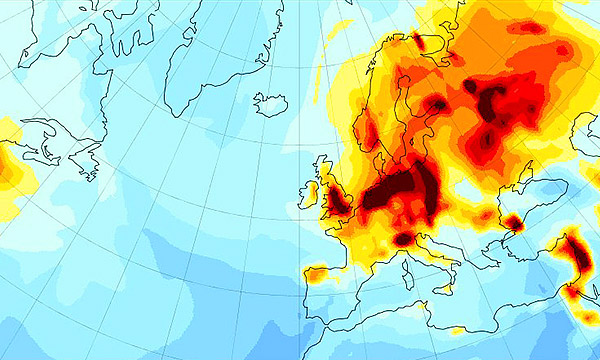 Ultraviolet Radiation Research Facilities
Our world-class suite of facilities allows us to study responses to ultraviolet (UV) from the cellular scale through to whole crops. Our UV dark room allows precise definition of UV dose and spectrum, for example, to study UV responses in cultured human cells or micro-organisms.
Our purpose-built UV growth room and customized growth chambers allow plants to be grown with precise control of UV exposure with high levels of background light and precisely controlled temperature.
Finally, our array of replicated growing tunnels allow whole crop responses to be studied using commercial and experimental cladding materials with a range of UV transmissions. UV treatments are measured using two double-monochromator UV-visible spectroradiometers.
All these facilities are used in a range of research projects, as well as for undergraduate and Master's projects, and student practical classes.
Contact: Professor Nigel Paul
Microphenotron Service
The Microphenotron is a unique microphenotyping platform for high-throughput screening of natural or synthetic compounds for their effects on plant growth and development. The robotic platform, developed through a collaboration between Lancaster and Nottingham Universities, provides a powerful new tool for agrochemical development by combining specialist robotics, Phytostrips and image analysis software.
It is unique in being able to combine high-throughput robotic screening with a detailed analysis of the effects of chemical treatments on both root system architecture and shoot development.
The Microphenotron is described in detail in a recent Open Access research paper entitled "The Microphenotron: a robotic miniaturized plant phenotyping platform with diverse applications in chemical biology" and automated software developed specifically for analysing the images generated by the robotic platform us described in a companion paper entitled "AutoRoot: open-source software employing a novel image analysis approach to support fully-automated plant phenotyping"
Seedlings are cultivated in agar within our custom-made growth devices ('Phytostrips') in 96-well microtitre plates for up to 10 days from germination. The clear-sided Phytostrips allow daily changes in multiple shoots and root traits to be monitored as seedlings respond to chemical treatments. At its maximum capacity, the Microphenotron could allow up to 4320 individual assays to be performed simultaneously and imaged daily over a 7 day period, in a growth room footprint of only 2.1 m2.‌
As well as being available for researchers interested in chemical genetics applications, the Microphenotron is also intended to benefit the biostimulants industry by providing a powerful bioassay system that will aid the development of new biostimulants and in the quality control of existing products. It provides considerable savings compared to conventional glasshouse experiments, but needs to be set-up and run by a specialist post-doctoral researcher.
Contact: Professor Brian Forde
Email: b.g.forde@lancaster.ac.uk
Phone: +44 (0)1524 593496
Amazon Field Sites
We have access to a variety of field sites across the tropical forests of South America. Our most long-term involvement is with an ecological research project in Jari in the Brazilian Amazon where researchers and students have been working since 2003.
Our research has taken place across 1.7 million hectares of land owned by the Jari forestry companies which practice reduced-impact selective logging and manage eucalyptus plantations for cellulose. The region also includes pristine a forest, two rivers and two different forms of the protected area.
The focus of our research at Jari is on biodiversity and on the impacts of humans on tropical forests and includes joint projects with the University of Lavras in Minas Gerais and The Goeldi Museum in Pará.
The centre hosts our undergraduate and master's field trips to the Brazilian Amazon.
Contact: Dr Jos Barlow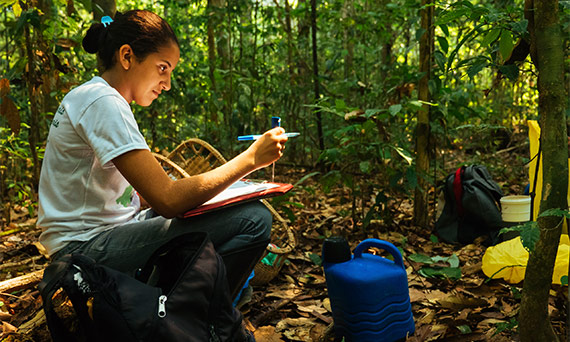 Borneo Field Sites
We have access to a number of field sites and experimental catchments in Malaysia, notably in the tropical forests of Borneo Island. We collaborate with several Malaysian universities, government departments and research institutes, and, in particular, the Yayasan Sabah Group (Sabah Foundation) that manage one million hectares of tropical forest and three field stations.
Our research collaborations began in 1990 and have involved assisting YSG in the monitoring and modelling of catchment dynamics ever since. Current research at the Maliau Basin Studies Centre and Danum Valley Field Centre involves novel ways of simulating extreme rainfall characteristics on flood behaviour; modelling local observations of rainforest moisture; simulating water quality dynamics (notably suspended sediments and carbon); water tracing using stable isotopes and the evaluation of forest management practices.
We have also used these field facilities to stage atmospheric measurement campaigns, such as the NERC-funded Oxidant and Particle Photochemical Processes above a South-East Asian tropical rainforest campaign.
Research and training at these field sites involve working with scientists from partner institutions that include Universiti Malaysia Sabah, Universiti Putra Malaysia and Malaysia Meteorological Department.
Contact: Dr Nick Chappell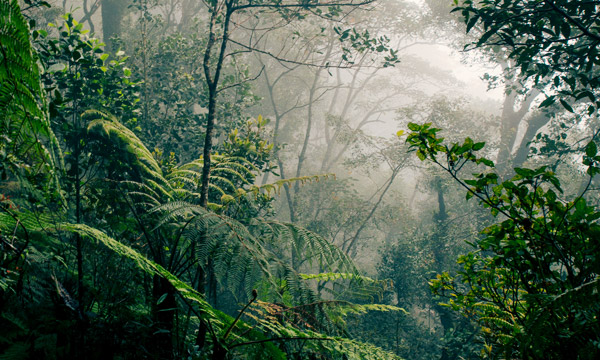 Catchment Science Sites
We are involved in several important river catchment science sites across England and Wales studying: water quality and biology; pollution; the effect of land use on ecosystems and sustainable production; and the impact of mitigation measures.
Our most extensive and longest-running facility is in the River Eden Valley, to the north of Lancaster, where there is a long history of flood hydrology and more recently agriculture and nutrient research. It is one of the UK government's three National Demonstration Test Catchments (DTCs) where we work with many partners including the Eden Rivers Trust, the British Geological Survey and the Centre for Ecology and Hydrology (CEH) and other universities.
Mobile monitoring equipment takes in situ river quality readings and other measurements. This equipment includes:
Hach Lange nutrient instrumentation measuring total reactive phosphorus (TRP) and total phosphorus (TP). YSI 6600 V2 sondes enabling the simultaneous measurement of conductivity, temperature, pH, dissolved oxygen, turbidity and total chlorophyll. ISCO 3700 autosamplers to assess the volume of nutrients flushed off the land into rivers and streams during heavy rainfall.
All monitoring sites are equipped with pressure transducers in stilling wells to provide a continuous record of the water level.
Other catchment sites where we work with the CEH include the Welsh DURESS Catchments and the more local Ribble Wyre Catchment.
We have played a fundamental role in developing the Catchment Change Management Hub a web resource which acts as a repository of knowledge about river catchments and a guide for interested parties.
Contact: Professor Philip Haygarth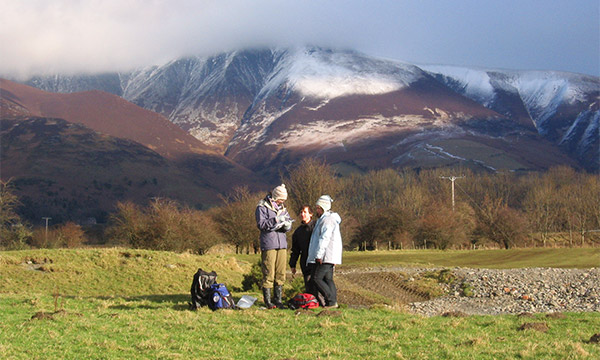 GIS Facilities and Support
Our GIS facilities benefit from the support of a dedicated technician who offers 121 practical support to staff and students to enable them to get the most out of our resources.
We have access to GIS and Image Processing software including latest versions of ArcGIS and Erdas. We hold a variety of digital data resources as well as subscribing to a range of data services such as Edina Digimap.
Within the Cartography office, we also house a large archive of paper maps as well as scanning and photographic equipment for capturing data from hard copy formats.
We provide practical training in software skills and 121 support for students using GIS as part of their dissertations and coursework.
We offer advice to researchers about data sources and support in developing a research methodology, as well as helping with technical queries.
Contact: Gemma Davies