Perception and Action
Investigating human interactions with the world via sensory and motor processes.
Research Activity
Research in the Perception & Action group includes:
Visual processing
Selective attention and awareness
Emotion and feeling states
Embodiment, body representation and perception
The neural representation of time and space
Multisensory integration
The neurocognition of hallucinations and disorders of consciousness
Neurocognitive factors mediating the transition to disorder
Speech processing in challenging situations
Age-related disorders and health over the lifespan
Sensory and motor factors as biomarkers for disease progression
Biological factors affecting cognition and behaviour
Links between language and music
Cognition and associative learning
Auditory neural coding / Auditory-motor interactions
Computational neuroscience
Gaze perception and perspective-taking
Motor action observation and execution
The sensorimotor grounding of concepts
We are also interested in the role of sensory processes in disorders and deficits due to ageing and Alzheimer's Disease. Our work combines behavioural methods, advanced human brain stimulation including TMS and multi-channel tDCS, tACS, tRNS, psychophysiology (EDA, SCRs, fEMG, FaceReader), virtual reality, eye-tracking, fMRI and EEG.
Facilities
Our Perception and Action Research Group uses a range of methodologies to elucidate the neurocognitive, behavioural and perceptual processes in young and ageing adults as well as non-clinical and special populations.
Our laboratories include :
Cutting-edge high-amplitude Transcranial magnetic stimulation (TMS) apparatus and coil-positioning software (Rogue Resolutions)
The latest in low-amplitude electric multi-channel brain stimulation (MtDCS, tACS and tRNS) from Neuroelectrics
A variety of eye-tracking systems optimised for diverse laboratory and field-based applications
A state-of-the-art integrated psychophysiology laboratory capable of quantifying a host of biophysical parameters including electrodermal activity (EDA), skin conductance responses (SCRs), facial electromyography (fEMG), heart rate and FaceReader systems for the quantification of facial emotion processing
A wet lab to allow for in-house measurement of neuroendocrine, glucose, and other psychopharmacological chemicals in both healthy and clinical populations
A virtual reality laboratory equipped with head-mounted displays, and motion capture systems utilising infrared, magnetic field, flexion, and inertial sensors
A dedicated sleep laboratory with polysomnography recording
Dedicated soundproofed auditory test booths with full EEG capability
Neuroscience of Speech & Action Laboratory
Dr Helen Nuttall
Research in the laboratory focuses primarily on investigating the neural bases of speech communication. We are interested in studying how normal brains communicate, and also what goes wrong in the brains of people with speech and language impairments.
To study this, we focus on the entire auditory pathway, from the ear to the auditory cortex, and beyond. We look at how auditory areas of the brain interact with other, non-auditory areas of the brain, to help us understand the neurobiological network that subserves speech perception, and how the network adapts depending on the situational context. Some questions that we are currently researching include: How do sensory and motor brain areas interact during speech perception? How do descending auditory projections influence low-level speech perception? How can we use information about the ear and the brain to detect communication difficulties and help to restore them?
Neuroscience of Speech & Action website Aberrant Experience, Awareness and Emotion Laboratory
Dr Jason J Braithwaite
Our research examines the neurocognitive correlates underlying disorders in consciousness such as hallucinations, delusions and perceptual distortions. Examples include breakdowns in multisensory integration underpinning the out-of-body experience (OBE) and associated disorders in body-image / perception, dissociative experiences, the aberrant experiences associated with depersonalisation/derealisation, and emotional disorders. These striking experiences are explored in non-clinical populations as well as patient groups. Overarching theoretical accounts currently being explored include theories on the role of cortical hyperexcitability underlying aberrant perceptions, Predictive coding and Disconnection accounts of failures in multisensory integration, and models of interoceptive-awareness underlying the sense of 'presence' in self-consciousness.
Aberrant Experience, Awareness and Emotion web page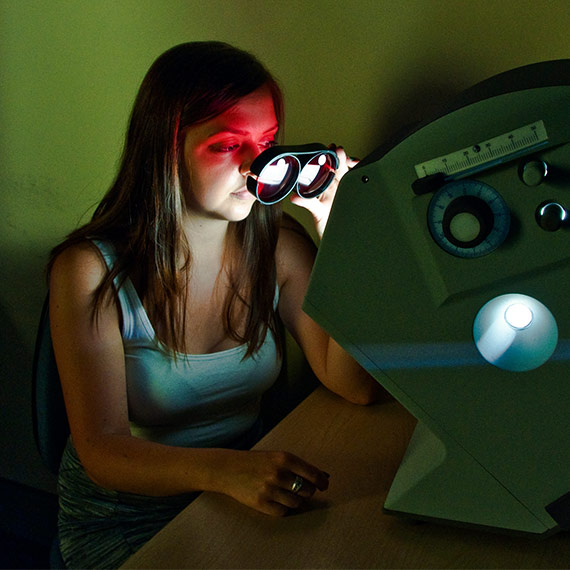 Action Observation and Motor Imagery Laboratory
Dr Stefan Vogt
Our research focuses on the interplay between observing, imagining, and performing bodily actions, and we employ both neuroimaging and behavioural methods. For example, we explore the (clearly dissociable) neural substrates of imitation learning of spatial sequences and rhythms. On a theoretical level, we have recently proposed a novel interpretation of previous research on the human mirror neuron system, namely in terms of motor imagery during action observation (Vogt et al., 2013). Supporting evidence for this account comes from a growing number of studies, including behavioural and EEG studies from our group. In addition, we investigate the effects of action observation combined with motor imagery on learning by observing, e.g. learning cheerleading postures and learning guitar chords. Body Based Perception Laboratory
Dr Sally Linkenauger
We study the influence of the body on space perception in real and virtual environments. We have found evidence that suggests that people use their bodies as perceptual metrics to provide a scale for their visual environments. Additionally, we also study the influence on the distribution of the somatosensory cortex on the visual perception of the body. To manipulate body perception, we use infrared, flexion sensor, and light coding motion tracking systems to provide individuals with virtual bodies that are fully self-animated in real time through head mounted displays. Hearing Research Laboratory
Professor Chris Plack
We use a combination of listening tests and EEG measures to investigate how sounds are processed by the auditory brain. We are particularly interested in how neural coding and hearing ability deteriorate with age. We are also interested in the effects of auditory training on the neural coding of musical pitch. Finally, in a collaboration with Roger Bucknall of Fylde Guitars, we are studying how the different woods used in construction affect the perceived sound quality of acoustic guitars.
Hearing Research website Spatial Memory and Navigation Laboratory
Dr Dina Lew
The main research question we study is how spatial information in an environment is represented, remembered and used for navigation. A focus of current research concerns the characterisation of map-like versus route-following mechanisms in navigation, the underlying brain systems involved in these types of task, and the interactions that occur between different systems. Both behavioural and fMRI measures in human adults are used to study these questions, in collaboration with colleagues at Durham University and the University of Newcastle, NSW, Australia. We also research navigation in human development. Sir John Fisher Eye Movement Research Laboratory
Dr Trevor Crawford
Our neuropsychological research is primarily targeted on age-related disorders, in particular, Alzheimer's disease, Parkinson's disease and Schizophrenia.
A major focus is to improve our understanding of the core cognitive features and developing new biological markers that will help doctors to improve their diagnosis of these disorders. We are working to discover an early cognitive marker of the disease and to track the changes in relation to the severity of the illness. If we are successful this will enable new treatments to be targeted at an early stage in the course of the disease. We have dedicated research laboratories at Lancaster University and an extensive network of collaborating hospitals and research centres in the north-west and nationally. This research network includes research assistants, clinical psychologists, consultant neurologists, psychiatrists, radiologists and neuropsychologists at Lancaster University and Lancashire Teaching Hospitals.
Eye Movement Research Laboratory website Visual and Multisensory Cognition Laboratory
Dr Peter Walker
We study cross-sensory correspondences (sometimes referred to as weak synaesthesia) as an aspect of multisensory cognition. Correspondences are observed in everyday life when we hear people refer to the smoothness and heaviness of a perfume, the brightness, sharpness, and heaviness of a sound, and the warmth and loudness of a colour. In addition, when asked, people will agree that lemons are fast, that brighter coloured snooker balls make higher pitch sounds than darker snooker balls, and that darker pebbles are heavier than brighter pebbles. In carefully designed experiments we investigate what these and related phenomena tell us about visual and multisensory cognition.
Current projects include:
Cross-sensory correspondences and language: How correspondences contribute to symbolism in language, including sound symbolism and the visual symbolism mediated by the typefaces in which words appear.
The innate and learned (linguistic and non-linguistic) origins of cross-sensory correspondences, including their presence in neonates and infants.
The contributions of cross-sensory correspondences to the visual arts and to music, including how professional jazz musicians (saxophonists) exploit correspondences to communicate concepts in their improvisations.
The functional significance of cross-sensory correspondences for human-machine interfaces, especially how they might give rise to powerful stimulus-response compatibility effects.
We are also studying directional biases in the perception of lateral visual movement, including their links to language (writing/reading direction) and hand dominance. Paediatric, Listening, Cognition and Neuroscience Laboratory
Dr Hannah Stewart
At the PELICAN Lab we study everyday hearing and listening in children. We work alongside the Lancaster University Babylab and have a dedicated pediatric auditory laboratory. We are currently working with primary school aged children with normal hearing, hearing impairment and/or developmental disorders. To understand the underlying mechanisms of speech and non-speech listening we use behavioural and neuroimaging techniques alongside VR. We are especially interested in how children's brains adapt to noisy environments and to using auditory technology, such as hearing aids.
PELICAN website P&A welcomes new lecturer Patrick May - December 2018
P&A are delighted to announce that they have been joined by Dr Patrick May. Patrick studies the hearing system of the human brain, specifically the way auditory cortex integrates sound information over several seconds to make speech and music perception possible. He is also interested in speech processing, the way our brain reacts to surprising events in the environment, and the generator mechanisms of event-related responses of the EEG and MEG. His work combines computational modelling with behavioural, non-invasive, and intracortical measurements. Welcome to the group, Patrick!
P&A welcomes new lecturer Tom Beesley - October 2018
P&A are delighted to announce the arrival of Dr Tom Beesley. Tom is a cognitive psychologist whose research looks at the interaction between associative learning processes and attention. Tom is also interested in whether humans can learn in the absence of conscious awareness (implicit learning), and how we can formalise learning processes in computational models. New research in his lab is looking at the conditions under which learned attentional biases can be controlled, or are initiated automatically.
Multi-channel brain stimulator now operational - October 2017
A new wireless multi-channel brain stimulator is up and running in the Department of Psychology. This new system represents the very latest in 21st Century brain stimulation and is capable of multi-channel transcranial direct current stimulation (MtDCS), transcranial alternating current stimulation (tACS), and random noise stimulation (rNS) protocols. The unit is an 8-channel wireless (StarStim: Neuroelectronics) brain-stimulation unit and is integrated with powerful software that allows easy configuration and monitoring of multifocal brain simulation using advanced electric-field head model approaches. The simultaneous stimulation of multiple brain regions is now possible allowing for network-level investigations of neurocognitive function. These methodologies can support scientific, medical and clinical research, offering sham and double-blind modalities as well as opening up telemedicine approaches using the NUBE Cloud Management Service which may have implication for brain health innovation. Watch this space!
P&A welcomes new lecturer Jess Wang - September 2017
P&A are delighted to announce that they have been joined by Dr Jess Wang. Jess' main research interest is in perspective-taking and communication. In particular, Jess investigates the cognitive, developmental, social, and cultural factors implicated in the way in which we think about others' perspectives. Her first research project at Lancaster will examine how cognitive ageing interacts with older communicator's ability to think about their communicative partner's perspective. Jess is also interested in Theory of mind and gaze processing. Welcome to the group, Jess! We are excited to have you with us.
Cutting edge face-reading technology - August 2017
The laboratory is now home to the latest in digital FaceReader technologies (with supporting Observer software for analysis: Tracksys) to provide a comprehensive examination of emotional processing – even more so when coupled and integrated with Biopac systems via an event-related configuration. This new initiative enjoys wide application to a host of research questions and is currently supporting research on emotional dysfunction and dissociative experiences.
EEG and EMG fully incorporated into Neuroscience of Speech lab
Both TMS machines now interface with EMG and EEG electrophysiology devices. A high sampling rate, 2-channel TMS-compatible amplifier (TruTrace, Deymed Diagnostic) is installed for a recording of surface electromyography and Motor Evoked Potentials. A 32-channel TMS-compatible EEG system (TruScan, Deymed Diagnostic) is also in place for the recording of cortical EEG and Event-Related Potentials. The EEG has the classic functionality of receiving external triggers to time-lock ERPs to an external stimulus, but can also trigger the TMS machine for EEG-triggered TMS, a very exciting development in TMS research, which is quickly becoming a hot topic in the field. The EEG device will support Dr Helen Nuttall during her Research Challenge prize from the BrainBox Initiative and will be instrumental in supporting Dr Nuttall's work on auditory-motor integration during speech perception.
New psychophysiological measuring equipment - April 2017
The Aberrant Experience, Awareness, & Emotion Laboratory is now home to two Biopac MP36R DAQ units for the very latest in event-related psychophysiology. Due to their 24-bit A/D converters, they are capable of sampling biophysical signals up to 100,000 times-per-second and represent the very latest in biophysical monitoring. These units have been fully integrated into a multi-platform event-related configuration in the laboratory and are currently supporting research on aberrant emotional processes and anomalous hallucinatory experience.
Neuronavigation arrives at the Neuroscience of Speech lab - March 2017
The Neuroscience of Speech lab now has the latest Brainsight neuronavigation system. This system allows for precise coil placement and tracking during application of TMS, to ensure the accuracy of TMS delivery. The latest version means it can be used with, and without subject-specific MRI using model-based neuronavigation. Targets for stimulation can be identified by manually selecting and highlighting the desired brain structure or location or by combining MRI images with areas of activity highlighted with fMRI, EEG or NIRS. A very exciting tool and excellent for TMS training as well!
State of the art Transcranial Magnetic Stimulation (TMS) installed - February 2017
A brand new cutting-edge TMS suite has now been installed in Psychology's Neuroscience of Speech laboratory. The lab will be led by Dr Helen Nuttall, who is happy to train any prospective TMS users. Two TMS machines have been installed, a monophasic MP-Dual made by Deymed Diagnostic, which is capable of single, paired, and double pulse protocols with short inter-pulse intervals, as well as low-frequency repetitive TMS. A DuoMag XT-100 (Deymed Diagnostic) has also been installed, which is capable of delivering biphasic high-frequency, repetitive, or patterned TMS protocols, as well as single-pulse protocols. The devices can be used with a selection of coils, including 50mm and 70mm figure-of-eight coils, ideal for focal application of TMS.
Intuitive colourimetry comes to Psychology at Lancaster - January 2017
The Department of Psychology now has a Cerium Mk III "Intuitive Colorimeter" (and associated lenses) for the assessment and treatment of visual symptoms generally referred to as visual stress. The colourimeter is used to delineate an optimal tint colour for glasses/contact lenses to relieve the symptoms of visual stress. It is capable of producing over 100,000 colour combinations, allowing us to determine a precision tint that can provide optimal relief from these symptoms. Investigations are now underway in the Department of Psychology exploring the beneficial effects of precision tinting across a variety of neurological and clinical conditions including migraine, epilepsy, dissociative disorders, sleeps disorders, depression, and mood disorders.