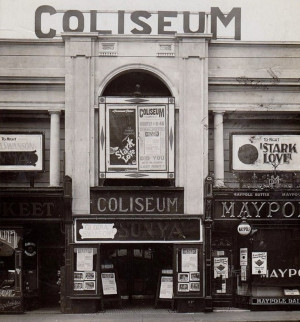 Coliseum, Gorleston (Uploaded by Mike_Blakemore). Creative Commons (Attribution) License via cinematreasures.org
In September 1995, Gloria Gooch answered a call in the East Anglian press for volunteers to take part in Cinema Culture in 1930s Britain; and she eventually became one of the twenty-one individuals, couples and groups living in that region who were interviewed for the project during the last months of 1995. Mrs Gooch was born in Lowestoft, Suffolk in 1914, one of three children. Her mother was a housewife and her father, Douglas Attree, was well known locally as a showman and cinema entrepreneur. She left school at sixteen and attended commercial college before taking up employment in accountancy. Mrs Gooch was interviewed at her home in Bradwell, Norfolk on 26 October and 16 November 1995.
Her lively first interview focuses around Mrs Gooch's photographs and her memories of numerous events organised in and around Lowestoft by her showman father during the 1920s, including publicity stunts for films shown at his cinemas. She shares recollections of circuses and carnival parades, also organised by her father--"There were prizes galore"--and shows more photographs: a mannequin parade; a ghost train, cinema staff dressed up as film characters; and a young Gloria herself as a swan, advertising a carnival organised to raise funds for local charities. She remembers the arrival of the talkies and recalls seeing
The Singing Fool
; and mentions later on working as a secretary on her father's holiday camp, where Polish troops were billeted during World War II. Offering further details of her father's activities as a cinema proprietor and local entrepreneur, Mrs Gooch's second interview focuses on the 1930s and later, with greater emphasis on films and stars and more details of the various cinemas in and around her locality. Recalling events from the standpoint of the cinema trade, she notes that although local exhibitors resented getting films many months after their initial release, audiences were generally happy with what they saw, the most popular films ('money spinners') being the 'cheerful' /'jolly' ones. And at a time when travel abroad was not available for most people, she points out, cinema audiences could see the world through films. She recollects the closure of cinemas at the beginning of the war, and people's fears of invasion. The postwar popularisation of TV, the decline of cinemas and cinemagoing, and the consequent fate of local cinemas are discussed, with regrets expressed at the waning of local charitable work.
---