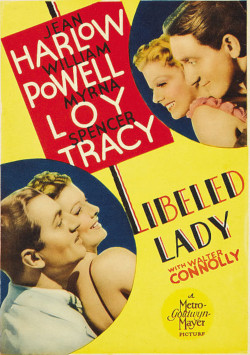 Employee(s) of MGM, Public domain, via Wikimedia Commons
In March 1995, Kath (Kathleen) Browne of Bolton, Greater Manchester contacted Cinema Culture in 1930s Britain through the writers' group she belonged to, joining the twenty-two individuals living in the Greater Manchester area who were interviewed for the project as core informants later that year. Miss Browne was born in Bolton in 1921, the daughter of a housewife mother and a regular soldier father turned warehouse storeman; aside from war service as a firefighter, she had lived in Bolton all her life. Grammar School-educated, Miss Browne left full-time education at sixteen and entered office work. She was interviewed along with her friends and fellow writers Dorris (Doris) Braithwaite and Vee (Vera) Entwistle on 11 May 1995, and on 1 June 1995 she gave a one-to-one interview at her home.
In their three-way interview, which took place in Bolton Library, Kath Browne, Dorris Braithwaite and Vee Entwistle share their earliest cinemagoing memories and recollect the cinemas they attended as they were growing up--how often they went and how they decided on which films to see. The conversation takes in Nelson Eddy, Alice Faye, and other favourites including Fred Astaire and Ginger Rogers ("I felt I could get up and dance," says Miss Browne). General discussion follows of the plots of some Nelson Eddy and Jeanette MacDonald films, and memories of sending off to film magazines for photos of stars are shared. The topic of British films is raised, with reference made to Lancastrian film personalities like Gracie Fields, scenes in whose 1934 vehicle
Sing As We Go!
were shot in the nearby seaside resort of Blackpool. Praise for British World War II films segues to a discussion of the VE Day commemorations that were in train at the time of the interview--which ends on an amusing note, with anecdotes about Nelson Eddy buying a horse and the interviewees' jealousy of Eddy's wife. Miss Browne's second, solo, interview, opens with recollections of some Bolton cinemas, and of favourite stars including Bing Crosby, Carole Lombard, and Spencer Tracy. She recalls that an intense period of cinemagoing began around 1934, with regular trips to the pictures accompanied by her school friend Edna, a fan of Bette Davis. Miss Browne notes that she herself favoured film musicals, adding that she also enjoyed theatregoing and Gilbert and Sullivan operas. She shows an acute ear for accents, and at a number of points during the interview conversation turns to regional and local accents and to the question of actors' voices and diction. Discussion ranges further, taking in the religious and political affiliations of close friends and family and 'making do' during wartime food shortages. Perusal of a 1938 film annual brings the conversation back to cinema, and numerous stars and films are alluded to--more than 100 film personalities and over 60 films are named in the course of the interview. Hollywood gossip and scandal are mentioned, and the topic of homosexuality in Hollywood raised. Boltonian authors Bill Naughton and Leslie Halliwell are discussed alongside local film personalities. Miss Browne talks about her passion for reading, and shows the interviewer some items from her extensive library: Halliwell's film guides and a book about British films. Reverting to favourite stars, she confesses to a liking for actors with moustaches. As the interview draws towards its close, the art galleries and museums of Manchester and Glasgow are compared, Dorris Braithwaite's article on Nelson Eddy in 'Evergreen' is mentioned, and Miss Browne tells the interviewer about her enjoyable Saga trip to Glasgow.
---
Documents, Memorabilia and Related Links
Bolton home page
The Lido, Bolton
(cinematreasures.org site)
'We're Not Dressing' Trailer (1934)
(YouTube)
Bette Davis in "Jezebel" red dress scene (1938)
(YouTube)
Publications related to 1930s cinemagoing in Bolton:
Jones, J. (2019). 'These Intimate Little Places': Cinema-Going and Public Emotion in Bolton, 1930-1954, Cultural and Social History, 16:4, 451-466, DOI: 10.1080/14780038.2019.1609801
Richards, J. (1994). Cinemagoing in Worktown: regional film audiences in 1930s Britain, Historical Journal of Film, Radio and Television, 14:2, 147-166, DOI: 10.1080/01439689400260131