Grizedale Accommodation
Grizedale College is home to 18 Townhouses, five houses containing en-suite accommodation; three blocks of standard flats and one block of single and double studios housing 605 students in total. For further information please see the main Accommodation page.
The ensuite flats have six rooms (unless there is a dedicated adapted room, which means there will be five rooms to a flat) and a communal kitchen, which has both soft seating and dining areas. A cleaning service is provided Mon-Fri during term-time however students are responsible for removing their own rubbish and recycling.
The standard rooms contain a vanity unit with wash basin within the room. There are two shower rooms and two toilets per flat, plus a large communal kitchen, all of which have been refurbished in the last few years.
Grizedale accommodation
Studio block
(Photo above is of a twin studio)
Located in Alexandra Park; just a five minute walk from the main college.
64 single & eight double self-contained studios, with kitchenette areas.
Lift available.
Limited communal cleaning service.
All student year groups, although we would advise first year students not to choose this option as there is no communal area for socialising.
Townhouses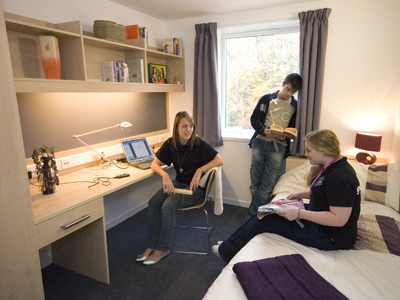 40 week let.
12 students per house (three floors of four bedrooms).
Two students share the shower room, where possible with students of the same gender, however townhouses are mixed accommodation.
Under-bed storage, as well as a generously sized wardrobe with mirror.
Open plan kitchen/dining area contains: three fridge freezers, two ovens, kettles and toasters. An additional toilet is located on the bottom floor.
A weekly cleaning service of the kitchen and living room and monthly clean of stairs is provided during term time – regular cleaning inspections are carried out by the accommodation team.
No lift available.
Study bedroom ensuite rooms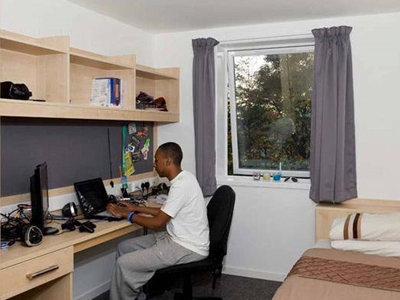 40 week let.
Ensuite shower, basin and toilet located in each room.
Communal shared kitchen between 5-6 residents.
Weekday cleaning service for communal areas (term time only).
Small communal area in each kitchen.
The ensuite flats have six rooms
Study bedroom standard rooms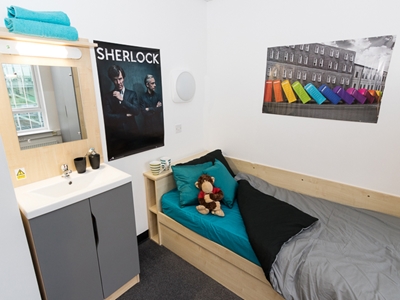 40 week let.
8 bedroom flats.
Wash basin located in each room.
Two communal shower rooms and toilets.
Limited cleaning service for communal areas only.
There are no lifts/elevators in Grizedale accommodation, except in the studio block, so please bear this in mind when planning what to bring with you; as you may have to walk up lots of stairs with heavy suitcases.
Our students have created a short video about our accommodation.
Grizedale mattress sizes
(length x width x depth, measurement in cm)
Standard: 205 x 90 x 15
Townhouse: 205 x 90 x 16
Superior ensuite: 205 x 90 x 18
Single Studio: 190 x 120 x 18
Double Studio: 190 x 92 x 18
Please note: As our beds are longer than the standard size; fitted sheets may not be suitable. You can bring unfitted sheets. Elasticated 200cms sheets may also be suitable.
We recommend that you bring a good quality mattress protector with you (as a replacement mattress can be costly).
White goods and household items
The following items are provided for community use:
Vacuum cleaner
Mop and bucket (except in studios)
Iron and ironing board
Dustpan and brush
Microwave/s
Toaster/s (except in studios, where a combi microwave/grill oven is provided)
Kettle/s
Fridge freezers (except in studios, where a fridge with freezer box is provided)
Electric Hob (not induction) and oven (except in studios, where a combi microwave/grill oven is provided)
For those sharing kitchen spaces: on average, there are two cupboards, one drawer and a freezer and fridge shelf available for personal storage.
Shower curtains are provided in all en-suite and shared wet rooms.
If you are using hair straighteners/tongs, then you are advised to bring a heatproof mat with you. A surge protected extension lead is also recommended as some of the mirrors are not close to a plug socket.
You will need to provide your own bedding, towels, hangers and cooking equipment including pots, pans, cooking utensils, crockery and cutlery etc. A pan stand/trivet (to prevent burns to worktops/tables/carpets) is also recommended
For more information, please see the Accommodation website.