Facilities
Accommodation
Grizedale College is home to 18 Townhouses, five houses containing en suite accommodation, three blocks of standard flats, and one block of single and double studios housing 605 students in total.
The en suite flats have six rooms (unless there is a dedicated disabled adapted room, which means there will be five rooms to a flat) and a communal kitchen, which has both soft seating and dining areas. A cleaning service is provided Monday to Friday during term-time, however students are responsible for removing their own rubbish and recycling.
The standard rooms contain a vanity unit with wash basin within the room. There are two shower rooms and two toilets per flat, plus a large communal kitchen, all of which have been refurbished in the last few years.
For further information please see our Accommodation page. You can also find more details, plus image galleries, on the University's Accommodation website.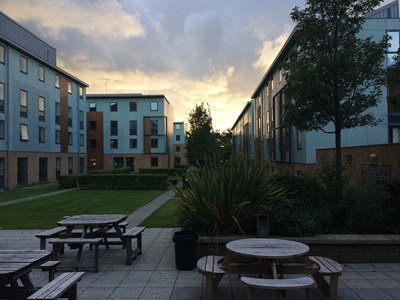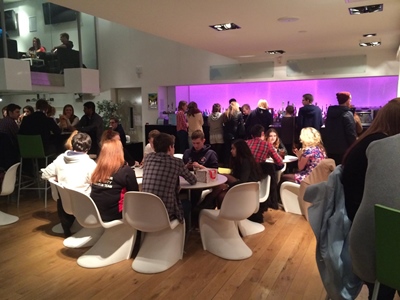 Grizedale Bar
Grizedale Bar is renowned for its cocktails and mocktails, its pizzas and its wraps. Open from 12am–11pm Monday to Friday it is a friendly communal space where you can meet friends and relax. There are two dart boards and two pool tables available to use. Pool tables cost 50p per game.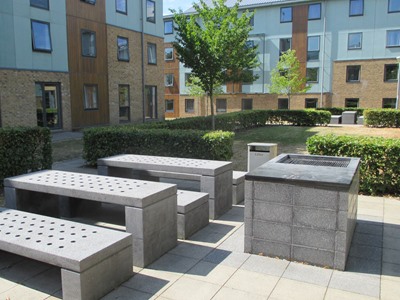 Barbeques
When the weather turns warm, Grizedale students can make use of the barbecues in the gardens between the residences, close to the bar. (NB: Barbeques cannot be used during Exam Period).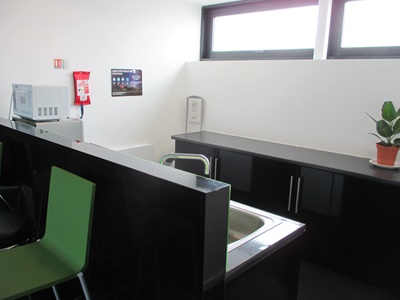 The Brew Room
The Brew Room is mainly for students who live off campus who need somewhere to make themselves something to drink or warm up some pre-prepared food in the microwave. Please note that you must clean up after yourself. There is no maid service.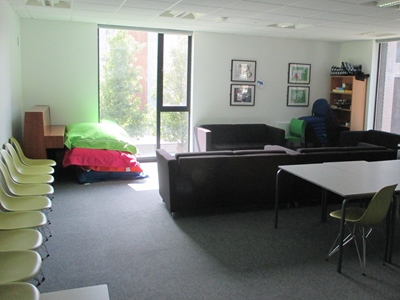 Common Room
Located above the Bar and College Offices, the Grizedale Common Room is open to all Grizedale students. There is a TV and a DVD player so feel free to bring your own DVD's or use the ones left on the shelves by former students. There are also plenty of boxed games for you to enjoy, and we even have a piano. The room seats about 30 people in total and is sometimes used for social events.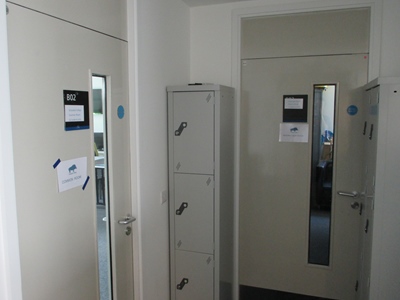 Reading Room
Next door to the Common Room is the College Reading Room. This is for quiet study all year round and houses some study books left by previous students. There are also some fiction books which you are also welcome to take or swap throughout the year, plus reference books which you can borrow, but which we ask you return when you are fine. If you have any queries please see Will in the College Office.
Locker Hire
There are lockers available for use by students living off campus, and these are situated in the off-campus Brew Room and the foyer. All lockers must be emptied before 31st July each year. Items left in a locker will be disposed of after that date. To book one please visit the Online store
The use of the locker is entirely at your own risk
Locker hire is for one-academic year
Locker hire is only available to current undergraduate members of Grizedale College students who are living off-campus
Locker hire runs from the 1st October until the 30th June for one academic year at a time
The locker must be emptied and cleared before 1st July each year
You may not allow others to use your locker to store their belongings
Your deposit will be retained and used to replace any lost keys
You reserve the right to cancel your locker hire at anytime by emailing the College Manager; the deposit will be refunded as long as the locker is emptied, left clean and no damage has been caused to the locker, lock or key.
The deposit will be refunded to a nominated bank account provided the key is returned to the College Manager at the end of the hire period, the locker is emptied and left clean, and no damage has been caused to the locker, lock or key.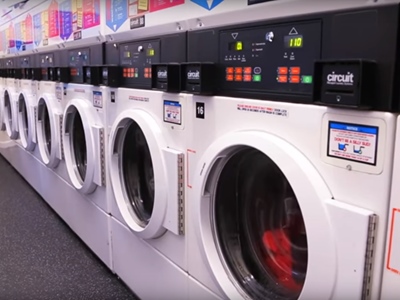 Laundrette
The admin block houses a launderette, situated just to the right of the Grizedale Bar at the end of Pendle Avenue. There are five washers and dryers available to use and it is open 24 hours a day. Of course, you also have access to all of the other laundrettes situated around campus. Instructions for the purchase of a pre-paid laundrette card and instructions for how to use the machines can be found on the wall of the laundrette.