Infancy and Early Development
How do babies develop an understanding of the world around them?
Group Leader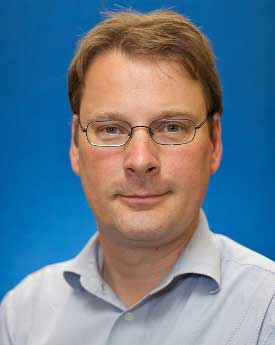 Infancy and Early Development, Lancaster Intelligent, Robotic and Autonomous Systems Centre, Language and Cognition, Society and Human Behaviour
Research Activity
The work we do spans the age range from before birth through to knowledge of the social and physical world in toddlers, including the investigation of how language is learned and how early communication leads to an understanding of words.
We are also interested in how infants learn about the permanence of the physical world around them, how they learn to categorise objects, and how these categories support early word learning. Another focus is early social development: How do babies develop an understanding of others as human beings, and how do they develop the ability to interact with others?
Our interest in social development extends to the investigation of babies' emotional worlds, how they understand emotion in others and develop empathy as the foundation of abilities that emerge later in childhood. We increasingly rely on high tech methods such as eye-tracking, electroencephalography (EEG), and near-infrared spectroscopy (NIRS), in addition to behavioural measures of infant behaviour such as reaching for and attending to objects.
As a group, we are spearheading the further development of these techniques as ways of reaching a fuller understanding of the mental and emotional life of babies.
We are one of the largest groups in the world investigating Infancy and Early Development. We have devoted an entire floor of our building to this research, with child- and parent-friendly facilities and dedicated parking. Our facilities include multiple observational laboratories with cutting-edge equipment to enable sensitive recording of young infants' abilities, including eye-tracking technology, electroencephalography (EEG), near-infrared spectroscopy (NIRs), electromyography (EMG), heart rate detection, galvanic skin response, and infrared motion capture.
Foetal Learning Laboratory
Professor Vincent ReidDr K. Dunn
Our team investigates understanding of the visual and auditory world in utero. Extensive work has been conducted into postnatal cognitive development from birth but very little is known about how perception and cognition might develop before this point. For example, newborn infants have a visual preference for face-like stimuli, can discriminate between small sets of numbers and can match mouth movements to simple speech sounds. Our work examines whether infants develop these preferences and capacities before birth or if they learn these quickly once exposed to the post-natal environment.
We use low levels of light to present images to the late-term foetus and use the latest 4D scanning technology to measure detailed facial behaviour in response to visual and auditory stimuli. This will help us to understand more about how learning takes place and how infants understand other people during very early development.
This grant is funded by the Economic and Social Research Council Transformative Grant and studies are conducted in conjunction with Blackpool Foundation Teaching Hospitals Trust. Language and Communicative Development
Professor Padraic Monaghan
We explore how children learn language from what they see and hear around them; and integrate evidence from behavioural studies, measures of brain activity and computational models to understand how children learn a language in their first five years of life. We also investigate how language delay may occur in young children and explore whether differences between children and differences in their environments affect how they learn to talk. An additional strand of research investigates how sleep affects learning, in children and adults, and how sleep disorders might impact on language acquisition. Our research is funded by an ESRC Research Centre, in collaboration with researchers at Liverpool and Manchester Universities. Word and Category Learning Laboratory
Professor Gert Westermann
In our lab, we investigate how infants learn about objects and categories in their environment, and how early language contributes to and shapes this learning. In our work, we use eye tracking (including measures of pupil dilation), computational modelling, and explicit behavioural paradigms such as fast mapping. Research on preverbal object learning focuses on multisensory integration and infants' developing ability to associate different aspects of objects such as sound and visual, static, dynamic and functional features. We also investigate how category knowledge is shaped by early language development, and how infants and toddlers learn to map words to these categories. Finally, we are interested in how infants and toddlers choose information in their environment based on intrinsic curiosity. Our research is funded by an ESRC Research Centre, in collaboration with researchers at Liverpool and Manchester Universities. Funding for PhD studentships is mainly through the Leverhulme Doctoral Scholarship Centre for Research in Infant Development.
Visit our website Infant Perception Laboratory
Professor Gavin BremnerUschi MasonDr Alison ReesJo SpringDr Diana ThamDr Peter Walker
We investigate young infants' perception of dynamic visual events, with particular emphasis on detecting the conditions under which they perceive object continuity across the occlusion. Our general theoretical stance is that early capacities are better framed in terms of perceptual abilities than in terms of conceptual knowledge, and our work has established numerous perceptual constraints on object persistence that are in keeping with this perceptual processing approach.
We also investigate intersensory cues to object persistence, demonstrating that addition of auditory cues to object movement enhances the perception of persistence. Recently, we have extended the focus to infant synaesthesia, demonstrating that young infants are sensitive to correspondences between the pitch of a sound and object angularity and height in space.
Our work is currently funded by the Economic and Social Research Council and the Leverhulme Trust.