Announcements
**Friday night Swimming Pool Change of Opening hours**
Please note changes to Swimming Pool opening hours, inparticular Friday evenings with effect from 11th October.
We will be closing on a Friday evening at 8.25pm and re-opening at 8.45pm.
Once it has re-opened at 8.45pm it will be lane swimming only until 10pm.
We apologise for any inconvenience this may cause. Snack-Attack
Read on to find out all about snacking... Why do we snack, and how can we avoid these cravings?
Read article
See more blogs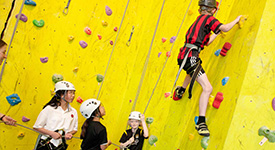 Lancaster University Sports Centre has an exciting activity programme for children aged from 4 to 16 years old. The carefully balanced programme offers something for everyone, giving them the chance to keep active and make lots of new friends.
Learn More