Announcements
Online booking
From 10:03 AM Sunday December 29th 2019 until 07:00 AM Monday January 20th 2020
There is currently an Intermittent issue with our online booking system for classes. Our software supplier is currently looking into this issue and hope to have the issue resolved soon.
If you try and login to your account via staff/student login it will not work. You will need to follow the steps below.
1) Go to public login.
2) Reset your password (if your using a university email for your account, this will not affect your university login).
3) Log into your account and everything will work normally. We will update you when you can log back in as a staff/student member.
Please book any classes through our reception staff 01524510600 Snack-Attack
Read on to find out all about snacking... Why do we snack, and how can we avoid these cravings?
Read article
See more blogs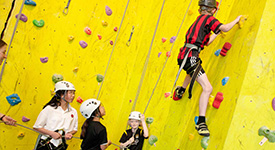 Lancaster University Sports Centre has an exciting activity programme for children aged from 4 to 16 years old. The carefully balanced programme offers something for everyone, giving them the chance to keep active and make lots of new friends.
Learn More