Lois Basnett (LB-95-187) and Bert (Herbert) Partington (BP-95-188)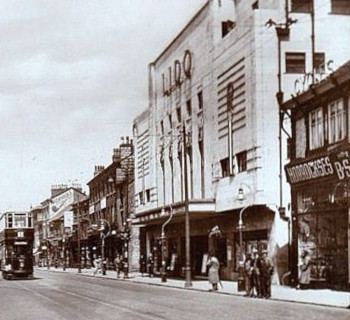 Lido, Bolton (uploaded by Mike_Blakemore) Creative Commons (Attribution) License via cinematreasures.org
Lois Basnett and Bert (Herbert) Partington came into contact with Cinema Culture in 1930s Britain through their membership of the Westhoughton History Society (WHS), and joined the twenty-two individuals living in the Greater Manchester area who were interviewed for the project as core informants during the summer of that year. On 9 May 1995, the couple were interviewed, along with three other WHS members, at Westhoughton Library, and again on 30 May 1995 at their home in Westhoughton. Miss Basnett was born in Westhoughton, Bolton in 1919: her father, a socialist, vegetarian and local councillor, owned a newsagents shop. She attended the Canon Slade Grammar School in Bolton, went on to teacher training college, and took up a career as a secondary school teacher in her home town. Mr Partington was born in Bolton in 1918 and, aside from war service, had lived in the area all his life. He attended the Canon Slade Grammar School in Bolton, leaving at the age of sixteen and taking up employment as a shop assistant. His later jobs included Royal Air Force technical instructor and sales representative.
In their first interview, Miss Basnett, Mr Partington, and other WHS members share memories of Westhoughton's two cinemas, one of which began life as a roller skating rink, and proceed to consider Bolton's various 'classes' of cinema and the types of programming on offer. The high-profile activities of the local Watch Committee with regard to Sunday opening of cinemas and regulating and certificating films are debated. The cinema billboards advertising the week's films that graced shop fronts in town--and the free tickets shopkeepers received in return--are remembered. The feeling is expressed that films seemed to take a very long time to reach Bolton after their general release. Early picturegoing memories are highlighted: projector breakdowns, attendants failing to keep rowdy audiences in order, disinfectant sprays. The mighty organ at Bolton's supercinema is remembered, as are the double seats for courting couples in another local picture house, and the cheap seats behind the cinema screen in yet another. The conversation in the couple's second interview ranges widely, with a prominent theme that they were very different people in the 1930s, that tastes change over the years, and that films that might have impressed them in their youth would probably seem silly now: "Nowadays we're far more sophisticated," says Mr Partington. Looking at cinema advertisements in a 1930s edition of the local newspaper prompts recollections of stars and films. Miss Basnett recalls being more interested in live theatre than in cinema, but does remember occasional teenage trips to the pictures in Manchester with an aunt, neglecting her Latin and Greek homework in favour of cinema visits with her sixth-form friends, and being frightened by the film
Night Must Fall
when she was at teacher training college. She expands on her father's eccentricities, about the miners and other locals who patronised her father's shop, the 1926 General Strike, a local pit tragedy, wartime bombing, and the arrival of evacuees in the town. Mr Partington reiterates the point about changing tastes, expresses regret that the past is too often romanticised, and offers some observations on film stars, good looks, beauty and style, as well as on female and male tastes in films.
Audio-synced interview (1 of 2)
Interview transcript
|
Listing of cinemas, films and stars mentioned
Audio-synced interview (2 of 2)
Interview transcript
|
Listing of cinemas, films and stars mentioned
---