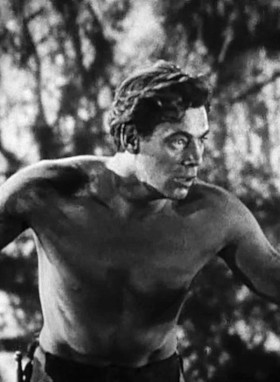 Johnny Weissmuller in 'Tarzan the Ape Man'. MGM, Public domain, via Wikimedia Commons
In February 1995, Norman Wild of Bolton contacted Cinema Culture in 1930s Britain in response to a media call for volunteers to take part in the project, and was among the twenty-two individuals living in the Greater Manchester area interviewed as core informants during 1995. Five years later, Mr Wild accepted an invitation to take part in a questionnaire survey about his memories of the Tarzan films. Born in Bolton in 1926, he had lived in the area for most of his life. His father was employed on the railways and in the cotton trade, and his mother also worked in the cotton trade. After leaving school at fourteen, he worked for a time as a truck driver, and for most of his working life was a bus driver. Whilst on Army service he sustained an injury which left him with a permanent hearing impairment. During his two interviews, conducted at his home on 16 May and 13 June 1995, he was supported by Vee (Vera) Entwistle, another Bolton-based informant.
In his first interview Mr Wild names and describes some of the cinemas that were functioning in Bolton during the 1930s, and remembers reading film reviews in the local newspaper by the well-known Boltonian author and critic Leslie Halliwell. He talks about the cost of cinema tickets, names some favourite films and stars, including fellow-Lancastrians George Formby and Gracie Fields. He expands on his enjoyment of westerns and of the "visual comedy" of the likes of Chaplin and the Marx Brothers, recollects his reactions to horror films, and offers memories of gangster films and their stars. All his favourite stars were male, he notes, adding that he usually went to the cinema with a group of male friends. Among his other leisure pursuits, Mr Wild remembers enjoying football and supporting the local team, Bolton Wanderers. Mr Wild's second interview opens with further thoughts on westerns and their stars, with recollections of the child audience's typically rowdy enjoyment of 'Cowboys and Indians'. He repeats the clearly pleasurable memory of going to the pictures with a group of peers: "We always used to go in a crowd like, you know." He affirms his dislike of "dancing pictures", his preference for adventure films and his lack of interest in female stars. Looking through a 1930s film annual with the interviewer, he points out some favourites, including Paul Robeson and the Johnny Weissmuller Tarzan films. He talks about the kinds of films he would actively avoid, drawing a contrast between men's films and women's films. Highlighting what he liked best, he returns to the topic of westerns, comic actors and gangster films, and mentions that he had had an interest in the technical side of filmmaking. As the interview draws towards a close, discussion ensues about the ages and the ageing, graceful and otherwise, of surviving film stars, with remarks about the cost of going to the cinema today and expressions of regret that films are not as good as they once were. Finally, Mr Wild and Mrs Entwistle enjoy a lengthy exchange about the plot of the 1937 Ronald Colman vehicle
Lost Horizon
.
---