Schools' Outreach
As technology becomes an increasingly significant part of our everyday lives, we believe that it is important that school-age children are taught to understand this technology and utilise it effectively.
We engage with schools and colleges across the North West, supporting and inspiring pupils and teachers to try some hands-on computing, to hear about our research and to find out about life at university.
In the past we have organised a number of events alongside the Computing At School initiative (CAS). Lancaster University was one of the 10 regional centres for Computing At School from 2016 to 2018. We ran workshop for teachers, loaned resources to schools, demonstrated how to use them, and encouraged pupils and teachers to benefit from them.
We now support teachers and pupils through hosting workshops run by the National Centre of Computing Education. We also run many of our outreach activities in collaboration with the Institute of Coding
STEM Challenge Day
Our involvement in the Faculty of Science and Technology's annual STEM Challenge Day (Science, Technology, Engineering and Mathematics) has given pupils an opportunity to carry out exciting tasks such as developing hologram-like projections using iPads. In doing so, they will get to use our cutting-edge facilities with expert supervision.
Groups of 12 children are entered by schools who will work in teams of three for each of the four subjects. The pupils will have fun and become more adept in scientific understanding.
Winning teams will be awarded prizes, and the overall winning school will be presented the Simon Martindale Shield, and £250 of library vouchers for their school.
Our advice for schools wishing to take part in a future event is to please be aware that places are limited. The day is aimed specifically at students in years 9 and 10 and it is recommended that you apply early to avoid disappointment.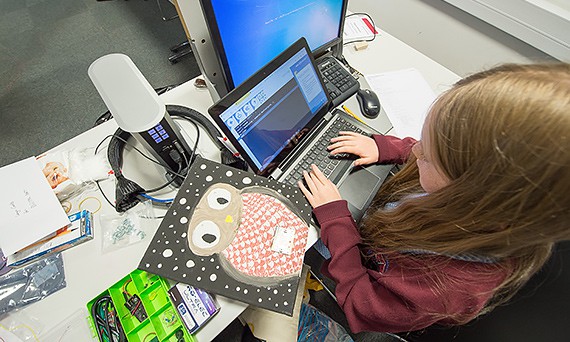 Taster Days
We play an active role in the Faculty's Taster Days. We aim to inspire over 200 pupils a year by introducing them to some of the best facilities and lecturers our Top 10 University has to offer. Our latest Taster Day activity enabled pupils to build and program their own Persistence of Vision Displays.
You can register your interest for upcoming events by contacting Deborah Craine by email or call her on 01524 594011. On registering you will receive further information about sessions and timings. We are happy to receive registrations from schools who participate as groups or as individual students. Code Club
Code Club is a nationwide network of volunteer-led after-school coding clubs for children aged 9-11. The idea behind this initiative is to inspire young people to learn computer programming skills, which in turn will also help to develop their creative thinking and problem-solving skills.
Over the past four years, with the help of our undergraduate students, we have supported a number of local primary schools with after-school code club activities. We have a network of undergraduate students who are keen to encourage children to learn programming and develop computational thinking, in an effort to inspire the next generation of computer scientists.
In 2018/2019 we setup a CoderDojo in the main university library. Three undergraduates ran this extra-curricular coding club for children (and their parents!) aged 7 to 17 every week during term time. The children created their own projects using Scratch, HTML, robots and micro:bits. Two children showed off their creations at the annual CoderDojo event: Coolest Projects, which was held in Manchester in 2019. Computing at School
As part of the exciting new Computing At School initiative, we encouraged teachers, school children and the wider community to get involved as more schools are embracing computer science.
Lancaster University was named as the Computing At School (CAS) Regional Centre for the North West, alongside Manchester University. As part of this exciting new initiative, the School supported and inspired teachers, schoolchildren and the wider community as the new Computer Science national curriculum is adopted in schools.
Dr Joe Finney has been involved in several workshops to teachers in secondary schools across Cumbria and Lancashire introducing the BBC's micro:bit computer.
The School has also hosted several gatherings of local teachers to discuss the new Computer Science curriculum and has helped them develop new resources for the classroom. Lecturers, PhD students and the teachers themselves gave presentations. To help reach more teachers, we ran these gatherings around Lancashire and Cumbria travelling from Carlisle to Workington to Bolton. BBC micro:bit
In 2016 the BBC announced the launch of the micro:bit - a small, lightweight computer designed solely for one purpose: to encourage children to become a generation of digital creators rather than digital consumers. A team of our computer scientists, led by Dr Joe Finney, has contributed to the development of coding and programming behind the device. Measuring 4cm by 5cm, and designed to be fun and easy to use, something simple can be coded in seconds – like lighting up its LEDs or displaying a pattern – with no prior knowledge of computing. All that's needed is imagination and creativity.
The BBC micro:bit also connects to other devices, sensors, kits and objects, and is a great companion to Arduino, Galileo, Kano, littleBits and Raspberry Pi, acting as a springboard to more complex learning.