Undergraduate Computing and Communication Degrees
Courses
You'll be learning on a balanced programme which combines more in-depth theory with plenty of hands-on experience. This blend equips you for a highly dynamic workplace and ensures immediate value to you and employers on graduations, as well as a lasting foundation for the future.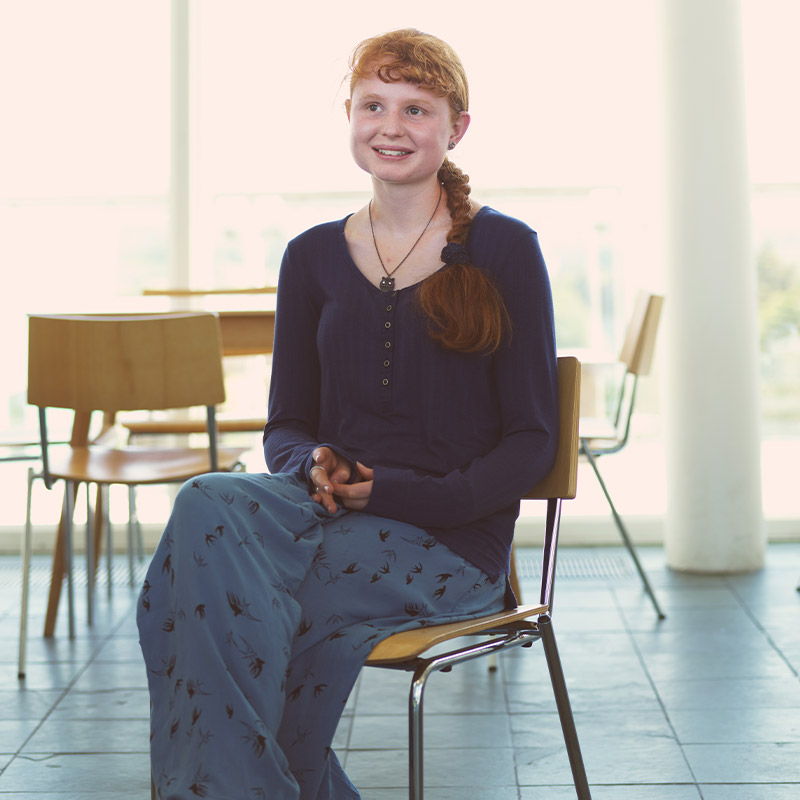 A place for Megan
I came on an Open Day and just wanted to get a general feel of the place and go to the department talks, and I liked the fact that it was more in the countryside, very green, very open. Then I came back on the Applicant Visit Day, and I had a proper tour of the campus, I had a proper look around the accommodation, and I decided that this was the place for me. It was more open, it was more in the countryside, and that's what sort of background I come from. So it was definitely the place for me.
Having the variety of modules meant that I could get a wider understanding of the subject and figure out which bits I liked. This then helped me to make decisions when it came to my final year about which modules I wanted to take.
I remember in the first year there was a module that I loved because it was mathsy, and that's one of my strengths. They always take the first year as the opportunity to take everybody up to the same level and the teaching staff are so supporting, the lecturers will come to the labs to help you out, and there are extra teaching assistants in the labs to help.
The course has given me an idea of what I prefer to do. At the moment I'm thinking more about Human-Computer Interaction, but I'm still not 100% certain. But I know I get to pick modules next year and for my final year, and so hopefully that will help me to decide as well.
Megan Borland, BSc Computer Science
The right degree for you
All of our degrees provide you with a comprehensive education and cover all the general and specialist skills valued for further study and employment in the private and public sectors. 3 or 4 years Joint Honours
Transferable skills
With 97% of all Lancaster University graduates going on to employment or further study within six months (DHLE), a degree from the School of Computing and Communications will open up a wealth of career options.
IT and information services employ our graduates, as well as marketing, advertising and PR, business, consulting and management, teaching and education, media and publishing, and retail and sales.
Taught by around 50 world-leading experts, and making use of small, innovative group teaching and individual supervision sessions, our degree schemes are designed to give you a wide range of transferable skills desirable to employers within the computing and communications industries and beyond.
As well as enhancing your practical understanding of computing and applications, our degrees allow you to apply this knowledge to modelling and designing computer-based systems. By understanding relevant criteria and specifications, you will develop universal problem-solving skills, along with a realisation of the extent to which a computer-based system meets defined requirements.
As a Lancaster graduate, you will become familiar with the theory, practices and tools needed to specify, design, implement and evaluate computer-based systems. This experience will be complemented by a range of communication skills, enabling you to address audiences on several levels in oral, electronic or written presentation.
We will enhance your ability to identify the professional, moral and ethical issues involved in exploiting computer technology with appropriate practice guidance, and participating in team-working activities will enable you to develop recognition of the roles involved and ways of organising a group. We will help you to identify areas for your personal and professional development. You will learn how to write and maintain an effective CV, compose cover letters and prepare for interviews.
Our programmes will help develop your understanding of the commercial and economic context of the subject. You will also study the relevant laws and professional codes governing the computing-related industry. We will address the social and ethical implications of the use of widespread and sustainable use of computing-based systems and technologies and will increase your awareness of risks in computing projects and social and professional responsibility.
The School has accumulated an impressive track record of graduate destinations, spanning a wide range of roles and businesses. Many of our students have gone on to work for computing businesses as software analysts, IT consultants and software developers. Other graduates have used their transferable skills to gain careers as resource analysts, stockbrokers, recruitment consultants and course developers. For students who wish to advance into postgraduate study, we offer MSc programmes in communications and IT and computer science.
We want to empower all our graduates with the skills, confidence and experience they need to achieve a successful career doing what they wish. Be it on the subject of computing and communications or otherwise, we strive to give you access to a wealth of opportunities.
Careers and personal development
Our undergraduate and postgraduate degrees provide excellent employment prospects. We want you to make the best start to your career.
Maths Study Group
The weekly Maths Study Group aims to create a friendly and welcoming environment for discussion and reflection on a variety of mathematical concepts.
We believe that the understanding of mathematics by computer scientists is essential to further developing logical and structured thinking, which are crucial to computer science practice both in industry and academia. A group has been set up that invites speakers to present seminars in different areas of maths. This provides a forum for students and staff to discuss mathematics' relationship and application to computer science. The group meets every week, usually at 2pm on Thursdays.
Everyone is welcome and there is no requirement to sign-up or register, just turn up. For more information contact Dr Leandro Marcolino.