Product Development and Intellectual Property
We actively pursue collaborative partnerships to develop novel products and processes for the global marketplace.
At Lancaster University, we believe that the early development of outcomes from research is best achieved by universities who pursue the commercialisation of the intellectual property (IP) they create for the public good and then transfer it as soon as appropriate to the commercial sector.
Intellectual Property
Ownership and access to IP
The mission of the university is to undertake and publish research, use the outcomes of collaboration as the basis for future research, and ensure that the use of outcomes is ethical and appropriate.
The ownership and rights to use IP arising from collaboration differ from collaboration to collaboration according to:
The nature and terms of the external partner's participation, with respect to their leadership, management and direction of the research
What and whose background IP is to be used in carrying out the work
Who will fund the cost of the collaboration
Easy access IP
Alongside commercial agreements, we offer access to selected technologies as 'Easy Access IP'. These technologies are offered royalty-free and licensed via a short and simple one-page agreement.
Our criteria for the selection of easy access technologies include:
Very early-stage technologies whose further development is best done outside the university
Technologies where we recognise that the licensee will need to invest significantly in order to generate a product
Technologies where a public good outweighs the desire for a commercial return
Our experience
Commercialisation
Design and additive manufacturing technologies to develop and build new products, e.g. a new bespoke locking system which integrated a fingerprint reader using SolidWorks 3D CAD
Seed treatment to cut pesticide use, reducing the costs of water treatment via novel magnetic micro-particles and rapid prediction of bioremediation endpoints
A new generation of adaptive computer keyboards with dynamic key legends able to change under software control and (patent pending) unique new methods of interaction with these devices
A novel (patent pending) screen-based intelligent advertising system. Media content dynamically and automatically changes to suit the audience
A specialist training and licensing worldwide in passenger security screening, delivered by Lancaster University and Cato Consultants Limited, for example in the aviation industry, through the patent-pending Controlled Cognitive Engagement® technique
A novel microscopy technique, beam exit x-section polishing, allows precision cutting, polishing and quality control of nanostructures with nanometre flatness
Spin-out companies
Another way we commercialise our IP is through setting up spin-out companies:
21 Media Innovations - designing intelligent software systems for Internet Protocol Television systems
Anasys Instruments - pioneering nano-scale thermal microscopy instrumentation
Big Dog Interactive - interactive digital art installations
Cable-Sense - real-time diagnostics for communication networks
DGT Research- services for water quality measurement
Entelsensys - intelligent remote sensing
Hybrid Instruments - high technology nuclear instrumentation
Isis Forensics - forensic analysis of computer-mediated communication
Lancaster University Network Services - networking and e-learning services
Quantum Epitaxial Devices - specialist infra-red semiconductor devices
Lancaster Cryogenics - world-leading technology for ultra-low temperature research
What we do
Benefits of commercialisation
Unleash significant potential commercial value and applications from novel products
Research and development with sector-leading experts
Start-up companies
We encourage and support the formation of start-up companies using unique expertise and resources available within the university. For example, the REACH Centre, set up specifically to support registrants in meeting their duties under REACH legislation and to effectively manage and comply with current and future chemical legislation.
Licensing
The university commercially licenses IP through its wholly-owned subsidiary company Lancaster University Business Enterprises Ltd (LUBEL).
There are three main types of licence that LUBEL may enter into with another party: sole, exclusive and non-exclusive.
Contact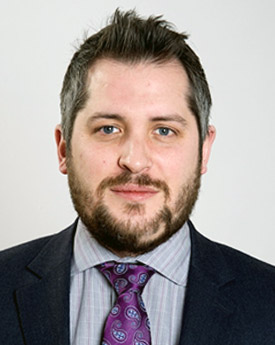 Martin Gilmore
Head of Partnerships and Business Engagement for Physical Sciences