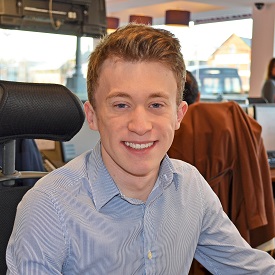 James Hughes
Country Of Origin: United Kingdom
Degree: BSc Marketing Management, 2016
James completed his placement in York with Coalters Estate Agency.
Completing a placement year not only gives you an insight into the working world, it also provides excellent opportunities to learn from a 'hands on' perspective, and gain skills which can enhance your CV.
I had a very diverse placement role. Although my main area of focus was marketing I frequently worked with projects involving recruitment, sales and administration. Coalters is York's largest estate and lettings agency, offering a vibrant new take on the traditional estate agent model. I worked in the marketing department in their head office by the river Ouse developing new marketing plans, conducting market research and undertaking analysis projects.
I never had a dull moment working for Coalters, whether I was working in a team to develop the new website or doing viewings on some of the businesses' properties, I can definitely say that the role was varied and exciting throughout!
I loved the diversity of my role. As I mentioned, marketing was my main focus, although the management were impressed by my adaptability and allowed me to work on other projects, such as recruitment and even undertaking viewings on properties and meeting clients face to face.
Selling our products in a very fast changing market gave me a wide experience when it came to sales and marketing that I would not be able to gain on most other placements.
The skills I have learned have not only advanced me academically, but I have also progressed my team working skills, my creativity and my analytical skills. I can translate this into my further study and any job role that I wish to apply myself to, whether it be working for Coalters or in another marketing role.
The help I have had from Rory and Rachel, in the LUMS Careers Team, couldn't have been more useful. Not only did they keep a constant check on me and my progress on placement, but they also helped me prepare for interviews and assessment centres!