Research in Organisation, Work and Technology
Leading the debate in the field of organisation studies.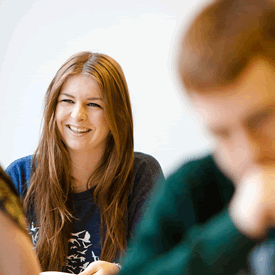 Our Research
Our research sets the agenda in debates about human resource management and employment relations; ethics, sustainability and management; and information, technology and society. This is all part of a wider programme to advance studies of the role and effects of management, leadership and organisations in contemporary society.
Research in the department and our PhD programme contributes to a range of debates in the field of organisation studies. Underlying our contributions is an interdisciplinary approach to research and members of the department are drawn from diverse backgrounds. This allows our research to bring humanities and wider social science perspectives into studying management, organisations, technology and leadership; this being widely acknowledged as a crucial part of reshaping management research and education in the twenty-first century.
Research Areas
Research by our faculty members covers a variety of topics in Organisation, Work and Technology organised into five main areas along with our research in the Centre for Technological Futures.
Human Resource Management and Employment Relations
The implications for managers and employees of 'new' workplace initiatives such as flexible working, team working, wellbeing, quality and knowledge management are pressing contemporary concerns. Similarly, the ways in which employees are managed, and the way this has differential impacts according to the age, gender and professional status of an individual are equally significant. The Department makes substantial contributions to the critical exploration of such developments in both the public (e.g. National Health Service) and private sectors (e.g. financial and professional service firms) as part of an analysis of the changing world of work and employment.
Foci include:
Changing forms of workplace autonomy versus intensified control. Such issues have been theorised by Bogdan Costea and Kostas Amiridis, and studied empirically in UK financial services (David Knights, Darren McCabe), global professional service firms (James Faulconbridge, Pete Thomas), the education sector (David Knights, David Collinson, Bernadette Loacker, Dermot O'Reilly) and veterinary surgery (David Knights), the National Health Service (Pete Thomas, Dermot O'Reilly) and internationally in the Austrian public sector (Bernadette Loacker) and Chinese organizations (Haina Zhang).Inequalities in the Employment Relationship. Work in this area includes empirical and theoretical analysis of age and retirement (Pete Thomas), age and gender in the professions and empirical research on academics (David Knights, Darren McCabe, Bernadette Loacker), vets (David Knights), gym and fitness workers (Kay Greasley and Pete Thomas), the knowledge economy (Anthony Hesketh), shop floor counter-cultures in manufacturing (David Collinson), and men and masculinities in organisations (David Collinson, Darren McCabe, David Knights). Lara Pecis has also investigated the marginalising effects of gender dynamics on innovation processes within knowledge-intensive organisations.
The creation of new images of the ideal employee: the enterprise or entrepreneurial self. This topic has been explored in relation to UK Banking (Darren McCabe), Austrian management graduates (Bernadette Loacker), the 'enterprise' economy in Poland (Pete Thomas), the impacts of executive search firms on labour markets (James Faulconbridge, Anthony Hesketh), the discourse of 'leaderism' in UK public service reform (Dermot O'Reilly), in the Passive Fire Protection Industry (Darren McCabe) and the impact of wellbeing initiatives on employees in the workplace (Kay Greasley).
How 'space' is being reconfigured in the contemporary workplace. This is explored by Karen Dale in her book 'The Spaces of Organization and the Organization of Space' (with Gibson Burrell) and in research examining the practices of those designing commercial offices completed by James Faulconbridge as part of the Lancaster based DEMAND Centre.
National cultural factors in employment – This theme is explored in particular through work on the transfer of HR policies and practices within professional service firms (James Faulconbridge) and multinational corporations more widely. Yu Fu has examined the impact of Chinese cultural values on the HR policies and practices of Western multinational companies and their subsidiaries in China (Yu Fu), and Haina Zhang has developed an ontological understanding of the impact of culture on HR and leadership practices (Haina Zhang).
Organizational Learning. This area includes topics such as the Learning Organization, and System Thinking in particular, and the role of knowledge in fostering organization creativity and radical innovation (Pavel Bogolyubov). James Faulconbridge has also looked at the role, power and politics of communities of practice in global professional service firms.
Members of the Department also play a central role in the Lancaster University Centre for Mobilities Research, examining forms of mobile work, its management and effects on workers and society.
Members: Kostas Amiridis; Pavel Bogolyubov, David Collinson; Bogdan Costea; Karen Dale; James Faulconbridge, Yu Fu; Kay Greasley; Anthony Hesketh; David Knights; Bernadette Loacker; Darren McCabe; Dermot O'Reilly; Lara Pecis; Pete Thomas; Haina Zhang. Please visit our Department Staff List for more information on our members.
Ethics, Sustainability and Management
News of serious moral transgressions in the world of business and management, which have far-reaching economic, social and political repercussions, appears in the media with alarming regularity. The same intensity and urgency is also reflected in questions about the relationship between business, management and the natural environment. Environmental sustainability poses one of the most significant challenges in current attempts to rethink and re-imagine the role of society, of various organisations, and the practice in of management.
The Department has a vibrant research environment and internationally recognised research portfolio focussed on ethics and sustainability. Examples of current areas of interest include:
How people in organisations experience and make sense of ethical dilemmas. Sarah Gregory has conducted research into the ethical dilemmas that middle managers face in their everyday working lives in the public and private sectors and in Small and Medium sized Enterprises and James Faulconbridge has examined the antecedents of wrongdoing in professional service firms. Haina Zhang has explored the ethical dilemmas that Chinese managers encounter in their leadership practices and cultural impact on how we understand ethics
How ethics permeate situated organisational practices. Lucas Introna has explored how ethical subjectivity becomes enacted to render possible (or not) ethically informed organisational practices. Bernadette Loacker has explored how individuals in the 'creative industries' critically reflect upon and respond to the moral codes and demands in this employment field.
How technologically mediated organisational practices raises questions of ethics. Niall Hayes and Lucas Introna have examined issues of privacy, surveillance, and the ethical implications of the use of algorithmic technologies such as plagiarism detection systems, facial recognition systems, and search engines.
The role of Waste and the Circular Economy. Issues such as social, organisational and management responses to waste, waste policy, negotiating values attributed to waste, and waste as a particular type of work have been explored by Alison Stowell. Areas of focus have been on complex products such as e-waste (discarded information communication technologies) in the UK (Alison Stowell, Martin Brigham, Dmitry Yumashev, Lingxuan Liu) and comparisons with Japan (Alison Stowell), plastics and other forms.
How companies, civil society, and local communities make sense of ecological change. The work of Gail Whiteman examines how resilience is built across scales by such actors given environmental pressures and social inequities. Anthony Hesketh is developing new theoretical frameworks to help managers better understand, articulate and mitigate the challenges of multi-national corporations operating on a global scale. Dermot O'Reilly has questioned the assumptions behind 'scaling' sustainability initiatives and has explored alternative modes of conceptualising sustainability. Alison Stowell and Gail Whiteman research education for sustainability and the enabling role of education to equip future leaders with the values and motivations to accelerate the transition to a sustainable world. Uzair Shah studies business/management lecturers' conceptions and experiences of teaching responsible business within developing contexts.
How can companies respond to and scale up solutions for sustainability? Gail Whiteman investigates the systemic role of large, multinational companies within sustainability challenges and has helped to develop science-based targets for collective business action through her work with the World Business Council for Sustainable Development. Lingxuan Liu's research conducts empirical and exploratory studies on sustainable supply chain management (private sector) as well as environmental policies (public sector).
Members of the department play an active role in the Pentland Centre for Sustainability in Business which brings our research into dialogue with sustainability scholarship in Lancaster's other faculties and departments. The Centre's mission is that of connecting the best minds in science with the best brains in business to co-design research for a more sustainable world.
Members: Martin Brigham; James Faulconbridge; Sarah Gregory; Niall Hayes; Alison Stowell; Lucas Introna; Bernadette Loacker; Gail Whiteman; Lucia Cervi; Anthony Hesketh; Dermot O'Reilly; Uzair Shah; Haina Zhang. Please visit our Department staff list for more information on our members.
Information, Technology and Society
A broad range of factors influence the development and uptake of technological innovations and how these shape organisational processes and social practices. Researchers in the Department aim to develop new accounts of these factors, while attending to the effects of technologies in a diverse (from airports to consumer credit to universities) and global (including Africa, Europe, and Australasia) set of contexts. Several foci cut across research in this area including:
The relationship between new technology and organisational practices. Brian Bloomfield and Theo Vurdubakis have analysed the potential consequences of artificial intelligence and robotics in work and warfare. Lara Pecis has looked at the role of mobile devices in relation to work-life balance and employees' emotions. Uzair Shah has explored how (lack of) ICT facilities influence pedagogical practices in a developing context. Haina Zhang has examined the impacts of institutional environments on the relationship between technology and innovation strategies and organizational performance in emerging economies.
The social effects of increasingly mobile data and digital information. Research by Joe Deville considers the consequences of lenders' increasing use of 'big data' analytical methods to assess borrowers' creditworthiness. Researchers have also looked at the role of information and satellite technologies in controlling tropical deforestation (Niall Hayes and Theo Vurdubakis) as well as the disposal of both nuclear waste (Brian Bloomfield and Theo Vurdubakis) and electronic waste (Martin Brigham and Alison Stowell). Research by Lingxuan Liu looks into sustainability disclosure initiatives through digital, crowd-sourcing mechanisms, and the emerging new players and factors within digital innovation in transitioning economies (e.g., South East Asia). Pete Thomas and Kay Greasley have also examined the rise of HR analytics and associated enabling technologies and the implications of such a move for the HR profession.
How technology is variously shaping bodies and environments, and the ethical questions that arise with technological change. For example, research by Brian Bloomfield and Karen Dale looks at how the adoption of 'smart drugs' in working environments changes our understandings of 'normal' and 'extreme' types of work. Research by Yvonne Latham looks at the ethical questions which arise when computing technologies are used to improve the 'social inclusion' of disabled people. Research by Lucia Cervi critically looks at the system of governance in place around the female body in relation to assisted reproductive technologies, and explores how the fertility treatment industry influences understandings of womanhood and motherhood.
Knowledge Management. Research by Pavel Bogolyubov looks at the use of social media for Knowledge Management purposes, from a human-centric point of view, i.e., addressing matters such as the role of natural culture in it, and Web 2.0's user adoption. James Faulconbridge has examined the way relational spaces of learning are produced in global professional service firms through the use of different technologies.
The Department hosts the Centre for Technological Futures which brings together researchers from across Lancaster University interested in questions about information technology and society.
Members: Brian Bloomfield, Pavel Bogolyubov, Martin Brigham, Karen Dale, Joe Deville, James Faulconbridge, Kay Greasley, Niall Hayes, David Knights, Yvonne Latham, Lara Pecis, Alison Stowell, Pete Thomas, Theo Vurdubakis, Lucia Cervi, Uzair Shah. Please visit our Department staff list for more information on our members.
Management, Organisation and Society
All kinds of organisations and their management ideas, values, structures, and practices influence our contemporary lives. Cutting across all of the Department's research is, therefore, a concern with the origins of contemporary forms of management and organising, their impacts on society, and the way various functional areas of management acquire their legitimacy. Questions about the role of management education in a world that is profoundly global and interdependent are also of concern.
Research considers in particular:
How do we come to rely on certain conceptions of what 'good management' is and what a 'good organisation' looks and acts like? Pete Thomas has explored the discursive construction of the idea of strategic management, and Bernadette Loacker has explored what is constituted as 'good (self)management' in both the traditional career discourse and the more recent enterprise discourse.
How might ideas from the humanities and social sciences inform theorising of contemporary management? For example, the link between management thinking and its relation to the question of finitude in contemporary culture have been explored by Bogdan Costea and Kostas Amiridis. Bogdan Costea and Laurence Hemming have translated the work of Ernst Jünger on European thinking about work, management and society throughout the 20th Century, and drawn on the ideas of Friedrich Nietzsche and Martin Heidegger to examine questions about values in modern society. Informed by critical and feminist theory, research by Lucia Cervi looks at the maintenance of organisational legitimacy through understandings of the body, and focuses on issues of reproductive justice by looking at the relation between production and reproduction. Drawing upon philosophical perspectives (Deleuze's philosophy and Chinese ontology of process), Haina Zhang explores Chinese entrepreneurial practices.
Relatedly, what might management education appropriately informed by philosophy, the humanities and social sciences look like? For example, Bogdan Costea and Kostas Amiridis have examined the dominant paradigm in undergraduate management education and its critique. Vivien Hodgson's work considers the fields of management learning and networked learning within management education from an epistemic practice perspective. In addition, she explores the theory and pedagogy of networked learning and has examined the impact of mobile devices and applications on collaborative learning groups. Peter Lenney & Martin Brigham are researching pedagogic innovations that may enable the pursuit of the nexus of dispositions that underpin practical wisdom and evaluating them in the MBA curriculum.
Should we simply consider management & leadership as rhetorical political practices? Would this better inform managers and management education? Peter Lenney, aided by a multidisciplinary multi-institution team, is researching the discursive practices that bring power, politics and strategy to life, and to bear, in everyday managerial conversation.
Finance, calculation and calculability in organizational and personal performance and performativity. Anthony Hesketh's has extended work across multiple scales ranging from the political economy of value, the calculation of value in accounting practices of human capital and, more recently by applying critical theory to our valuing of valuation itself. James Faulconbridge and Pete Thomas have looked at the nature and effects of financialized management in professional service firms.
Members: Kostas Amiridis, Martin Brigham, David Collinson, Bogdan Costea, James Faulconbridge, Laurence Hemming, Vivien Hodgson, Peter Lenney Bernadette Loacker, Dermot O'Reilly, Lara Pecis, Pete Thomas, Lucia Cervi; Anthony Hesketh Haina Zhang. Please visit our Department staff list for more information on our members.
Leadership, Organisations and Societies
Leadership discourses, practices and relations crucially influence contemporary organizations and societies. Research on leadership in the department is informed by diverse perspectives that contribute to the growing interest in 'Critical Leadership Studies'. This approach explores the ways that leadership dynamics are socially constructed, frequently rationalized, sometimes resisted, and occasionally transformed. Questions about the role of leadership education and development are also a primary concern.
Current research includes:
Leadership Theory: Critiquing dichotomization in leadership studies. David Collinson has re-conceptualised leadership dynamics in terms of their situated, dialectical inter-relations, as well as the significance of power and identity for understanding followership generally, and 'follower' conformity, resistance and impression management in particular. David Knights has critically examined theorisations of ethical leadership.
Global Leadership Dynamics. Globalization places greater demands on leaders than ever before. Haina Zhang's research has examined the ontological premises that underpin leadership practice in comparative cultural settings. She has also addressed cross-cultural and indigenous perspectives on leadership, organisational/national cultures, and Eastern ethical systems (e.g. Confucianism).
Public Sector leadership. Dermot O'Reilly has explored the cultural, political and economic processes and relations that create, enable and constrain leadership in public sector organizations. David Collinson has researched leadership in the UK Further Education sector.
Leadership Decision-Making: David Collinson has explored excessive positivity in leaders' decisions and discursive practices. Related research has also addressed the linguistic properties of leadership discourses, the dark side of leadership, leader dysfunctions, and the contradictory consequences of particular decisions. Dermot O'Reilly has explored the connections between leadership, authority and crisis.
Gender and Leadership: research has examined the gendered nature of leadership generally and women's and men's leadership in particular. David Collinson has addressed the masculinities of leadership dynamics. David Knights and Darren McCabe have looked at issues around masculinity, leadership and the Global Financial Crisis through empirical research conducted in the financial service sector.
Critical research on leadership is supported at Lancaster by the inter-disciplinary and international 'Leadership' journal (Sage) launched at LUMS in 2005, and by the Annual International Studying Leadership Conference (ISLC) first held in 2002, and hosted at Lancaster four times.
Members: David Collinson, David Knights, Darren McCabe, Dermot O'Reilly, Haina Zhang. Please visit our Department staff list for more information on our members.