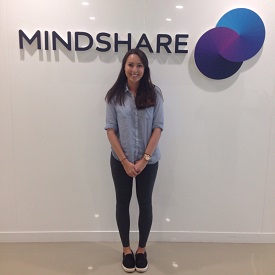 Mae Reddaway
Country Of Origin: United Kingdom
Degree: BSc Marketing Management, 2016
Mae worked with Mindshare in London for her placement year.
I chose to apply for a course with a placement year, as I knew that there are so many things that can't be learned in a lecture hall and I knew that through doing a placement I would learn invaluable skills that would help me both in my final year of university as well as after I graduate. The graduate job market is becoming terrifyingly competitive, and my placement year will be a huge advantage in helping to differentiate myself from other graduates.
It is quite rare that marketing placement students get roles within agencies, as most go client side so I was very lucky to get a placement at Mindshare, a global media agency which plans, buys and manages advertising campaigns for some fantastic clients. I worked on the Unilever account and we would get briefs detailing the objectives of advertising campaigns which we would respond to by formulating a media plan within the allocated budget. Once we had approval, the plan would then be booked and we would set up the campaign and report on it once it went live.
From the start I could see that my team would go above and beyond to service our clients and that mentality rubbed off on me too, so we worked extremely hard but always had time to have fun too. The job had a lot of perks and I had a great team who were very supportive and gave me a huge amount of responsibility. I was very lucky to be able to work on brands like Tresemme, Dove and Lynx, which I found enormously motivating, and I am very much looking forward to returning to media after I graduate.
I have done work experience before but a month is never enough to get any real responsibility. A 12 month placement makes you feel like a real integral part of the team – I have built up relationships with the brand managers at Unilever and am able to work independently and confidently, even when planning and buying campaigns with huge budgets. My favourite thing however was working on campaigns together with amazing companies like Google, Apple, Amazon, Facebook and Twitter. Our fortnightly breakfasts in the Google canteen were definitely a highlight!
In media, experience is just as valuable as education, if not more so. I therefore don't think I'll do a Masters but instead go straight back into employment within the industry. With a year's experience working on such a fantastic client, a lot of doors have been opened for me, which is really exciting. Mindshare also sponsored us to take an advertising industry qualification, which will be very useful. Over the year I made lots of contacts within the industry, who I will stay in touch with through LinkedIn and may be able to help me with future employment.