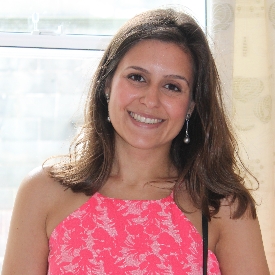 Sofia Guimaraes
Country Of Origin: Portugal
Degree: BBA Management, 2016
---
Sales and Marketing Graduate Trainee, Danone
---
I chose to study at LUMS due to its highly regarded reputation, ranked within the UK's Top 10 management schools. Secondly, for its international environment, which appealed to me given that I grew up surrounded by people from all around the world. Further, the BBA offer was unique, covering a wide scope of subjects that allowed me to experience all areas of management before making an informed decision on which area to specialise in.

The most valuable part of the BBA Management programme was the placement year that was embedded within the third year of the scheme. It was an opportunity to gain real and valuable work experience; a way to differentiate myself when I applied for graduate jobs and a way to develop and gain new skills that allowed me to understand what I learned at University in a practical context. Further, the flexibility of the BBA Management course, which was one of the main reasons I applied to this programme, lived up to expectations. I was able to study modules from a wide range of management-related subjects and embraced the opportunity to learn Mandarin in my first year.

One of the things I liked most about Lancaster was the range of opportunities and activities for students to get involved in. Personally, I enjoyed being a part of the Marketing Society, starting as a member of the Events Committee and then later elected as Events Manager of the Executive Committee. I also worked as a Student Ambassador and Campus Tour Guide, taking part in open days, which was a highlight not only for the valuable work experience but also for the people I met and worked with. Another great part was the collegiate system. Naturally I was a part of the best college (Lonsdale) but I think it's fair to argue that all of the colleges are great. The collegiate system breaks down the large university world, which can be frightening particularly when you start university, into smaller groups. It facilitated meeting other people and you felt like you were part of a big family. One of the best weekends of the year was Founders, an intense competition between two of the founding colleges (Lonsdale and Bowland), which brought out the best of the collegiate spirit.

The first time I used the careers services at Lancaster was when I was applying for an internship in my first year. The Careers Team helped me put together my CV and later helped me when it came to writing cover letters and completing psychometric tests.

As part of my degree I completed a placement in marketing at GSK, a global pharmaceutical and consumer healthcare company. My role was as an Oral Care Brand and Shopper Marketing Executive in GSK's consumer healthcare business. I really enjoyed my time at GSK, working with experienced, passionate and competent people who I was able to learn from. The skills I developed and experience I gained was certainly very valuable when I applied for a graduate job.

My time at Lancaster was unforgettable. It had its ups and downs like every experience, but I cherish every moment.

Next I am going on to complete a Sales and Marketing Graduate Scheme at Danone. My time at LUMS certainly helped me prepare for this step and to secure this opportunity: with my placement opportunity, support from the Careers Team and also my lecturers, who went beyond teaching me theory. They encouraged critical thinking, to challenge different perspectives and also to consider how the theoretical aspects of the subject would be relevant in a practical context.