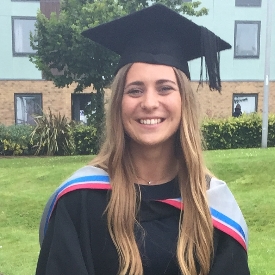 Jessica Webb
Country Of Origin: United Kingdom
Degree: BBA Management, 2016
---
Purchasing Graduate, Rolls-Royce
---
I chose to study at LUMS due to its prestigious position as a worldwide recognised business school and as the University itself is consistently ranked in the UK top ten. Also I recognised the close connections that LUMS has with industry professionals, including local businesses, in-house entrepreneurs and leading global corporations. This was particularly appreciated when applying for placement year jobs because the extra support from mock interviews and assessment centres allowed further understanding of the expected requirements for internship roles and the multiple careers fairs presented valuable networking opportunities.

For me, the opportunity to gain real and valuable work experience during the year in industry was the most valuable element; particularly because my graduate job came from the same company with whom I completed my year placement. Not having to apply for multiple graduate jobs whilst in my busy final year was truly a blessing! Another valuable part of the BBA Management programme at LUMS was the ability to cover a breadth of business areas, including Economics, Marketing, Accounting & Finance and Entrepreneurship. Although I began university life not fully understanding which business profession I wanted to enter, once I had completed my placement year and discovered my favourite subjects I was able to specialise in my chosen area of interest (supply-chain/operations) in my final year whilst also having knowledge of other cross-functional areas.

I was netball obsessed at University! Despite the typically poor weather up North, I spent most evenings on the outdoor courts training or playing for my college team (Fylde). As league winners, the opportunity to represent Lancaster in the Roses tournament was amazing, but the incredible atmosphere during the weekend is something that all students look forward too.

During my third year, I completed a year in industry. I worked as a Purchasing Intern at Rolls-Royce, where my role was split into two 6-month rotations. Firstly, I worked as a Contract Buyer in an Aerospace Supply-Chain Unit, where I was responsible for price negotiations, cost reduction workshops and invoice management on the company's electronic purchasing system (SAP). During this time I also had the opportunity to visit several supplier sites throughout the UK, walk through the RR engine build factory and also gain a Level 2 NVQ Qualification in Gas Turbine Basics. I then moved into the Nuclear/Submarines section of the business and worked with the central team as a Purchasing Development Leader. Here I was involved in organising and mapping the Export Control Compliance process, communicating the new Ministry of Defence security classification requirements to 600 external suppliers and validating the financials of potential vendors. The breadth of experience, the quality training and the graduate/intern community meant I was more than happy to accept a graduate scheme with Rolls-Royce.

I would summarise my experience at Lancaster as challenging, rewarding and unforgettable. The four years definitely went by too quickly!

Throughout my time at Lancaster University, I regularly contacted the Careers Team to help with my CV, psychometric test support and interview practice. The most valuable support I received was through the regular careers fairs that various businesses attend to show-case their intern and graduate opportunities. I had been waiting to hear back the results for a psychometric test longer than expected and as the company was present at the LUMS Career Fair. I used the opportunity to go and speak to their HR co-ordinator. My contact details were taken, and the next day I received a phone call inviting me to their first assessment centre the week after… and that's how I secured my job with Rolls-Royce! The power of networking!

I have just started as a Purchasing Graduate Trainee with Rolls-Royce, where I will again undertake a variety of different rotations including MRPC Buyer, Supplier Development and Commercial Purchasing. The knowledge from my operations and supply-chain modules has provided me with relevant knowledge in order to understand and capably perform in my area. Moreover, the communication skills gained from module presentations and time-management from challenging group modules have increased my confidence and self-belief in my abilities whilst at work.