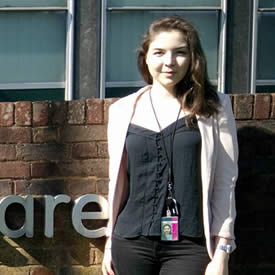 Adelina Ismail
Country Of Origin: Romania
Degree: BSc Marketing Management, 2017
Adelina worked in Global Product Marketing with GE Healthcare for her placement year.
Ever since I started researching universities, I knew choosing one with a reputable management school which offers sandwich degrees would be the best option for both my education and early career. A placement year brings a wealth of advantages: not only do you get to see how theory applies in the real business environment, but you also get a better understanding of what industry, area and type of company you want to start your career in. Furthermore, in one year of work experience you get to achieve much more than in a summer internship/short placement, as you have enough time to build credibility, relationships and work on the longer term strategic objectives.
My role was the equivalent of a junior global brand manager for contrast media at GE Healthcare and my portfolio included three contrast media products used in various imaging procedures like interventional cardiology, cardiac CT angiography and oncology CT. As I was based in the headquarters within the global team, I interacted with a variety of functions such as Medical and Regulatory Affairs, Commercial Directors, Customer Market Insights Directors, Field Marketing Managers (of USCAN, APAC, Europe, LATAM etc.) who were responsible for localizing the materials and tools provided by my team. These interactions helped me gain a well-rounded view of a brand manager's role and exposure to the international business as well as the leadership of GEHC.
The responsibilities I had were incredibly varied: from campaign development – promo and training materials for sales-force use, symposia, speaker and medical education program planning, competitor intelligence reviews, sales and market data performance tracking and analysis, to researching new business opportunities. The placement experience is certainly not to be missed! Of course, there was a level of pressure that I had not experienced before in my academic life, but ultimately it was truly mind-opening and it broadened my horizons more than I could have ever imagined. I cannot begin to describe the amount of knowledge I have gained, coupled with the refinement and even the addition of new skills and abilities. I had the opportunity to present our work experience programme to 500+ year 11 students and visit my colleagues based in Oslo and experience business practices cross-cultures. It was also fascinating to learn how marketing works in the heavily regulated healthcare industry, especially as marketing degrees tend to focus more on FMCGs and retailing.
To conclude, this experience was a real eye-opener both in terms of future career plans but also for my final year at university, as now I can approach the theory from a different angle and use my newly gained skills and marketing knowledge in a variety of projects. I really felt like a LUMS student and I appreciated knowing there is a team back in Lancaster that is there for you whenever you need them.