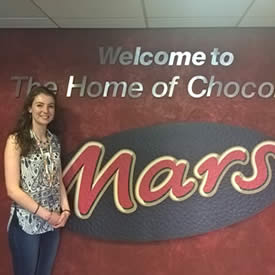 Nicola Bond
Country Of Origin: United Kingdom
Degree: BSc Marketing Management, 2017
Nicola worked as a Sales Operations Executive with Mars for her placement year.
When I was carrying out work experience in Marketing, before starting my degree, my manager strongly advised me to find a degree with an industrial placement year scheme. He told me that it would provide very valuable knowledge and experience of the real world of business and opportunities to develop and grow as a person. He was right.
I worked in the Feld Sales Operations team, looking after five different field teams, visiting 6 different channels, of around five hundred people in total spread across the length and breathe of the UK. My job in a nut shell was to collate all the information from the internal teams to provide the field teams with everything they needed to do their jobs well. I then collated all the field team outputs to send back to the teams internally. I worked closely with the sales national account teams, marketing teams and associates in supply. The role was very varied, requiring an all-round skill set and I got to travel widely within the UK. Life was never dull working with the field teams!
My placement year provided me with more opportunity, responsibility and personal development than I could have ever anticipated. I have been supported to grow and improve as a person. It has been a fantastic environment to be curious and learn about many different functional areas (some I didn't even know existed before starting my placement) and how they operate affectively as a whole. Although at times I found the label of student irksome, it did me the licence to ask any question, to take opportunities not associated with my role and be involved for the purpose of learning rather than being a value adding expert.
What I enjoyed most about my placement is that everything you do is real. When I created a tool or resource, it was for a real person to use every day in their job. I made a report, to enable the team to gain insight to initiate real changes. Also it is real responsibility, if you screw up badly it could have a real impact on Mars with our customers. I also loved the perks of the working world, the beautiful hotels, and meals and drinks out and of course our free chocolate allowance. This year has provided me to learn a lot about myself, my strengths and my areas that need developing.
The LUMS placement team were an immense support when I was searching for a placement. A few weeks before I started my placement my job role was changed from a job in a brand team in marketing to a role in the field sales operations team. The LUMS Placement Manager sat down with me talked through the consequences of this change and helped me realise that elements of the role were very similar and encouraged me to see this as an opportunity rather than a negative.