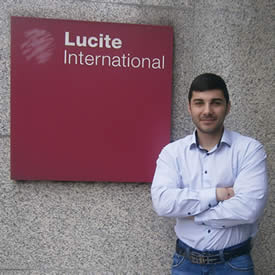 Teodor Milkov
Country Of Origin: Bulgaria
Degree: BSc Marketing Management, 2017
Teodor completed his placement year with Lucite International at their offices in Darwen, Lancashire.
I chose to take a placement year because I felt that it was the best way for me to stand out from the crowd. I thought that it would equip me with invaluable practical skills and knowledge that could not be learnt in a lecture hall. I had never worked for a large organisation so this was also a great opportunity for me to find out if the corporate world and the marketing field in particular was what I wanted to focus on in the future.
Even though my role was a Corporate Marketing Placement Student, I worked under the IT department which expanded the nature of my tasks and gave me the opportunity to be a part of some global projects. I was given full responsibility for the development and management of all social media channels and the company's corporate blog. This included getting in touch with people from different functions of the business as well as external people. I was also involved in the development and delivery of a new company Intranet. I was also involved in analysing visitor feedback and the performance of all these external (social media, blog and websites) and internal (new Intranet) communications tools and come up with suggestions for improvement.
I enjoyed my placement year immensely and the entire experience was invaluable. I was given real responsibility from day one. It was a very dynamic time to join Lucite International as they had some ongoing global projects. This allowed me to have a real impact on the business and make a difference as well as getting the opportunity to work with the company's Chief Information Officer. Being a part of the team responsible for the successful roll-out of the new LI vision and the team that developed and delivered the new Intranet was an incredible experience.
There was quite a lot of self-learning involved too. Being a Marketing Placement Student working under the IT department turned out to be quite useful. LI even invested in my development by paying for me to attend a workshop on "How to create engaging content and manage Intranets", which was held in London. The knowledge I have gained and the skills I have learnt during my placement are all highly transferable. Therefore, I believe these will really allow me to hit the ground running once I graduate and help me secure a graduate job.
The LUMS Careers team were very supportive throughout my second year at university and during the application process. The team was helpful in providing guidelines of where to look for placement opportunities. They were also happy to review my CV and cover letter, give feedback and useful advice on how to tailor these to each company I was applying for.