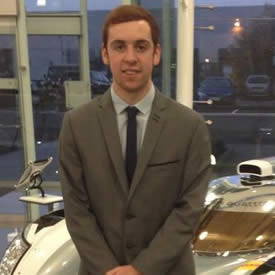 Matt Robinson
Country Of Origin: United Kingdom
Degree: BSc Marketing Management, 2017
Matt worked in Milton Keynes with the Volkswagen Group UK as a Sales Planning Assistant for his placement year.
I chose to take a placement year as part of my degree as I felt it was invaluable in gaining the relevant skills and workplace attributes in order to apply for a graduate position after university. By learning the theory and concepts taught through formal study, I believe combining this with real-life experience in a real position of responsibility will help any student to progress.
My role as the Sales Planning Assistant mainly involved providing the Volkswagen UK brand with sales forecasts, performance reports and analysis of the UK new car market on daily, weekly and monthly scales. Whilst the role was very challenging in terms of responsibility, it was greatly rewarding which gave me exposure to the various departments across the brand and future opportunities to work alongside them in both internal and external projects. I assisted in the production of presentations to board level in the UK and Germany and was challenged with providing crucial performance data to brand directors in the height of the global crisis. I also had the amazing opportunity to work at the Goodwood Festival of Speed and attend a variety of company events, including new vehicle launches and brand updates throughout the year.
My placement year has given me a great insight into the UK automotive market and the happenings inside a worldwide organisation. For my first couple of months Volkswagen Group UK were performing the best in its 78-year history, however the widely known global crisis caused the company to realign its values and start the recovery process. Being an employee through this change of fortunes has granted me a number of lessons I can carry into graduate employment. Discounting the long hours worked during the start and end of month periods and the stressful nature of these times, I thoroughly enjoyed being challenged with the performance reporting and circulating business critical data around the brand. The ever-changing pace of the UK automotive market sectors and the actions of main competitors brought an array of challenges with each day. Being able to manage heavy workloads shall definitely aid me in my final year of studying before hopefully securing a graduate position in the same industry.
The help and support from the LUMS team was amazing in assisting the placement application process. This gave most students a cornerstone to work from and any additional help on improving CV's and how to approach interviews and assessment centres was easily accessible.