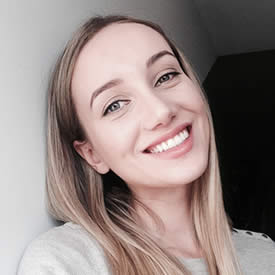 Kamile Zlatkute
Country Of Origin: Lithuania
Degree: BSc Marketing Management, 2017
Kamile worked with the Science & Technology Facilities Council in Warrington for her placement year.
I believe that it is highly important to explore the nature of the labour market and gather information about ourselves before making strategic career decisions. An opportunity to enhance my learning by putting theoretical knowledge into practice was one of the key factors that influenced me to undertake a year's placement. In addition to this, I wanted to get a taste of the working world and develop a stronger sense of self-identity at the workplace which in the long run would help me to become a professional practitioner in a chosen career field.
The industrial placement gave me an opportunity to learn, and most importantly – to step out of my comfort zone an discover the talents I didn't know I had. I worked within External Communications team at the Science and Technology Facilities Council (STFC) as a Digital Content Placement. I was responsible for producing visually appealing elements to STFC's media channels. I was also in charge of educating the public about the research and development behind sophisticated scientific disciplines. I had to contribute to science events and provide real-time content for STFC's social media officer and publications manager. I also provided digital marketing insights and helped to modernise the delivery of the organisation's external messages which was one of my biggest achievements while working at STFC.
The placement was a challenging and eye-opening introduction to the corporate world. Given the nature of fast-paced and multi-generational work environment, I had to demonstrate my dedication and keenness to learn throughout the year. I was given real responsibilities and my own project to manage which all together gave me a better perspective of how important experiential learning is. I was invited to various corporate team meetings that helped me to grow my network of contacts. I was also provided with fundamental Chartered Institute of Public Relations (CIPR) and Government Communication Service (GCS) courses which helped me to develop my skillset. Working within many teams in the communications department, I realised that my opinion was valued due to previous internships and theoretical knowledge provided by the university. This placement was an invaluable experience which provided me with various opportunities to sharpen my skills and gain strong business acumen. It also helped me to get a better understanding of which career path I should take.
When I decided to undertake an Industrial Placement, LUMS Careers team advisers provided on-going support and guidance during the application stage of the process. Besides being advised about dos and don'ts of writing CVs and cover letters, I was also given valuable feedback on my performance during mock-up interviews. I think that the LUMS Careers team provided all the necessary tools to enhance my employability.