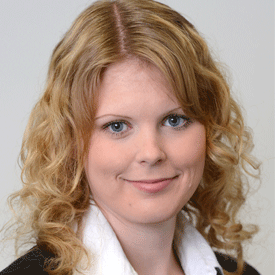 Marie-Luise Dumler
Country Of Origin: Germany
Degree: MSc International Business & Strategy, 2018
---
Management Trainee, Enterprise-rent-a-car
---
Why did you choose to study at LUMS?
It is a fabulous university within the UK, the country I preferred to study in.
What was the best thing about your course?
Strategy! I gained incredible knowledge.
What/who inspired you most at LUMS and why?
The fantastic tutors with their special insights.
Did you do a project, placement or study abroad?
I participated in a module at Peking University in China, "Doing Business in China". I not only met further fabulous contacts around the world, I moreover gained knowledge about almost all aspects of businesses in China.
Describe your time at LUMS in three words.
work-socialize-grow
What are your best memories of your time at Lancaster?
There are far too many. I met friends for a lifetime. I learned amazing contexts for my career. I had a fantastic time and felt like home.
What are the best things about living in the Lancaster area?
The coast side, plenty of pubs/clubs, the castle, very close to nature and cities, farmer's market, and all the cute shops in town.
Which parts of your Lancaster experience were the best preparation for your job?
The project works, team leading, learning about strategy, culture, globality, and M&As.
What impact has your Lancaster experience had on your career?
I did get a job in an international corporate, where I am using my skills on a daily base.
Is there anything else about your LUMS experience that you'd like to share with us?
Don't miss the opportunities such as the Lancaster Award, courses from the Career Center, being a rep, participating in socials/teams/sports.