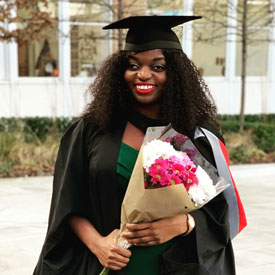 Anu Adejoro
Country Of Origin: Nigeria
Degree: MA Human Resources and Consulting, 2018
---
People and Change Consultant , Arup
---
Why did you choose to study at LUMS?
I have a first degree in Economics. I had always wanted to have my second degree and after four years working as an HR consultant, I thought it was time.
I had heard about LUMS from a work colleague and on checking the rankings and testimonials I was certain this was the university I would attend. The facilities are top notch and my department had some of the world-renowned tutors as faculty members.
What was the best thing about your course?
I enjoyed the consulting project and the opportunity to work on a live project with a client in the UK. This was important for me as I began to chart my next career move. This experience was a major input at the interview that landed me my current job. I am currently working as a People and Change consultant, and I find myself revisiting my module notes on Design and Dynamics of learning (I never thought this would happen, let alone happen so fast in my career). My greatest joy from enrolling on this programme is the ACIPD title that now comes after my name.
What are your best memories of your time at Lancaster?
I am a typical home bird, so I did not exactly join in societies. But I had fun with my church group RCCG Lancaster and my Afro-community. The serenity of the campus is my best memory. I remember rediscovering myself just by taking those daily 45-minute walks around the campus. It is a surreal feeling I wish I could have again, especially now that I work in the busy city of London. I am glad I had those months of peace and quiet to reflect on my life.
Did you do a project, placement or study abroad? What did this involve and what did you gain?
My consultancy project was complex but interesting. We worked with a company based in the Lake District to redesign their ways of working. This involved redesigning their rota systems and ensuring the efficient use of human resources. This project took me from a basic level excel user to advance in the space of 6 weeks. It was nice to see the dynamics of people relationships as my team navigated the ambiguity of the client's need.
How would you summarise your experience at Lancaster?
Lancaster was my perfect bridge! It helped me gain footing in a new environment, purged me of old assumptions about my career, launched me into new realities of what consulting entails. In the one year, I rediscovered myself and was able to make concrete plans for what I desired out of my life. I will never forget those redefining months of my life.
What impact did scholarships or funding have on your degree experience?
I wouldn't have been able to join the 2017/2018 cohort if I wasn't given the Departmental scholarship. This took away a big chunk of my fees and helped me and my family plan realistically around my finances. I am forever grateful for the opportunity to study at this top management school.
What impact has your Lancaster experience had on your career?
Currently, I work as a People and Change consultant at Arup, London. Arup is a leading construction and consulting firm, and has developed some of the most iconic structures across the world. My work in the operations consulting team includes managing change and developing teams. The research skills and learnings from the projects I embarked on in LUMS have come in very handy over the last few months since I resumed my role.