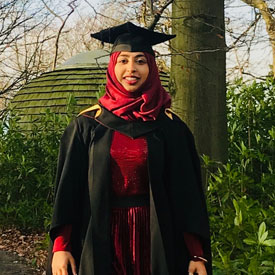 Humeira Sheriwala
Country Of Origin: United Kingdom
Degree: MSc Money, Banking and Finance, 2018
---
Financial Analyst , Bank of America
---
What was the best thing about your course?
Its diverse and encompassing nature, in so many aspects. The course allowed me to gain a variety of skills that help me continually - from time management and working under tight-pressured deadlines to being able to present, communicate, and interact effectively with diverse colleagues of a wide international background. The course consisted of applied Economics within the banking industry along with Finance, which was exactly what I was looking for. I thoroughly enjoyed my time at Lancaster and most importantly, I learned a lot. Each module was taught by experts in their respective fields, and they each imparted cutting-edge methods and theories of economics within the financial sector.
Describe your time at LUMS in three words.
Diverse, Intense, Fulfilling
What are the best things about living in the Lancaster area?
I love being around nature and Lancaster offers just that! One is surrounded by green hills in all directions. Being so close to nature was.. so peaceful and beautiful. At the same time, however, the campus is vibrant, contemporary in every good way, and is busy with students, which provides an ideal balance. Lancaster University's campus is a prime example of the urban and rural fusing together to create a unique environment.
What impact did scholarships or funding have on your degree experience?
Having just completed my undergraduate degree, one of the things that worried me about starting a Masters degree was the increase in student debt. Studying a Masters degree in a Finance-related subject is expensive, and thus, receiving a scholarship from LUMS and the Economics department sizeably reduced the student debt I would accrue. Ultimately, this was a significant factor in my decision to pursue a Masters degree at Lancaster University.
What impact has your Lancaster experience had on your career?
MSc Money, Banking and Finance was an excellent and notable addition to my resume; I believe that it was key in helping me secure my current job as a Financial Analyst at Bank of America. It covered the fundamentals of the Banking sector from the perspective of banks, regulators and central banks. This combined to provide me with a broad, yet also detailed oversight of the evolving industry.