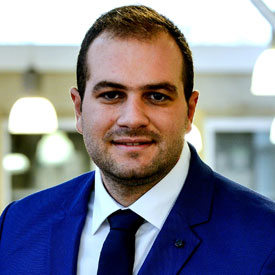 Vassilis Mantogiannis
Country Of Origin: Greece
Degree: MSc Management, 2018
---
Technology Consultant , Mott MacDonald
---
Why did you choose to study at LUMS?
I found the block structure style of teaching the modules really unique, and it made my Masters in Management feel like a mini MBA.
What was the best thing about your course?
The culture and diversity across campus broadened my horizons and made me a better team player.
What/who inspired you most at LUMS and why?
The support from the programme team.
What impact did scholarships or funding have on your degree experience?
The scholarship I received eased my experience, helping me to focus on studying, to reconfirm that Lancaster was the place for me.
Which parts of your Lancaster experience were the best preparation for your job?
Something I couldn't appreciate at the time - the soft skills-building exercises. This really made a difference in my career as a consultant and gave me an edge over people from other universities and more senior professionals.
What impact has your Lancaster experience had on your career?
So far very positive, with a great boost to my entrepreneurial mindset.