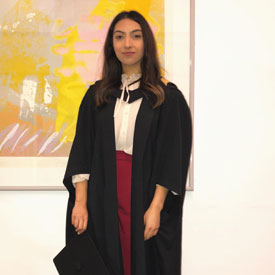 Salaha Ashraf
Country Of Origin: United Kingdom
Degree: MSc Management, 2019
---
Final Year Medical Student, Lancaster University
---
Why did you choose to study at LUMS?
I wanted to study something completely different from my medical background and LUMS is one of the best management schools in the country.
What was the best thing about your course?
The fast-paced nature and broad range of subjects studied from Operations Management to Managerial Economics to Human Resource Management.
What/who inspired you most at LUMS and why?
Radka Newton - Programme Director. Her passion and enthusiasm for the course were so genuine! Also her constant support and engagement with each and every one of us!
Did you do a project, placement or study abroad? What did this involve and what did you gain?
I did a Library based research project so that I could tailor it to my healthcare management. This involved much reading of literature and critical analysis to support/disprove the hypothesis.
Describe your time at LUMS in three words.
Life-changing, Unpredictable and Exciting.
What are your best memories of your time at Lancaster?
Making very close friends and networking with a variety of people (students and professionals) from different backgrounds.
What are the best things about living in the Lancaster area?
A close-knit community, lots of quirky cafes/coffee shops to enjoy and fantastic transport accessibility from town to campus.
What impact did scholarships or funding have on your degree experience?
I received the Academic Excellence Scholarship which reduced my tuition fees for the Masters' Programme! This really eased the financial burden and stress which contributed to an overwhelmingly positive experience.
Which parts of your Lancaster experience were the best preparation for your job?
Careers support at LUMS is fantastic!
What impact has your Lancaster experience had on your career?
My postgraduate LUMS course was the main motivator for me to change my career from medicine to management.
Is there anything else about your LUMS experience that you'd like to share with us?
I had such a brilliant year studying the MSc Management course.